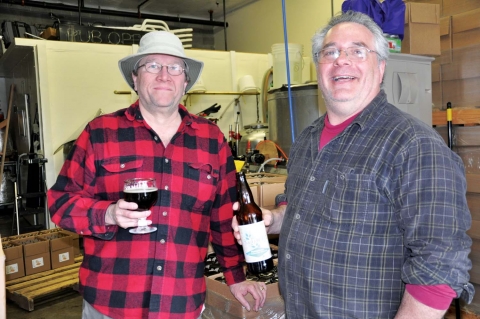 It all began with Adam.
Alan Sprints was a home brewer when Portland's microbrew revolution began in the late 1980s. He joined the ranks of professional brewers in 1991 and then opened his own Hair of the Dog Brewery in 1993. Since he planned to brew strong beers of 10% or higher alcohol level, Sprints named his brewery Hair of the Dog in reference to the folkloric hangover cure. His first brew – Adam, named for a strong German ale that was no longer brewed – was inspired by a reference in an 1880s book on beer (see page 55).
But the name had another meaning for Sprints, "Adambier seemed like an appropriate beer to use as my first beer since it was called Adam." Genesis was perhaps on his mind because his wife, Eliana Temkin, was at the time the director of Jewish cultural enrichment at Mittleman Jewish Community Center, where their children attended preschool.
Adam is still one of his most popular beers. In fact he still has bottles from that first batch on his tasting room menu – even at $75 a bottle, he still sells a couple bottles a month.
"At the time, I didn't have any idea I'd give all the beers I made names," he says, "but they are all individuals, not like beers other people make."
"I'm a small brewer, so it's hard to compete in price and volume. So I try to make beer that is unique and make more money on the beer I make instead of making more beer."
About 20% of his beers are aged from six months to six years in barrels before being bottled. As he bottles a beer, he adds a touch of recently brewed beer so that the beer re-ferments in the bottle.
"Our beer is high in alcohol and is meant to improve with time. With our process it will improve for 10 to 20 years in the bottle."
Subsequent beers have been named for "people who have influenced me." Ruth, named for his grandmother who wished him lots of luck, has mazel (luck in Hebrew) on the label. Lila is named for his mother. And Blue Dot is named for Mother Earth since "from outer space we are just a pale blue dot."
The next beer due to hit distributors' shelves also draws its name from Jewish writings. Michael is named for the famous Jewish beer writer Michael Jackson, who died in 2007. Michael is a blend of 10 barrels of beers made in 2007, 2008 and 2009. Sprints tapped several of the 180 barrels in his brewery to decide on the right blend to honor the famed "Beer Hunter" from England who wrote The World Guide to Beer.
While most beers on the market are mechanically filtered and hit shelves about two weeks after brewing, Sprints relies on gravity to filter his beer. His beer takes a minimum of five weeks from brewing to sale.
He and his assistant brewer spend 24 to 26 hours one day a week brewing beer – 26 hours? They start at 5 am each Tuesday and don't always finish the batch by 5 am Wednesday.
In addition to the beer they serve on tap in the tasting room, Hair of the Dog distributes about 5,000 cases of bottled beer every year in eight states.
Hair of the Dog Brewery opened a tasting room two years ago. It would have been easier and cheaper to open just a beer bar, but Sprints said he felt it was important to serve food too.
"It's nice to eat and drink together. The combination elevates both," he says.
Hair of the Dog Brewery and Tasting Room is open 2-8 pm Wednesday through Sunday at 61 SE Yamhill St., Portland. (503-232-6585,
hairofthedog.com).
***
Inspiration and barrels have traveled across the river and into Hillsboro, where two other Jewish brewers have moved from home brew to microbrew.
Drawing on the Oregon microbrewery movement, which was in no small part pioneered by Hair of the Dog, Tom Kramer and Brandy Grobart opened Ambacht Brewing in 2009 with equipment purchased from Congregation Kesser Israel. The congregation purchased Tuck's Brewery, where Kramer had been volunteering as a brewer's assistant, and converted the building into an Orthodox shul, making the brewing equipment obsolete.
Kramer spends about three-quarter time at the small Hillsboro brewery and Grobart devotes one to two days a week to the brewery, where everything is done by hand. Bottling is a two-person job with one man sterilizing bottles and then crating the bottles that his partner has filled and capped four at a time.
Ambacht Brewery produces lighter Belgian-style ales, which is where Hair of the Dog's barrels come in. For some of his stout brews, Sprints uses old bourbon barrels to age his beer. But after aging one beer for three to four years, they wouldn't produce the same flavor again. At Ambacht, using fresh bourbon barrels would overwhelm their lighter ales, so they buy used barrels from Hair of the Dog to age their Honey Triple Ale.
"With barrels from a good brewery like Hair of the Dog, we get honey, bourbon and just a tiny hint of Adam," they say finishing each other's sentences.
The brewers rely primarily on local ingredients to produce their Dunklweizen (dark wheat) beers brewed with Belgian yeast. They incorporate a variety of other flavors including locally produced honey, some from Kramer's hives, to enhance their "dark beer with a light taste."
A new addition to their lineup is the G++ brew based on their golden ale, but incrementally better. They said they hoped the computer programmers down the road at Intel would get the play on words. C is a programming language and C++ refers to increment variables.
At last year's Cheers to Belgian Beer in Portland, the pair's entry made the top seven out of 40 beers sampled and voted on by attendees. "We were the first to 'blow,'" said Grobart, who said they were so excited that their keg was the first one tapped out by samplers, that they didn't initially realize that meant no one could taste their beer for the final three hours of the event. Who knows how high they would have ranked if more people could have sampled their brew!
For a Jewish twist, the pair brew a Matzabrau each year after Passover. Using donated unopened boxes of leftover matzah, they brew a wheat beer. This year those who donate unopened boxes of plain or wheat matzah by May 15 will have their name on a "brick" around the bottom of the beer label.
Anyone interested in donating matzah or sampling Ambacht Ales, can visit the brewery, 1055 NE 25th Ave., Suite N, Hillsboro, on Thursdays from 4 to 6 pm. Over the summer Ambacht also will have booths at four Farmer's Markets – Beaverton on Saturday, Orenco Station in Hillsboro on Sundays, Downtown Hillsboro's Tuesday Market and Woodstock Market in Southeast Portland every other Sunday. Ambacht is also sold at a number of markets including John's Market in Multnomah Village, Bailey's Taproom and most New Seasons in Oregon. (503-828-1400, ambacht.us)
_______________________________________________
On the Origin of the Adambier Style
One more special variety may be noted, and that is the strong 10-years-old ale known by the people of Dortmund as "Adam." It is mentioned by Corvin in An Autobiography, who relates that "When King Frederick William IV of Prussia visited Dortmund a deputation of the magistrates waited upon him, one of them bearing a salver with a large tankard filled with Adam. When the King asked what it was, and heard that it was the celebrated beer, he said 'Very Welcome, for it is extremely warm,' and drained off the contents of the tankard at a draught. The members of the deputation, smiled at each other, for they knew what would be the result. His Majesty was unconscious for more than twenty-four hours."
from The Curiosities of Ale & Beer, An Entertaining History by John Bickerdyke, Spring Books, London, first published in 1889, reprinted 1965.