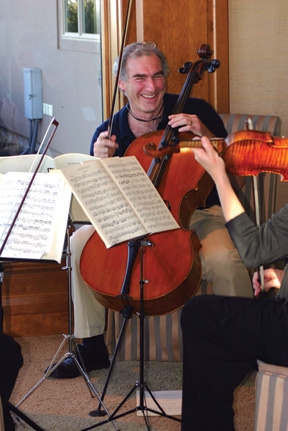 With his mastery of such diverse fields as music, business and philanthropy, Genesis Financial Services Chairman and CEO Irving Levin might be called a modern-day Jewish Renaissance man.
Levin believes education is the "real difference maker for social and economic mobility." To back up that belief, he and his wife created Renaissance Foundation, a private foundation to give back with an emphasis on education after he sold the second of three companies he created.
Levin didn't always have the means to give. His father was the second generation to run a "very small" family business. Things changed when he founded and then sold Renaissance Holdings.
"I didn't have a lot of money and suddenly I had lots," he says. "I thought about what I wanted to do and how it would change the lives of me, my wife and our kids (who were in high school and college at the time)."
"It was a time of amazing changes and thought processes," says Levin.
Deciding where to go next required looking back at where he'd been.
THE MUSICIAN
Levin's first profession was as a cellist playing in a symphony, a chamber orchestra and for a variety of ballets and operas – "the typical lot of classical musicians." When he was about 21, "I came to my senses and started college," he says. He earned his bachelor's degree and an MBA from the University of Chicago.
Today his musical interludes include playing his cello for Kol Nidre each year at Congregation Beth Israel, Portland's oldest Reform congregation. He has played the Max Bruch Kol Nidre, accompanied by Temple organist John Strege for many years now.
"Irv's beautiful tone and heartfelt interpretation of Kol Nidre has added so much to our High Holiday experience," said Beth Israel Cantor Judith Schiff. "It is, for me, one of the highlights of the service, and I look forward to it every year."
He also plays recreationally with a distinguished group of musicians called "The Rusties," who he described as a group of "conservatory-trained, over-the-hill players" who enjoy each other. The Rusties includes Oregon Symphony Music Director Carlos Kalmar, who calls Levin "a fine cellist" and "a source of calmness in our group."
"What I really enjoy about this group is that they are interesting people, good musicians who just do not play professionally (except rarely)," says Kalmar, who has played second violin with the Rusties since about 2004. "We gather at one of our homes, and we play chamber music, then we eat and drink and have a lot of themes to discuss. Music is undoubtedly the center of the gathering, but it's a social gathering too."
THE BUSINESSMAN
Levin began his financial services career with Visa in the late 1970s in what at the time was "a fascinating industry. It was new and fresh and intriguing at the time – not at all what it seems like now."
In 1986 he founded the nation's first credit card bank, First Consumer National, for his employer, ITT Corp.
Told he could base the company anywhere he wanted, he chose Portland, mistakenly believing the area was in a recession and thus would have a large supply of motivated employees.
Instead he found a place with a "unique work ethic – there are wonderful things and not so wonderful things about its workers." He says there is a deep talent pool available here, but for many Oregonians, lifestyle and balance trump the zeal of commitment to work.
Still, in part because of that sense of balance, he says he discovered an unexpected bonus –"I do love being here. … Going on in life and getting involved in institutions and friends, it becomes the place you call home."
So when ITT decided to get out of the financial business in 1991, Levin and some of his managers stayed in Oregon, "walked across the street with everything I'd learned" and started Renaissance Holdings, an issuer and servicer of credit cards. He sold the business in 2000 enabling him to create the Renaissance Foundation.
Because Levin enjoys being an entrepreneur, he decided to invest money and his knowledge to help other entrepreneurs succeed. He serves as a mentor and investor in multiple companies in Oregon and elsewhere.
He says his involvement at Genesis Financial Services similarly began as that of an investor and mentor – "I wanted to optimize my influence and minimize my time." But at Genesis, he has taken on a larger role as CEO because "I started it and I have personally gotten lots of people to invest and I know the employees – about 160 all here in this office. So I have a deep sense of responsibility to this place. I do everything I can to make it successful."
Asked what makes Genesis successful, Levin says, "We are good at the evaluation and management of unsecured consumer debt … we are good at managing assets nobody else wants."
Recently, he says Genesis has turned its focus to providing instant credit to finance purchases and services. He says most companies only approve 40% of the people who apply, which leaves 60% out of luck.
"That's where we come in," Levin says. "We understand valuing the risk of those with imperfect credit histories. We bring a sophistication and management style that enables us to do a good job at this."
Genesis provides installment loans and "private label accounts" (i.e., store credit cards) in partnership with companies such as furniture stores or jewelry stores to enable people to make meaningful purchases. Genesis also works in partnership with medical providers to provide installment loans to finance procedures such as Lasix or dental work not covered by insurance.
"Our customers come from the retailers and medical professionals who want to get their clients financing," says Levin. "We've set up a system that enables us to make instant decisions and provide credit instantly."
He says the financial crisis has created a credit crunch, with larger lenders only extending credit to those with high credit scores and excellent credit histories. That leaves more and more people unable to get credit, which means Genesis is poised to grow dramatically in the next two years, according to Levin.
THE PHILANTHROPIST
Having a foundation has been a learning journey for Levin and his wife Stephanie Fowler.
"Turns out if you are in the business of giving money away, the most important thing to learn is when to say no," he says. "The second thing is the conditions of yes. The third thing we learned is you can't fix the whole world, so you have to focus, and it's best to focus on things you care a lot about."
"Education is the single biggest passion we have," says Levin.
Their first major foray into education was to co-sponsor a class at Woodlawn School for the I Have a Dream program, which supports a class of students throughout their school years and promises college scholarships for those who successfully complete high school.
In another hands-on project, the couple created a scholarship for students at Portland State University who are the first in their family to attend a four-year college in the United States. About 50 students have received the scholarship.
"It's renewable, so we really get to know these guys," says Levin. "PSU says our group has the highest graduation rate of any cohort they have – We'll take it!"
At Lewis & Clark College, where Fowler attended graduate school after attending Princeton, the couple offers stipends to enable students to take unpaid internships to gain valuable work experience.
Renaissance Foundation also runs a social enterprise program in Cambodia, Laos and Kenya that recruits and trains people in basic IT skills. The nonprofit training program has ties to a for-profit company that hires the students.
Levin, a former Congregation Beth Israel board member, said they also donate to CBI and the Jewish Federation of Greater Portland.
Levin attributes much of his business success to luck. He notes he launched Renaissance in a "time of great expansion and fairly benign regulatory environment."
"A lot happened that I had no control over and should get no credit for," he says modestly.
Though with three successful companies to his credit, it seems the kind of education and experience he now strives to give others should get some of the credit.