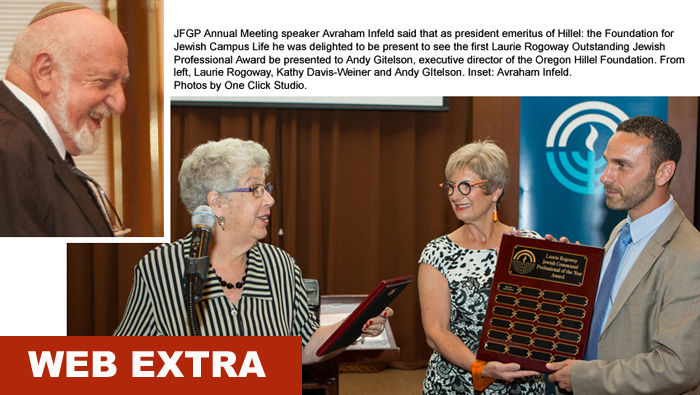 The Jewish Federation of Greater Portland's 95th Annual Meeting on June 9 at Rose Schnitzer Manor featured an inspiring talk by Avraham Infeld, who has invested a lifetime enhancing Jewish education and identity.
In introducing Avraham, JFGP CEO and President Marc Blattner said that when he first met Avraham in 1993, he had an ah-ha moment. "He talked about Jewish peoplehood, peoplehood beyond religion, that forever changed my thinking about Jewish life."
Avraham is president emeritus of Hillel: the Foundation for Jewish Campus Life, founder of Melitz (an educational service institution that fosters Jewish identity rooted in a pluralistic understanding of Jewish life), and was the first community shaliach from Israel to come to America in 1968.
Avraham spoke about Jewish leadership and said, "The purpose of leadership is to move people" physically or emotionally. He shared three lessons we can learn from looking at how Moses, Aaron, Miriam and Joshua were all needed to move the Jewish people from Egypt to Israel: Don't try to lead alone, know who complements the leadership team providing what you lack, and don't try to lead without a mission.
He said he believes the mission of the Jewish people today is to "ensure the continued survival and renaissance of the Jewish people – not the Jewish religion, but the Jewish people. I'm talking as an observant Jew … but Judaism is not a religion. … We are a family."
He says that definition is clear in Torah when the first convert to Judaism, Ruth, tells her mother-in-law Naomi, "Your people are my people and your god is my god." Avraham says, "We are told the order is not accidental. We are one people."
Avraham carries his mission to Jewish communities worldwide. Based in Jerusalem but a tireless traveler to all parts of the globe, Avraham has dedicated his long and distinguished career to helping Jews find meaning and joy in their Jewish identities. His vision of Jewish life is one in which every Jew is empowered to find his or her own mode of Jewish expression and in which Jewish community is heterogeneous and multi-faceted. He is passionate about being part of the Jewish people and committed to helping Jews play a role in making the world a better place for everyone.
The meeting also featured the presentation of the inaugural Laurie Rogoway Outstanding Jewish Professional Award, created last fall to honor Laurie's dedication to community and passion for Jewish life. Oregon Hillel Foundation Executive Director Andy Gitelson received the award, which includes up to $1,000 to participate in a professional development experience.
Award committee chair Kathy Davis-Weiner presented the award with Laurie Rogoway and noted: "Andy has significantly increased the number of Jewish students involved in Hillel and donors supporting it. Having identified a void of Jewish life at OSU, he brought Hillel services to this campus too. In addition, Andy recognized the need for a Jewish connection of Eugen's post-college young adults and started Jewgene, in collaboration with Oregon Hillel, the Jewish Federation of Lane County and Temple Beth Israel of Eugene."
Andy said he recognizes the state has so many great individuals and he was humbled to receive the award. "Today is special because Avraham is here," added Andy. "We use on a daily basis his idea that Judaism is more than just a religion."
Board Chair David Forman announced that this year the federation raised in excess of $4 million in total financial resources (an 11% increase over last year) for the first time since 2008. Our total resources go beyond just our Annual Campaign (currently at $3,667,666 – an increase of 5% over last year – with 18 days to go) and includes other special campaigns and endowment income. Much credit goes to Campaign Chair Lauren Goldstein, who brings energy and creativity to everything she does.
Yet both David and Marc emphasized that the role of federation is not fundraising.
David said federation "is uniquely qualified" to help the community collaborate and adapt to change.
"Jewish federations are not fundraising organizations," said Marc. "In reality federation is a forward-thinking, community organizing/convening, problem-solving organization that happens to raise funds to support our mission and the people in our Jewish community."
The meeting also featured the election of and installation of new board members Annette Demsey, Debbie Frank, Jeff Robinson, Sharon Stern and Jay Zidell to three years terms. Outgoing board members Josh Blank, Shawn Menashe and Charlene Zidell were thanked.