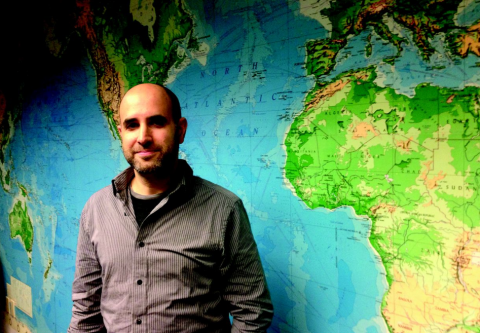 Andrew Goldstein and Andrew Greenberg are two Jewish entrepreneurs hoping to change the future of medical diagnoses at Oregon's leading technology incubator, the Portland State Business Accelerator (PSBA).
Located in the heart of the "Silicon Forest" – a nickname for the cluster of high-technology companies located in Portland – the PSBA has been attracting entrepreneurs like Goldstein and Greenberg since it opened in 2009. Its innovative lab facilities, mentorships and collaborative entrepreneurial community have attracted more than 30 startup companies in technology, bioscience and cleantech.
Together these companies have raised more private angel and venture capital in the last three years than any other location in Oregon. Their success, as well as the unique entrepreneurial environment at PSBA, is what appealed to Goldstein and Greenberg.
Both Goldstein and Greenberg have big goals. With his company HydraDx Inc., Goldstein and his team are in the process of developing a medical device that can quickly test for dehydration using saliva – a technology that could have significant potential benefits for elderly care facilities, emergency rooms, athletes in training and the military. Greenberg is chief technology officer at the TOVA Company (Test of Variables of Attention) and APDM Inc. (Ambulatory Parkinson's Disease Monitoring). Greenberg explained, "Both of my companies aim to make objective tests for otherwise subjective diagnoses." The TOVA Company uses a computerized test of attention that helps diagnose and treat attention disorders, while APDM uses technology to measure mobility in order to better monitor therapies for movement disorders like Parkinson's disease.
Greenberg and Goldstein both got their start outside of PSBA. Goldstein is somewhat of a serial entrepreneur – founding, selling and working with four companies in the past 38 years. As a self-described "lab person," Goldstein has always enjoyed being on the cutting edge of medical discovery. In the 1980s, Goldstein and his associates developed the first FDA-approved saliva-based diagnostic test for HIV/AIDS, which was a revolutionary area in medicine at the time. Goldstein's company was acquired, and their saliva-based AIDS testing kit, OraQuick, is now sold over-the-counter in pharmacies across the United States.
In 2009, Goldstein planned to retire, but was approached by the company HydraDx because of his knowledge of saliva-based diagnostic testing. "I came onboard with HydraDx and got into the PSBA labs to develop the technology," said Goldstein. Goldstein hopes to develop point-of-care human hydration assessment and other novel tests using biomarkers found in saliva.
So far, HyrdaDx has raised about $2.8 million in venture capital and is on the brink of finishing its final prototype. Luckily, Goldstein was able to get help from Andrew Greenberg, whose background is in electrical engineering. "One of the things I love most about PSBA is being able to work with other entrepreneurs and to have access to PSU. Greenberg is right down the hall, and he is helping us with the next phase of development because we need a mini-circuit board in the device," said Goldstein.
The company's goal is to develop a disposable under-the-tongue device that detects saliva flow rate. This will not only help detect dehydration, but also can be a valuable indicator for autoimmune diseases that affect saliva production, such as Sjögren's syndrome. This device would save both healthcare dollars and lives. Goldstein lists a number of possible applications including detecting dehydration in newborns, elderly, athletes and emergency room patients. Currently, the only way to check dehydration is with expensive, time-intensive blood tests. "If someone is dehydrated they can't wait 24 hours for a blood test to come back, nor do they want to spend $600 to $1,000 to receive intravenous fluids that they might not need," explained Goldstein.
The Portland community and PSBA resources have been instrumental in Goldstein's work. Although neither Goldstein nor Greenberg is native to Portland, both love calling it their home. Goldstein and his wife, Jean, moved to Portland in 1974 and both of their sons became bar mitzvah at Congregation Neveh Shalom. Greenberg and his wife, Jennifer, who is program director at Neveh Shalom, are both active members and excitedly preparing for their son's bar mitzvah next year. Greenberg's company also reveals his Jewish roots. It is no accident that TOVA also means pleasing or good in Hebrew. TOVA is all about doing good. TOVA provides a computerized test of attention that assists in the screening, diagnosis and treatment monitoring of attention disorders, like attention deficit hyperactivity disorder.
Psychologists and psychiatrists all over the world use TOVA's tests with a large contingent of users in Israel. "What makes TOVA's tests special is that they are language- and culture-free, so no matter where you come from you can get accurate results." The test flashes geometric stimuli on the screen and then very precisely records how a patient responds. TOVA then compares these results to normal measurements from people ages 4 through 88.
Although this technology has roots going back to 1977, TOVA has greatly improved the technology and usage worldwide. Greenberg's other project is APDM, which lives in the same room at PSBA. APDM endeavors to provide technologies and services for automation, data management and instrumentation in clinical trials for movement disorders. Using technology developed in part at PSU, APDM offers three wireless, wearable inertial monitors. They are the size of a wristwatch and are designed to precisely record movement with a kinematic sensor suit. Both Greenberg and Goldstein are passionate about their products because of their great potential to help people. "I love being an entrepreneur with the flexibility, but I think it is most important that we are helping people," said Greenberg.
Vanessa Van Edwards is a freelance writer in Portland.