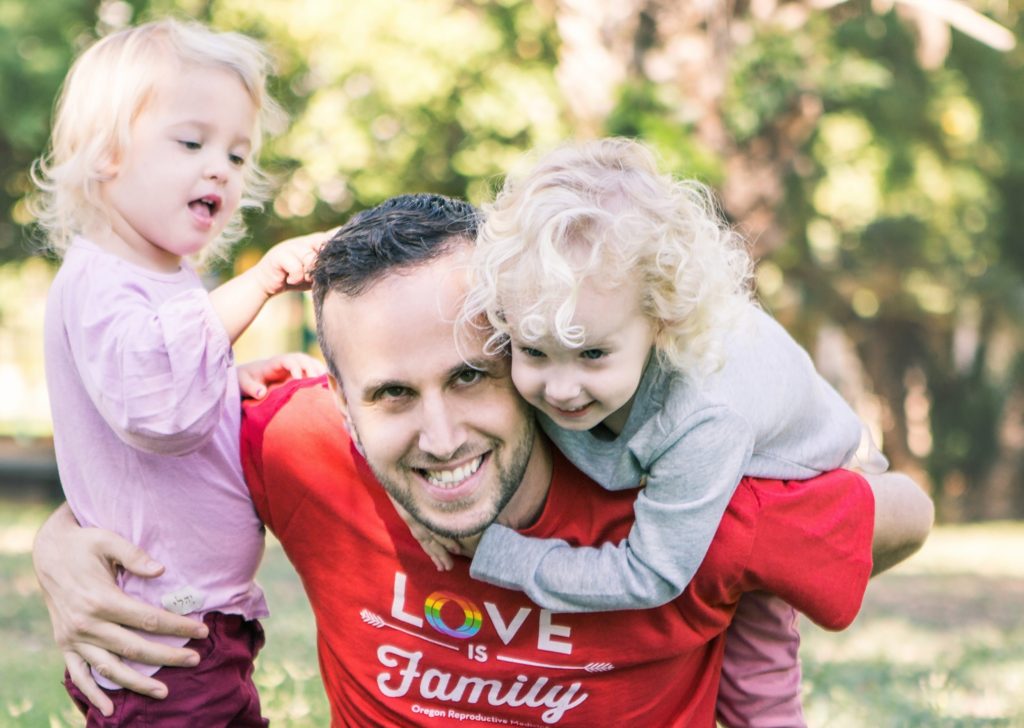 PHOTO: Erez Baron and his twins, Daphna and Danielle, enjoy life in Israel. The twins were born in Portland to a surrogate mother. Erez is the director of the Israel Department of Oregon Reproductive Medicine, which enabled Erez and his partner to become biological parents. Erez and his family were featured in the December 2017 cover story of Oregon Jewish Life. PHOTO BY NIR SLAKMAN 
In a precedent-setting move, The Jewish Agency for Israel has decided to grant financial loans to employees of the organization who decide to search for a pregnancy surrogate overseas. The initiative was led by The Jewish Agency's Chairman of the Executive, Isaac Herzog, who sought to acknowledge the right of each employee to realize his or her dream of starting a family, regardless of the employee's gender identity, sexual orientation or marital status.
The Jewish Agency is one of the largest non-profit organizations in Israel, employing around 1,250 people, of whom around 450 are Israeli emissaries who serve for several years in Jewish communities around the world in an effort to deepen connections between Israel and diaspora Jewry.
The Jewish Agency's decision applies to anyone who wishes to have a baby with the assistance of an overseas surrogate, whether the employee is a single man or woman, or part of a gay or heterosexual couple. The loan will amount to around 40,000 NIS per employee and is intended to alleviate the financial obstacles to surrogacy, and to express the organization's support for this complex process.
Mr. Herzog said that "we are also making a symbolic statement, because it reflects the egalitarian stance of a large organization that is recognizing the right of every man or woman to actualize their wish to be parents and to raise a family, regardless of gender identity or sexual orientation. The Jewish Agency is one big family, and all its members are equal."
In Israel, single men and gay couples who seek to become parents face legal hurdles when it comes to using an Israeli surrogate, and therefore they turn to potential surrogates who live abroad. However, overseas surrogacy is not covered by Israeli health insurance providers, and can cost hundreds of thousands of shekels.
The loan by The Jewish Agency will be available to employees and emissaries for the purpose of medical procedures before surrogacy, and for the process of surrogacy itself. Additionally, The Jewish Agency said that any child born to an emissary through surrogacy while the emissary is serving overseas will be entitled to all benefits normally given to children of emissaries.
Since 1929, The Jewish Agency for Israel has been working to secure a vibrant Jewish future. The organization was instrumental in founding and building the State of Israel and continues to serve as the main link between the Jewish state and Jewish communities everywhere. This global partnership has enabled The Jewish Agency to address the Jewish People's greatest challenges in every generation.
Today, The Jewish Agency connects the global Jewish family, bringing Jews to Israel, and Israel to Jews, by providing meaningful Israel engagement and facilitating Aliyah. It continues to build a better society in Israel – and beyond – energizing young Israelis and their worldwide peers to rediscover a collective sense of Jewish purpose.
The Jewish Agency continues to be the Jewish world's first responder, prepared to address emergencies in Israel, and to rescue Jews from countries where they are at risk.