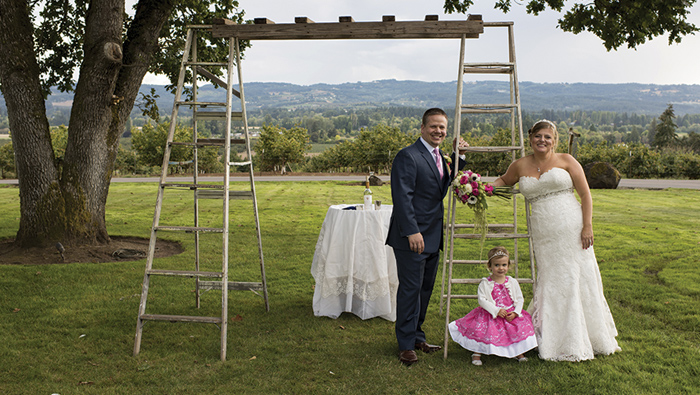 Having served as a formal mentor for the real estate and Jewish communities, Jen Singer believes more people need to step up as both formal and informal mentors.
"People mentor us every day," says Jen. "A mentor is someone you rely on, trust, confide in; they take the time to listen and give insight back."
Jen, 43, has served as a mentor for Keller Williams Real Estate and for PDX Pathways, the Jewish Federation of Greater Portland pilot mentor program for which she was one of four founders. She has also mentored paid interns on summer vacation or those taking a year off from college.
"For me, it's not about having the answer, it's about being able to point someone in the direction for the answer," she says. "When I mentor, I try to help people figure out their life balance and goals and how to achieve them."
As one of the four founders of PDX Pathways (along with Michael Jeser, Kim Rosenberg and Rob Schlachter), Jen's priority has been to help young adults find their place in the Jewish community.
"I was born and raised here," she says. "But when I became single in 2009, I found it challenging to find where I fit into the community. … How do we help young adults find their place?"
Jen wanted to help young professionals find ways they could be part of the Jewish community, how they could enhance their career path, and how they could tie the two together and use their skills to benefit the community.
So, despite the fact that she had 90 days to plan her wedding for 220 guests on Labor Day weekend, Jen agreed to mentor one of three groups in the pilot program of PDX Pathways. Jen spent the summer meeting with three women and three men involved in entrepreneurial, marketing and technical fields to help them advance their careers and lives, all while finding a Jewish home.
Jen says the main change she feels needs to be made to the pilot program is to have it last longer than the summer.
"It has been amazing to watch these young adults want to take part in something and the commitment they made over the summer," says Jen.
The 17 people who took part in the pilot program learned what federation does and what the community has to offer.
"Our group talked about the workplace and how to navigate it," says Jen.
She says one woman who was formerly in the military was having a hard time dealing with people who did not carry out assignments. This woman had been accustomed to people following orders, and the civilian workplace was a perplexing transition for her.
Jen explains that regardless of the business someone is in, there are three basic skills needed: communication, teamwork and the ability to present oneself as one wants to be seen.
"At the end of the day, the only thing we have is our reputation," she says. "About 80% of the time, it walks into the room before we do. How do you keep your reputation intact when asking for a raise or quitting a job?"
For Jen, the key thing she wants her mentees to learn is how to find and pursue their life balance.
"Most young adults are heavily career focused," she says. "I talk to them about getting into a groove of what life balance looks like. If it's not a priority now, it's harder to make it a priority later when there are more variables (like a spouse and kids)."
When Jen asked her PDX Pathway mentees to share where they want to be in five years, most responded with work-related answers. "But what do you want your life to look like?" she asked them.
Jen says the benefit to the mentor is almost as great as for the mentee.
"The more I talk about life balance, the more balance I gain in my life," she says, adding, you teach to mastery – whatever you explain to your mentees becomes clearer to you.
Jen says she also gains optimism.
"I gain belief in the future," she says. "There is so much positivity that happens in these interactions."
So as Jen headed off to marry Kevin Brown, the father of their 2½-year-old daughter, Lucy, she took the time to talk about the importance of community and mentoring. She wants a new generation to find the lifelong friendships she developed at B'nai B'rith Camp and through BBYO youth organization. She wants other young parents to find the benefit of Portland Jewish Academy, where  Lucy started preschool this fall.
And she looks forward to the 40 community leaders who have stepped forward as Pathways Partners to help more young adults find their place within both the workplace and the Jewish community.