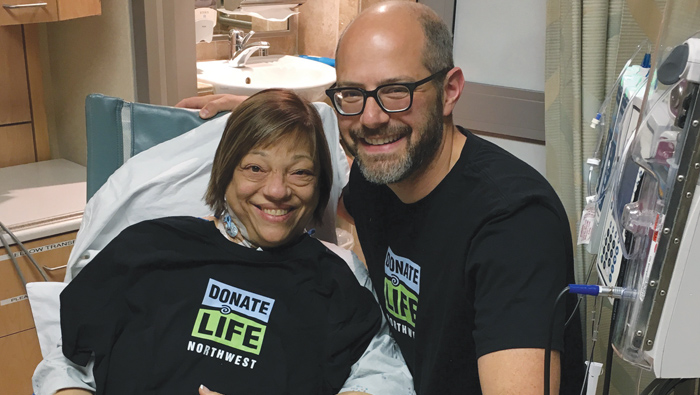 Jen and Jonathan united by kidney donation
For Jen Feldman, who received a kidney from Jonathan Cohen on April 18, the story is not about her. The story is about heroes like Jonathan and fellow donors, Marshal Spector and Debbie (Danish) Plawner. It's about normalizing the idea of kidney donation. It's about creating a ripple effect that inspires more heroes and saves more lives.
Jen and Jonathan are the third kidney donation pair I have written about during my years as a journalist in Oregon's Jewish press. The first involved Debbie Danish, now Plawner, who donated a kidney to her mother, Carol Danish, Jan. 10, 2000. The second happened on May 21, 2007, when Marshal donated a kidney to his friend, Cantor David Rosenberg, whose wife, Kim, is Debbie's sister. That donation gave David seven years of watching his and Kim's children grow up before he died of thyroid cancer Nov. 25, 2014.
This is where the ripples begin. Sisters Debbie and Kim stepped up to play a key role in helping Jen find a donor. After that, those ripples spread beyond the Jewish community, too.
Jen is the first participant in the Erase the Wait program of Donate Life Northwest to receive a kidney from a living donor. As such, her story is sending out ripples and inspiring other kidney patients to ask their communities for help.
According to the Donate Life website, in the United States, nearly 100,000 people are waiting for a kidney. There is a chronic shortage of transplants available through deceased donation.
"Our goal is to encourage patients to explore living donors," says Arcadia Trueheart, the communications engagement coordinator with Donate Life NW. "Jen had already explored living donation, but she said she wanted to take any possible route to learn more about it and to have the opportunity to network."
Jen joined the first full cohort of the Erase the Wait Mentorship program, which had launched as a pilot program in 2015. Having Jen in the program was inspirational for the other wait-listed kidney patients and for the mentors, says Arcadia.
"She had written her letter and told us about the response she received, and that was really inspiring to other patients in the program who were just crafting their letters," she says. "Her mentor is highly excited and will work with new mentees in our next group starting in June."
Since arriving in Portland in 1991, Jen has worked as a Jewish professional with the goal of building a caring community. For the past several years, she has been the development director of Congregation Beth Israel.
"I've worked hard to build a community for everyone else, and I benefited from it myself," she says. She is known around town for her saying, "Life is a party and everyone is just waiting to be invited."
Jen says asking publically for someone to donate a kidney to save her life was hard. "What happens if you ask and no one helps? What if you have a party and no one shows up?"
About a year and a half ago, Jen wrote about her need for a kidney in Beth Israel's newsletter. A few people reached out, but no qualified donor was a match. She had gotten discouraged, until CBI Associate Rabbi Rachel Joseph gave a sermon on hope. And just as she started to hope again, Debbie Plawner and Kim Rosenberg reached out. Kim drafted a letter and Debbie fine tuned it and agreed to be the point person to talk to any potential donors. The Beth Israel clergy added some personal comments and soon interested people called Debbie.
It worked. Jonthan was a match.
"I wanna give a big shout out to my kidney recipient, and one of my favorite people, Jen Feldman," Jonathan wrote on Facebook a few days after the surgery. "When I found out that she needed help, I didn't hesitate to volunteer because she is one of those special people that just emanates life. While everyone has been singing my praises, I want to be clear that it's people like Jen that get 40 people to sign up to donate a kidney because she is that kind of wonderful … I just happened to be the best match."
He adds that one amazing thing about Jen is "No matter how she is feeling, she wonders how you are doing, and how she can help you."
Jen disputes the number 40, but Debbie says she spoke to at least 25 people who wanted more information. As a kidney donor herself, she explained the process and did an initial screening with a questionnaire provided by OHSU's organ transplant team, who performed Jen's surgery. Twelve people met the guidelines and went to OHSU for testing to see if they were a match for Jen.
"Donating a kidney to my mom was the easiest decision I ever made," says Debbie. "I wanted Mom to live and meet the children I would someday have."
Carol says thanks to Debbie's donation and a second donation last January from a donor she does not know, she has had 17 years of family celebrations, including a wedding, birth of grandchildren, and bar and bat mitzvahs.
Debbie says after donating her kidney to her mom, it was hard to see others with kidney disease and think there was nothing she could do. Then she saw Marshal donate a kidney to a friend and realized nonrelatives can be donors. She learned about paired exchange donations when her aunt needed a kidney; Debbie's cousin, was an eligible donor but he did not match her. Through a database, they were paired with another family in which the donor matched Debbie's aunt and the cousin matched that donor's family member.
The two experiences "made me realize I don't have to feel hopeless, there is something I can do," says Debbie. So helping Jen find a donor was a natural next step.
"Jen has dedicated her life to this community and has given so much to others," says Marshal. "If we tell Jen and Jonathan's story, and my story with David, other people will step up and donate a kidney or step up and give tzedakah – generosity begets generosity."
"Donating a kidney was the greatest thing in my life," says Marshal. "I believe the good that came out of it was not just for David and his family, but the ripple effect. Mitzvoth inspire others to do good things."
Marshal's donation rippled not just in the Jewish community but beyond. A woman in Lake Oswego who needed a kidney belonged to a large church, but she didn't think of asking her congregation until a neighbor showed her an article about Marshal donating a kidney to his cantor and good friend, David. She and the neighbor approached the church pastor, who sent out an appeal. She soon had a donor.
Jen hopes more of those ripples are sent out as she shares her story.
"Not everyone can be a donor, but everyone can be a friend," she says.
If those friends share her story, maybe more people will become donors and save more lives.
RESOURCES
Donate Life Northwest
donatelifenw.org
A 501(c)(3) nonprofit organization whose mission is to save lives and improve health through the promotion of organ, eye and tissue donation.
Erase the Wait
erasethewait.org
A program of Donate Life NW: Waitlisted kidney patients and the support partners of their choosing meet as a group to learn about treatment options including living donation, and explore creative ways to extend their networks and seek a donor. Patients are matched with a trained mentor who is either a living kidney donation recipient or living kidney donor.
Wait-listed kidney patients interested in the program, or living kidney donors or recipients who are interested in becoming a mentor, can contact program coordinator Arcadia Trueheart at 503-418-4035 or truehear@ohsu.edu
Halachic Organ Donor Society
hods.org
Educates Jews about the different halachic and medical issues concerning organ donation
Offers a unique organ donor card that enables Jews to donate organs according to their halachic belief.
Renewal: A Comprehensive Resource for Kidney
Donors and Recipients
life-renewal.org
Provides kidney disease information, rabbinic endorsements, a guide for kidney donors and other resources.