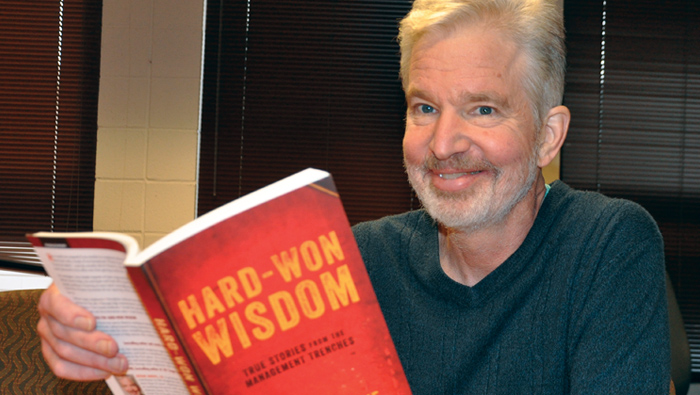 Jathan Janove has decided to pay it forward and share his Hard-Won Wisdom as a labor and employment lawyer, executive consultant and author to help enhance the leadership skills of executives at local Jewish organizations.
His free six-month program kicked off at a luncheon Jan. 30 hosted by the Jewish Federation of Greater Portland, which recruited the participants and will provide space and administrative support for the program.
At the lunch Jathan and his partner on the project, Frank Wagner, explained the leadership program to participants and told them what they can expect and what he, Frank and federation will expect in return. The program will include a pre-assessment, two half-day workshops for the group and six months of individual and group coaching. Frank says participants just need enough courage, humility and discipline to succeed in the program.
"For team coaching we will all come together and have a team goal, but also individual goals," says Jathan. "We are different organizations, but we are all part of the same community."
Jathan recently earned Combined Individual and Team Stakeholder Centered Coach Certification from the Marshall Goldsmith Group, a leadership and executive coaching group of 14 associates, including Frank. The group has an executive coach network of 1,500 coaches who use Marshall's program of executive development focusing on involvement of stakeholders, implementation of change and follow through to measure growth in leadership effectiveness.
"Marshall Goldsmith does one thing – he helps successful people get better," says Frank, who lives in Lake Oswego. "Jathan has become a disciple of Stakeholder Centered Coaching. I'm here to help him."
The author of three books including Hard-Won Wisdom: True Stories from the Management Trenches, Jathan has 25 years of experience litigating workplace relationships and coaching executives and employers on employee relations issues. When he heard about Marshall's coaching philosophy "it resonated."
When Marshall offered to share his entire system with 15 people, Jathan was one of 12,000 applicants. Part of the application was to prepare a pay-it-forward plan of offering pro bono coaching and leadership development. Though Jathan wasn't selected for the program (which has been renamed 100 Coaches), he decided he wanted to pay it forward anyway.
"As long as I'm active professionally – probably till I drop since work is more fun than fun for me – I will have at least one major pro bono project going, and I will turn down lucrative paying work to do it," says Jathan. He adds that with three children, all adults, "I have no goal to earn a dime more than needed to be financially responsible to my family."
Portland's Jewish community is the first recipient of his commitment. In collaboration with JFGP, the cohort was selected from executive directors of Jewish organizations with an annual budget over $1 million. The participants are Steve Albert of the Mittleman Jewish Community Center, Marc Blattner of JFGP, Julie Diamond of the Oregon Jewish Community Foundation, Gary Fifer of Congregation Shaarie Torah, Carrie Hoops of Jewish Family & Child Service, Josh Kashinsky of Congregation Beth Israel, Michelle Koplan of B'nai B'rith Camp and Sandra Simon of Cedar Sinai Park.
While living in Salt Lake City for a number of years, Jathan and his wife, Marjorie, were involved in the area's largest synagogue, Congregation Kol Ami. Jathan served a term as president, and their three children, Nathaniel, Raphael and Gabrielle, became b'nai mitzvah at Kol Ami. His involvement with the Jewish Federation there was more focused on sharing advice on employment issues.
Wanting a lifestyle change, the couple decided to move to the Pacific Northwest after a vacation in the San Juan Islands in 2006. Jathan was thinking of Seattle, where he had clients.
"My wife wanted to live in Portland and after a couple days reflection, I decided I wanted to live with my wife," says Jathan with a chuckle.
Nathaniel moved, too, and graduated from Lincoln High School and the University of Oregon before returning to Utah where Gabrielle lives. Raphael lives in Delaware clerking for a federal judge.
In Portland Jathan's Jewish commitment shifted from synagogue to federation and the Judaic Studies program at Portland State University. Marjorie, a former pianist with the Utah Symphony, plays with her students for residents of Robison Jewish Health Center and Rose Schnitzer Manor. She also hosts an annual Sukkot gathering and performance for Café Europa (JFCS' social group for Holocaust survivors).
Though Marshall Goldsmith didn't tap Jathan for the 100 Coaches program, he did endorse Jathan's book, saying, "If you want a front row seat to observe workplace behavior in all its intricacy and variety, read this insightful book. Jathan Janove's long experience in employment law, executive coaching and management make for some compelling stories. Not only that, the specific, actionable advice he provides is sure to help anyone who wants to avoid career-derailing conflict."
Participants in the Portland cohort not only have a front row seat, they've also been invited backstage to learn how to become leaders who influence their employees to follow them to a stronger organization and community.