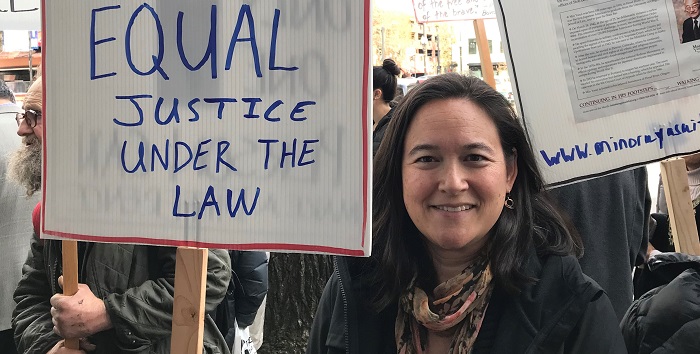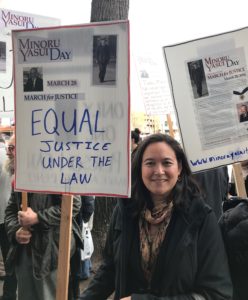 Photo: Janet Hamada at the annual march to commemorate Minoru Yasui, who was the first Oregonian to win the Presidential Medal of Freedom. He was recognized for his courage contesting the incarceration of Japanese-Americans during World War II. "I stand up for justice for the individual and marginalized groups," says Janet. "Since Trump was elected, I've brought my family to at least six marches for women, immigrants, gun control, et cetera."
By Gloria Hammer
Janet Hamada grew up in Chicago the daughter of a Japanese-American father and Jewish mother. She expresses her passion for social work through social action and her work as executive director of The Next Door, a nonprofit that supports and empowers people in seven counties in the Columbia Gorge.
The following Q&A with Janet has been edited for brevity and clarity.
How does a Jewish girl from the south side of Chicago find her way to Hood River?
My father's brother, a doctor, moved to Hood River to practice medicine in 1969. My paternal grandparents, second-generation Japanese-Americans, decided to retire in Hood River in 1975 to be with their son. I always came to visit during my summer vacations. Hood River was like a second home. It was a wonderful way for a city girl to spend time in the country.
As a newlywed in 2004, my husband and I lived in Chicago, where being a social worker was stressful. My grandmother was in her 90s, and I wanted to spend time with her in Hood River. My husband didn't hesitate.
I saw a job posting in the Hood River News for the only job that interested me – program manager for a health promotion program for Latinx workers at a private nonprofit organization called The Next Door, Inc. I applied for the position and it was a good fit. We decided to stay "awhile."
Our two daughters were born in 2005 and 2007, and we all spent my grandmother's last years with her. We still live in Hood River in the house my grandparents bought in 1975.
Did you grow up with Jewish traditions?
My parents came from two faiths. My mother was Jewish and my father Methodist. They mixed faith and race and raised my brother and me to be open to everyone. We did not practice any religion, but I had lots of Jewish friends and was included in all their Jewish traditions.
Tell us about your family.
I met my husband, Steve Glatter, walking my dog in Chicago. My dog fell in love with his dog, Charlie. For the first six months I didn't even know his name – he was "Charlie's dad." I was happy to meet a nice Jewish boy in Chicago. Our only issue was that he is a Yankee fan and I'm a White Sox fan. Our daughters are Melanie and Elena. Both are in middle school and love academics and music.
Why did you decide to become a social worker?
My father was a professor and eventually dean of the business school at the University of Chicago. We lived near the university on the south side, which is very diverse – all classes, races, religions, ethnicities and ages. I grew up surrounded by this diversity and treasured it. This also meant I saw poverty.
My father's job took him all over the world to lecture and teach, and he frequently took us with him. When I was 13, he brought me to Indonesia. That is when I knew I would spend my life trying to alleviate poverty and inequality. We were in Bali and had just visited a temple. It was hot and humid, and I couldn't wait to get back to the air-conditioned bus and air-conditioned hotel. When a boy my age tried to sell me a bird carved from wood, it struck me how privileged I was to travel far from home in air-conditioned luxury. The boy was barely getting by selling trinkets to tourists. The feeling of privilege and luck has never left me. It is my duty to help other parents to provide for their children.
Are you involved with the Jewish community in Hood River?
We have found a growing Jewish community in the Gorge. Every year, we host a Hanukkah party. In the beginning we invited our neighbors, even though they were not Jewish. They enjoyed the holiday and eating my husband's latkes. For the last few years, I've invited other Jewish families to celebrate with us and our neighbors. Last year, we were 41 people. After my husband's parents, Lynne and Herb, moved to Hood River in 2010, we had a competition to see whose latkes were better.
For Passover we host a seder, which has become quite a tradition.
Did your Jewish roots have an impact on your career?
A few years ago, I started to think about Judaism and its impact on me. When I look back on my career as a social worker in Seattle, Guantanamo Bay, Miami, Chicago and now Hood River, I have always had Jewish coworkers. I was not brought up religious, but I was instilled with Jewish culture, which included tzedakah and tikkun olam. The practice of giving and repairing injustice is truly in our blood.
How is The Next Door evolving?
In 2007, I was promoted to executive director, a promotion I was able to accept thanks to my supportive husband. Steve became the primary caretaker of our newborn and our 2-year-old. As an IT consultant, he works from home, allowing me to pursue this full-time career.
We have a budget of $4.5 million, which supports 30 programs and 70 employees who work in seven counties: Hood River, Wasco, Sherman, Wheeler and Gilliam in Oregon, and Klickitat and Skamania in Washington. We serve more than 3,000 people a year, living out our mission of "Opening doors to new possibilities by strengthening children and families and improving communities."
Our mission is broad, but the intent is clear: making sure all of our children are safe, healthy and valued by inclusive communities. We provide parents with support and education, connect children to caring adults and give teens the attention they deserve. We have helped adults open their own businesses.
Our biggest successes over the past decade have been to buy and renovate our two offices in Hood River and The Dalles, and to stabilize our programs by fundraising and grant-writing to provide living wages for our amazing staff. Our new consulting service uses the expertise we have on staff to train our community partners on diversity and inclusion in leadership.
What is your biggest challenge?
The biggest challenge of private nonprofit organizations is getting enough revenue to keep its programs running. The Next Door has 75 funding streams that we blend together to support our 30 programs.
What haven't I asked you?
You have not asked me to comment on the Glo & Joy Art Project!
This is what brought us together. We are thrilled to partner with you. It has been a pleasure to witness how this art project has made our participants gain self-confidence. It has helped create a greater community.
What are your thoughts on immigration?
We are proud of the fact that many of our program participants and a third of our employees are Mexican or of Mexican descent. The diversity of our community is one of many reasons it is so rich and complex. After Native Americans welcomed the first immigrants to their country and we became the United States of America, our country has relied on immigrants. I cannot imagine the Gorge without our Latinx neighbors, who work hard in our orchards, hotels, restaurants and own many small businesses.
I for one am so glad to be part of an organization that promotes all of our community residents and works hard to make sure that everyone is welcome. This is tzedakah and tikkun olam in action!
nextdoorinc.org | janeth@nextdoorinc.org
Gloria Hammer is the co-creator of The Glo & Joy Art Project, which offers painting parties for The Next Door's program participants at Joy's Art Studio.