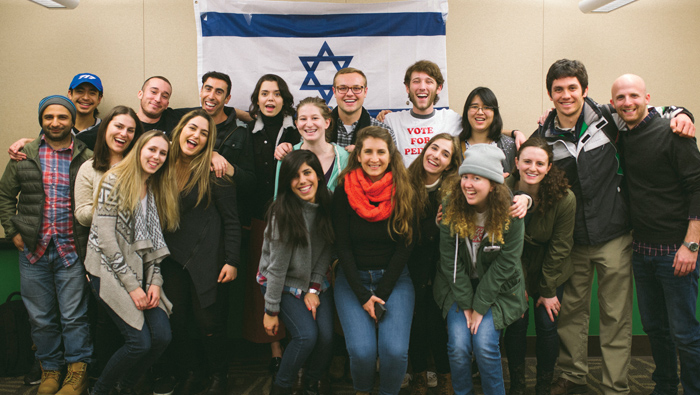 Two reserve duty Israeli soldiers were in Oregon at the end of February for the ninth StandWithUs Israeli Soldiers Tour, which brought six pair of speakers to college campuses across the country. In Oregon, Itay and Yuval (last names are withheld for security purposes) related their personal experiences serving in the IDF, spoke about their life in Israel and answered questions from college students.
Accompanied by StandWithUs Pacific-Northwest Campus Coordinator Noa Raman and Israel shaliach Timna Rockman, the two visited two Oregon campuses. They spoke at a Greater Portland Hillel program and visited with students while making challah in Eugene with Akiva, the campus outreach program of the Portland Kollel led by Rabbi Jack and Shira Melul.
Itay studies political science and communications at Bar Ilan University. He spent five years in the IDF as a human resources officer. His last assignment and reserve duty are with the medical corps, where he coordinated the construction of a field hospital to treat those wounded in the Syrian conflict. In addition to his studies, Itay works for the Ministry of Tourism as an assistant spokesperson and social media manager.
Yuval, 25, lives in northern Israel. She studies industrial engineering and management at Ben Gurion University in Beer-Sheva and was part of the StandWithUs Israel Fellowship. During her military service, Yuval was a medic in the Paratroopers Brigade. She serves in the reserves in a search and rescue unit in the Home Front Command. In 2014, she was stationed on the Gaza border during Operation Protective Edge. In her free time, she volunteers with middle school students teaching them robotics.