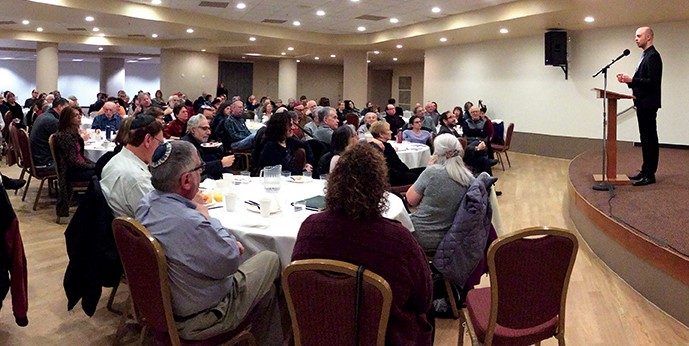 PHOTO: Amir Tibon speaks on "An Israeli Journalist's Perspective on Covering Trump's Washington" at a Dec. 10 brunch at Congregation Neveh Shalom. Amir gave five talks to audiences totaling 600 people during the Dec. 8-10 Scholar-in-Residence program in memory of Yoni Suher, who died in a terrorist attack in Turkey in March 2016. Photo by Stephen Sirkin.
Israeli journalist Amir Tibon came to Portland to share his insights on the renewed draw of kibbutz life for young Israelis, the changing face of the Middle East and the peace process, but the topic that drew the largest audience was "Covering Trump's Washington."
Amir is an award-winning journalist and Washington, D.C., correspondent for the Israeli newspaper, Ha'aretz. He was in Portland for the second annual Scholar-in-Residence program funded by the Suher family in memory of Yoni Suher, who was killed in a terrorist attack.
"My mom is the younger sister of Yoni's mom," says Amir, adding Yoni's death is still very emotional for the family. "I am very happy to be here to do an event in his memory." This was Amir's first visit to Portland, though he has heard stories of the area's wonderful food and nature all his life from his aunt and cousins in Israel.
"The most popular talk was what it was like for me to be an Israeli journalist writing about the madness going on in Washington," says Amir. "People like hearing about their own problems from a foreign point of view."
Amir says he is fortunate that he can focus on four main areas of interest to his readers and not have to pay attention to "each and every distraction he (Trump) creates."
Ha'aretz readers are primarily interested in what Trump calls the "ultimate deal;" Trump's actions on Syria and Iran; and Trump's relationship with the American Jewish community.
Amir says the "ultimate deal" doesn't look promising at the moment. To Israel's dismay, Trump has largely continued the Obama administration's policy on Syria, and he is largely leaving Iran to Congress.
"Trump and the U.S. Jewish community is a huge story," says Amir. "There is a big difference between how American Jews describe Trump and how Israeli officials describe Trump."
"Even prominent Republican Jews often attack Trump … and of course the Jewish Democrats (do)," says Amir. "Israel's prime minister says Trump is our best friend."
That disparity can lead to "tension in our very important family relationship between Israeli and American Jews."
Amir says he's not criticizing Prime Minister Benjamin Netanyahu because he understands the importance of a good relationship with the U.S. president for Israel's national security.
Nonetheless, the situation causes friction.
Amir says he does see hope for an eventual peace plan because of a shifting reality in the Middle East.
"The dynamics of the Middle East are changing, and many opportunities are opening up for Israel in the Arab world," says Amir. "Arab leaders see Iran and ISIS as very big threats and look at Israel as a potential partner against these more immediate threats," says Amir. "In order to fulfill that potential, Israel needs to make some progress toward peace with the Palestinians.
It is important to the Arab rulers that they don't seem like they are betraying the Palestinians."
Amir says the progress doesn't need to be a peace plan, but it will require Israel to take some difficult steps. Primarily, Arab rulers would like to see Palestinians allowed more land to build on around their communities, more independence for the Palestinian security forces and a halt to Israeli settlement expansion unless it is close to the border.
Amir noted two Likud leaders – Sharon and Begin – took down settlements. "They made courageous decisions for Israel'ssurvival – not peace, survival," he says. "I hope Netanyahu finds the same courage. I haven't seen it yet."
"We also need the same courageous leadership on the Palestinian side, which I don't see yet," he adds.
Questions and feedback from those attending all the weekend programs were very thought provoking. He says people from both the left and the right asked him tough questions.
For instance, one woman said her adult child has no attachment to Israel "because of what you are doing to the Palestinians.
Don't you Israelis realize that is a big problem?" On the other hand, a gentleman said, "It's very nice to talk about peace and opportunities, but you haven't convinced me the Palestinians don't just want to push Israel into the sea. How can there be peace?" "Both are good questions from opposite sides," says Amir.
"When people tell me they feel alienated from Israel, I tell them even if you don't like the government, you should know you have many allies and partners," says Amir, noting many organizations, groups and individuals in Israel work every day to try and advance peace. "I'm not going to discount America because of Trump. Doesn't it make sense to apply the same logic to Israel and Palestinian leadership?" Amir is just finishing the first year of a two-to-three year assignment in D.C. When he returns to Israel, he hopes to continue writing for an American audience. He is also looking forward to returning to Kibbutz Nahal Oz next to Gaza, where he and his wife, Miri, moved in 2014, just after the war with Gaza. After a 4-year-old on the kibbutz was killed by a rocket from Gaza, many young families moved away. "I was exposed to it as a journalist, and Miri and I made the rare decision to move there and strengthen this community in crisis," says Amir. "We moved for ideological reasons, but stayed because it's too much fun."
Amir compares living on a kibbutz to being on "Seinfeld," where Kramer just walks into Jerry's apartment without knocking. "That's what a kibbutz is like; you don't call your neighbor to make plans for next week, you just walk in and say we're going to the pool, come with us."
Amir believes the renewed interest in kibbutz living is because it is a solution to the loneliness prevalent in the world today. "The kibbutz is all about community and being part of something."
Amir says he and Miri are also planning to return to Portland.
While here they enjoyed Powell's Bookstore, the farmers markets and especially the coffee – the best they've had in America.
"It is personally important that CNS provide very high caliber educational experiences to the community, and Tibon fits this need perfectly," says Neveh Shalom Rabbi David Kosak.
"We were grateful that so many people from the larger community also came to hear and be enriched by these presentations. He is well-spoken, well-informed and quite entertaining.
Needless to say, he was universally enjoyed by congregants."