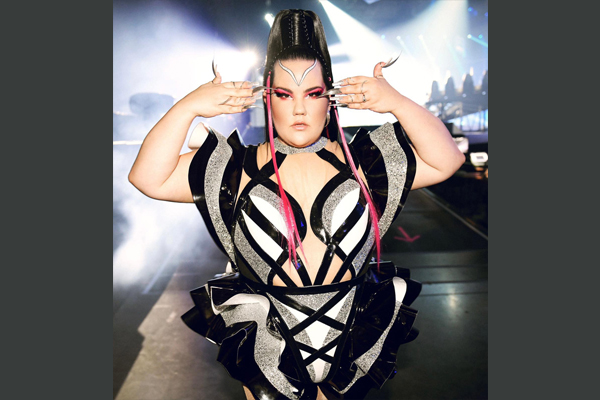 Israeli Eurovision winner and international star Netta Barzilai has been cast as a judge in the new season of The X Factor Israel, joining the legendary judge Simon Cowell who will appear for the first time on a version of the show outside the U.K. and U.S.
Cowell and his team were involved in the selection of the judges and were impressed by Barzilai, who achieved worldwide fame, reached number one on the U.S. Billboard Dance Club Songs charts, and has performed in front of millions in international performances and festivals.
Barzilai's victory in the 2018 Eurovision Song Contest with her song "Toy" marked Israel's fourth win in the Eurovision Song Contest – the most viewed musical competition in the world. "Toy," written by Doron Madali, reached No. 1 on music charts of over 44 countries and broke viewing records on TikTok and YouTube. Since then, Barzilai released a variety of songs that achieved international fame. Her song " Bassa Sababa" reached over 158 million views on YouTube.
As previously announced, Simon Cowell will be joining the new season of The X Factor Israel. Cowell's participation as a judge, as the creator of some of the most successful TV formats in the world and as producer and on-screen talent for America's Got Talent, Britain's Got Talent, The X Factor UK and previously American Idol, Cowell provides an opportunity of international exposure for Israeli artists.
"I'm very lucky to be sitting next to Simon and not in front of him, Because otherwise I would shit my pants. Excited to be part of X Factor Israel and show the Israeli talents to the world," says Barzilai.
Cowell's connection to Israel has also been demonstrated through his support of Friends of the Israel Defense Forces (FIDF), a US not-for-profit humanitarian organization with the mission of offering educational, cultural, recreational, and social programs and facilities that provide hope, purpose, and life-changing support for Israel's soldiers. In 2013, Cowell attended the FIDF Gala in Los Angeles and donated $150,000 to the cause.
Barzilai has been linked to the FIDF cause as well. During her military service in the Naval Musical Ensemble, before becoming a Eurovision sensation, Barzilai performed at various FIDF fundraising galas around the U.S.
The X Factor Israel casting team has begun intensive work forming the cast of singers who will participate in the new season.