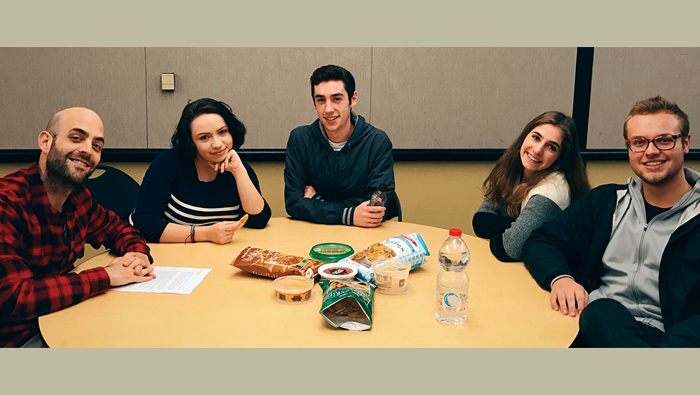 For Israel Fellow Eyal Ben Zeev, the BDS movement is an opportunity to build relationships with students – to inform and support them as their campus community promotes an agenda to delegitimize Israel.
Having spent two years as an Israel fellow at the multi-campus Metro Chicago Hillel, he was the ideal candidate to come to Portland this fall after Portland State University's student senate took up a Boycott, Divest, Sanction resolution and then tabled it at the end of the last school year.
On Oct. 22, the Associated Students of Portland State University voted 22 to 2 to pass a resolution calling upon the university to divest from companies doing business in Israel.
Greater Portland Hillel Director Rhonda Kruschen notes that the vote does not represent the student body, faculty or administration of PSU: "This resolution was engineered by the BDS movement and ramrodded into adoption without allowing the campus community the opportunity to research the motivations and implications of divestment or to truly engage in dialogue or learning about the complicated situation in the Middle East."
Still, she called the climate around campus difficult for Jewish students.
"We were all so thankful to have Eyal here during this trying time for our community," says Rhonda. "Eyal spent the week before the vote getting to know the students, taking them for coffee and attending their leadership meetings and events. We took students to dinner after the student senate meeting and he reassured them, and reminded them that nothing bad is going to happen to Israel because of this one ridiculous vote on their campus in Portland. I think that was something they needed to hear in such a moment of sadness."
As an Israel fellow, Eyal says he is "a Jewish educator in the field of Israel." When the BDS movement comes to a campus, he says Hillel can play an important role helping students feel safe and providing them with the information they need to understand the issue. While in Portland, Eyal led a text study on conflict and disagreement, which he calls a Jewish value. He also held numerous one-on-one or small group coffees and conversations with students to get to know them and to share some Israel culture.
"Defeating BDS does not necessarily mark a victory," says Eyal. "BDS is a horrible thing and the campaign is very hard on students. They feel targeted for being Jewish. How can I make the experience better? I looked at it as a leadership opportunity rather than a bad thing. You can take any bad thing and find something sweet."
In Portland, he says the community came together and emerged stronger and empowered.
"People know they have the Jewish community and Hillel there for them," says Eyal.
As much as he believes he touches the lives of students he meets, Eyal says, "They have touched mine more than they can imagine."
Eyal says the North American approach to Judaism inspired his own connection to Judaism to evolve. While he had always identified as Israeli, he had felt turned off from the religion, in part because of Israel's lack of "separation of church and state" giving the Orthodoxy "control in private matters." In Chicago, he saw the diversity of Jewish experience: "It can be religion, it can be community, it can be culture, it can be family – that was mind-blowing to me."
When he returned to Israel, he had constructed "a form of Judaism that worked for me."
During his two weeks in Portland, he was very impressed by Rhonda's clear vision for the Greater Portland Hillel, which serves students on Portland-area campuses.
"Students here are extremely committed to Hillel's mission of building community," says Eyal. "They care because it is so small. They cook Shabbat dinners themselves," he added, noting the Shabbat dinner he attended drew 60 students. "It's open to all and very pluralistic."
Drawing on his multi-campus experiences in Chicago, he encouraged Rhonda to consider the Portland campus community as a whole. The two brainstormed on some programs and activities to help build community.
"Having Eyal on campus working directly with me and with students was an invaluable opportunity," says Rhonda. "Given his experience with a multi-campus Hillel even larger than ours here in Portland, he encouraged me to always focus on the big picture. As much as we can, I'd like to create a cohesive Hillel community in Portland, one that spans across all campuses and brings students together for one common goal: to build a vibrant Jewish community of their peers."