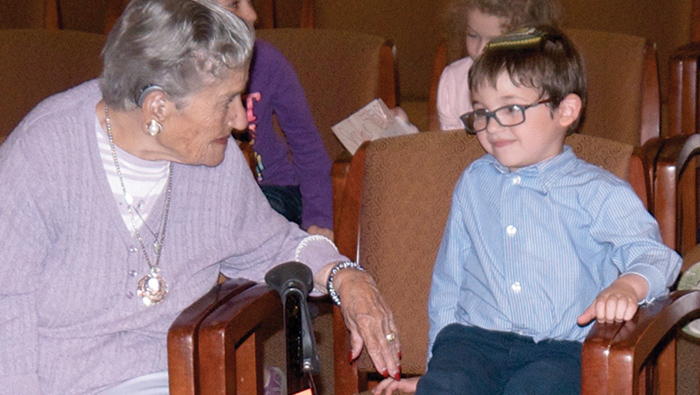 Dor l' dor, from generation to generation, isn't just a saying at Cedar Sinai Park. Preschoolers and schoolchildren are frequent visitors to the senior living campus.
Maimonides Jewish Day School brought kindergarten and first-grade students to the campus for a pre-Rosh Hashanah program on Sept. 15; pre-Hanukkah and pre-Pesach programs are also planned. Three older MJDS girls visit RSM every Friday morning for a Torah/mitzvah study.
Maayan Torah Day School plans a pre-Hanukkah craft project at RSM using items from ScrapPDX. Maayan Torah has partnered with Robison Jewish Health Center in the past, but construction projects on that side of the campus have limited big group activities this year.
This is the second year of the Better Together Shabbat Leadership Program, a partnership between CSP and Portland Jewish Academy. Last year 16 PJA seventh-graders paired with residents at CSP as students and seniors learned to lead Kabbalat Shabbat services.Even younger children get into the mix when PJ Library brings preschoolers to the campus for a Yad b'Yad music and story hour with the seniors.