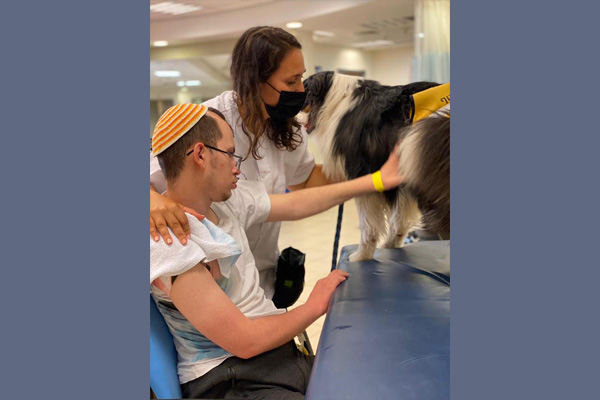 Photo: Netanel and Dr. Gidali with Sheba the dog. Photo courtesy Sheba Medical Center.
For Judi Felber, each bit of progress that her 24-year-old son Netanel makes at Sheba Medical Center's Brain Injury Rehabilitation Unit – everything from grasping an object to sitting up independently to even just smiling, is celebrated.
On December 13, 2018, Netanel was serving in an IDF combat unit in the Binyamin region, north of Jerusalem, when he was shot in the head by a Palestinian terrorist as he and two comrades guarded a bus stop at the Givat Assaf junction. The other two soldiers, Yuval Mor-Yosef and Yosef Cohen, were killed on the spot, and Shira Sabag from Beit El was critically wounded. Netanel was rushed to Hadassah Hospital and after several months of treatment in the ICU, he was transferred to Sheba Medical Center for intensive rehabilitation while still in a minimally conscious state, where against all odds, he began to recover.
A Slow Process
"Usually with brain injuries significant gains and recoveries are seen within the first 6-12 months," says Dr. Adi Gidali, a New York-trained Physical Therapy Supervisor at the Outpatient Brain Injury Unit at Sheba Medical Center. "With severe traumatic brain injury, like car accidents or war injuries, as in Netanel's case, we continue to see significant improvements more than 24 months after the injury. The keys are patience, hard work, motivation and focusing on short and long-term functional goals."
As a medical journal editor who made aliyah from Silver Spring, Maryland to Ra'anana 15 years ago with her husband, three children, and dog, Judi Felber was no stranger to medical issues, but until that fateful day she never imagined that she would become so immersed in the subject of Traumatic Brain Injury (TBI). Now she advocates for her son to ensure that he gets the best help and therapy available.
"Netanel's job now is rehabilitation," says Judi. "He is learning how to do the simplest tasks, like making a vocal sound and swallowing independently. Who knew that swallowing, which a newborn baby does instinctively, could be so complicated?"
While Netanel seems to understand everything, it is still hard for him to express himself. Nevertheless, there are nuggets of interactions. For example, Netanel was recently visited by a friend he hadn't seen since before the pandemic. When the friend took off his mask, Netanel smiled and held out his hand in greeting.
A Team Effort 
Netanel and the other patients in Sheba's Brain Injury Rehab Unit have an integrated multi-disciplinary team of dedicated professionals working with them including rehab doctors, nurses, occupational therapists, physical therapists, psychologists, and social workers.
"We also work very closely with the patient's family," Dr. Gidali explains. "Our responsibility is to transfer information to the family and it's constantly a two-way street to get feedback. We train the family and the caregivers in the exercises necessary to get the patient to the next level. The work we do is intensely physical as well. In order to advance motor and cognitive skills of brain trauma patients, we must understand the needs of each individual patient. Knowing that everyone is on the same page gives the patient the best opportunity to improve."
Man's Best Friend 
Another program at Sheba Medical Center, which promotes motor function in an effective yet fun way, is the introduction of a physiotherapy dog named Sheba. Netanel started with just petting Sheba and getting sensory input from his fur. Now he can do so much more. A game of fetch requires Netanel to flex his elbow repeatedly and release the ball at the right moment. In this fun environment, the same skill is learned and practiced without the tedious intensity of standard physio exercises. Brushing Sheba's fur is another beneficial exercise, which requires Netanel to exert just the right amount of pressure – enough to get through the fur, but not too much to hurt the dog.
"The dog relates to Netanel in a non-judgmental way, happily accepting the food and attention that Netanel offers," Judi says. "We used to have a dog, which Netanel loved, and I think that interacting with Sheba is very healing for him. Also being with the dog is fun for Netanel, which is really important and a big reason why it's effective."
Prof. Israel Dudkiewicz, Head of the Orthopedic Rehabilitation program at Sheba, is encouraged and excited by Netanel's positive response to Sheba. "We have seen a dramatic improvement in patients performing physical therapy with dogs from both a physical and emotional perspective," he said.
"The dog takes attention away from the pain and difficulty of the exercise, enabling the patient to try to do more and to do it better. I've watched other patients who ordinarily wouldn't be able to stand for just two or three minutes, but when they pet the dog, they can stand for much longer without even realizing it."
Always be Optimistic 
Rehabilitation has many ups and downs, but through it all, Judi never loses her positivity.
"It's an emotional roller coaster," she says. "Neurorehabilitation is slower than anything else I've ever experienced. Netanel can't walk, talk, or eat independently — yet; but I try to focus on the positive: he's responding to people, to us, his family. We've still got a long way to go, but I'm hopeful. Some days are good, some are not, but we have met the most amazing medical professionals here at Sheba Medical Center during this challenging period.
"My advice is to always try and find room for optimism, to find something good even when it appears that it's the hardest thing in the world to do. I've seen Netanel progress here at Sheba in ways I never could have imagined."
"Netanel is a rock star!" says Dr. Gidali. "He is so determined and works hard every day. We've been excited to see how wonderfully he has progressed. We look forward to, and expect to see and be part of, the incredible strides he will continue to make. Netanel is an inspiration to everyone who comes in contact with him."