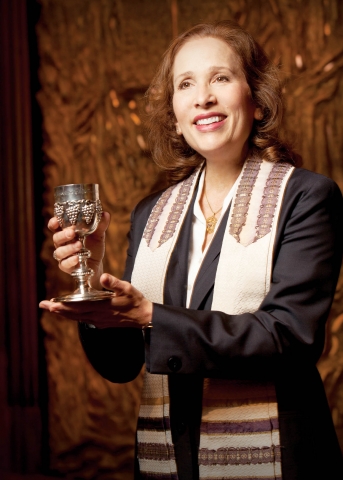 Music has always been a constant for Cantor Ida Rae Cahana. Cahana, who officially begins her tenure as Congregation Beth Israel's new senior cantor on Sept. 8, reflects that music, particularly Jewish liturgical music, has defined both her career and her personal life.
"My way into Judaism had always been through music," she says.
Cahana began singing as a child with her mother in their congregational choir at Temple B'nai Israel, in McKeesport, PA. She became the cantorial soloist there at age 16 at the suggestion of her rabbi, Leonard Winograd. "I was the first female soloist in the tristate (Ohio, West Virginia, Pennsylvania) area," Cahana remembers. "It was a big deal." The local paper commemorated the occasion with an article, "Girl Is Cantor in McKeesport."
Cantorial solo work sustained Cahana, both spiritually and financially, as she pursued undergraduate and graduate music degrees. While studying for her master's in voice performance at New England Conservatory, Cahana took a cantorial soloist position with a congregation in Providence, RI. The job gave her an outlet for her vocal talents beyond the opera, oratorio and musical theater she sang at NEC. "It was more than a gig; it was my other home, my other family," she says.
The pull of cantorial work continued; after singing professionally for a few years in New York and going out on the road, Cahana needed something more. "At a certain point I thought, 'This isn't deep or meaningful enough; is this how I want to live my life?' So I decided to go to cantorial school. Best decision I ever made," she declares. "I recognized this is what I was searching for. I don't think my Jewish soul had been awakened before that."
Becoming a cantor deepened Cahana's connection to the familiar liturgical music she sang. "I discovered an extraordinary awareness of the difference between being a soloist and cantor," she remembers. "My congregation in Providence brought me back to sing High Holidays during my first year of school. They all noticed a real difference in my singing, and I felt it, too." Cahana's first year of cantorial school was significant in another way: she met her husband, Michael, then in his first year of rabbinical school. This year marks the couple's 21st anniversary.
When Rabbi Cahana applied for the senior rabbi position at Congregation Beth Israel, both Cahanas were intrigued by the opportunity to move to the Pacific Northwest. "I love New York, but the pace of working and full-time jobs and nannies got to be overwhelming; we wanted to try something else," says Cahana, who came to Portland with no firm plans to continue her cantorial career. "At first, I took time off to be with the kids and do my own singing. Also, it was really good for me to be 'a Jew in the pew,' to be a part of the community in a whole different way."
From the outset, Cahana has felt welcomed into the CBI community. "It's a pretty haimische group and I like that," she says. "We have GLBT members and it's racially diverse. We also have some more traditional Jews, some members who grew up here, and some transplants, like me." Cahana embraces that diversity while acknowledging the challenges it presents. "How do you help all those groups integrate? I think that's what makes it vibrant, interesting and rich."
After six years as "a Jew in the pew," Cantor Cahana succeeds Cantor Judith Blanc Schiff, who retired earlier this year after 32 years as CBI's senior cantor. "We're friends; there's mutual respect. It's not competitive. I respect what she's done and she respects what I'm going to bring," Cahana says. "That makes this transition much easier, because it feels very natural. Also, I've had the luxury of being here awhile, and we've had the chance to work together."
Cahana also takes to heart Cantor Schiff's advice, "Don't mess with minhag [local traditions or customs]."
"Whenever I start a job, I try to be very respectful of community minhag; what's beloved here? I don't want to take that away," Cahana says. "You have to get to know what the legacy is and what you shouldn't touch. On the other hand, it's good to shake things up and bring in some of what I am, and also share what's new in Reform music."
Being a full-time cantor again confirms what Cahana has come to discover about her chosen profession: this is what she was meant to do. "All of the most beautiful, interesting and profound connections I've made in my life, whether through singing or otherwise, have come from the cantorate," she says. "The most fulfilling and exciting professional opportunities that came my way came to me because I was a cantor. That's something saying, 'You made the right choice.'"
Join Cantor Ida Rae Cahana at a celebration of her installation as Congregation Beth Israel's new senior cantor on Saturday, Sept. 8, 2012, at 8 pm. Congregation Beth Israel is located at 1972 NW Flanders St., Portland.