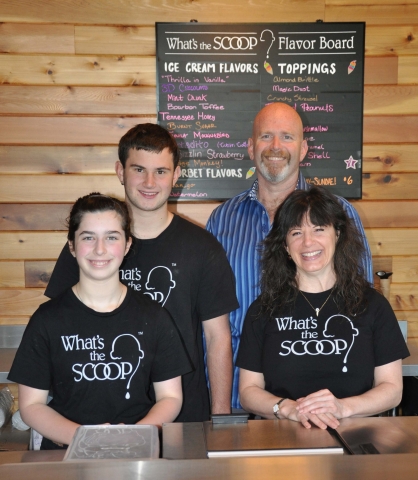 A local Jewish family has combined inspiration, innovation and ice cream to create a new tasting experience for Portlanders.
On June 30 Brian and Jodie Ostrovsky opened What's the Scoop? introducing a new way to taste new flavors. Featuring ice creams and sorbets made from scratch and fast-frozen with liquid nitrogen for a smoother texture, the shop's "game-changing" innovation, says Jodie, is the tasting bar where people can sample as many flavors as they want without delaying other customers.
"The tasting bar is an interesting idea we had," Jodie explains as she bustles about the shop that includes an open kitchen so people can see the ice cream and ingredients being made. "We all love tasting the flavors, but we feel like we are holding up the person in line behind us and are slightly annoyed at the person in front of us who can't make up their mind."
People gather around the tasting bar where taste spoons of all the day's flavors are handed out nearly as fast as people can name their choice.
"The added benefit is it forms a sense of community. We serve a lot of people at once and they feed off each other, " she says, as they talk about which flavor each one likes. Tables and a big screen TV provide the opportunity for further conversations between neighbors.
When people decide what they want, they go to the other side of the shop and "even when we are ridiculously busy there's maybe only one to two people ahead of them."
Deciding between 3D (deep, dark and delicious) Chocolate and Tequila Mockingbird can be a challenge. If you ask for a taste of Mint Chunk, don't be surprised that it's not green; the only color in the ice creams is the natural color of the ingredients. With that in mind, you know that the brightly colored mango and watermelon sorbets are loaded with fruit.
The best-selling flavor is Bourbon Toffee, made with high-end Maker's Mark Bourbon and house-made toffee. Jodie and her kitchen staff make all of the toffee, brownies, brittles, sauces and marshmallow fluff for their ice creams, all that is except for the mint chocolate chunks. Their chocolate-shell topping, which hardens when poured over cold ice cream, is made in-house without chemicals or preservatives.
In addition to the cones (hand-made with fortune cookie dough), cups and sundaes served in the shop, What's the Scoop? also sells pints of ice cream and all the sauces, toppings and brittles they make.
Perhaps the innovative nature of the shop results from the perspectives the Ostrovskys brought to its creation. Neither has a food service background, but both have business backgrounds.
A natural innovator, Brian served as Intel's director of innovation before becoming director of operations for Intel's Services Division in August. Hired by Intel in 2000, Brian says that his first job and current job are the only two he didn't create for himself.
"Intel is good about giving people the latitude to explore ideas," says Brian.
Four years ago, he attended a strategic decision-making and risk-management program at Stanford University where a professor in the design school made ice cream using liquid nitrogen. Though not a new method of making ice cream, it is not widely used in commercial settings.
That experience sparked the idea for What's the Scoop? The couple thought they had a good idea for an ice cream business, but Brian attended the January 2011 Penn State Ice Cream Short Course to ensure their ideas were feasible.
Jodie has a degree in international finance and marketing from the University of Miami. She was a researcher for the TED conference and is an ACE-certified personal trainer.
It was through her passion for exercise that she met Mark Hosack, executive chef at Gracie's Dining at Portland's Hotel deLuxe. Mark invited Jodie to try out her ice cream ideas at his restaurant. For a year, Jodie and Brian developed a wholesale ice cream business while they refined recipes and searched for the perfect retail site. Chefs and bartenders at the hotel frequently gave Jodie ingredients to try in ice cream.
"Some worked and some didn't," she says, noting she tried them all and used people at the hotel as samplers.
"Gracie's incubated our business for an entire year and went above and beyond in helping us," says Jodie. "Mark is one of the most gracious individuals."
To honor the helpful chef, the ice cream shop offers the Hosack Sundae, "an incredibly generous sundae" with four scoops of ice cream topped with nut brittles and hot fudge, honey caramel and marshmallow fluff, all made in house.
The couple is also aided "big time" by son Alex, 16, and daughter Dagny, 13. Alex, who graduated eighth grade from Portland Jewish Academy, will be a junior at Oregon Episcopal School this fall. Dagny attended PJA from first to fifth grade before enrolling in the arts program at NW Academy, where she will be in eighth grade this fall. This summer, both teens worked long hours at the shop and helped out "even when they weren't on the clock," says Jodie.
Dagny even skipped her usual trip to B'nai B'rith Camp to help out in the shop. Jodie, who has been to the women's ReJewvenation Retreat at BB Camp for the past four Septembers, plans to follow her daughter's example and stay in town this year.
Alex helps make ice cream, but says he most enjoys handing out samples at the tasting bar. "It's great to see people's faces when they say, 'Wow, that's really good.'" He also likes the idea that the metal tasting spoons can be washed. "All the cups are biodegradable, the tasting spoons are reusable and of course the cones are edible."
Brian describes a family business as "a lot more work and a lot more rewarding."
____________________________
What's the Scoop?
3540 N. Williams Ave., Portland
Noon-10 pm, Monday-Thursday
Noon-11 pm, Friday
11 am-11 pm, Saturday
11 am-10 pm, Sunday