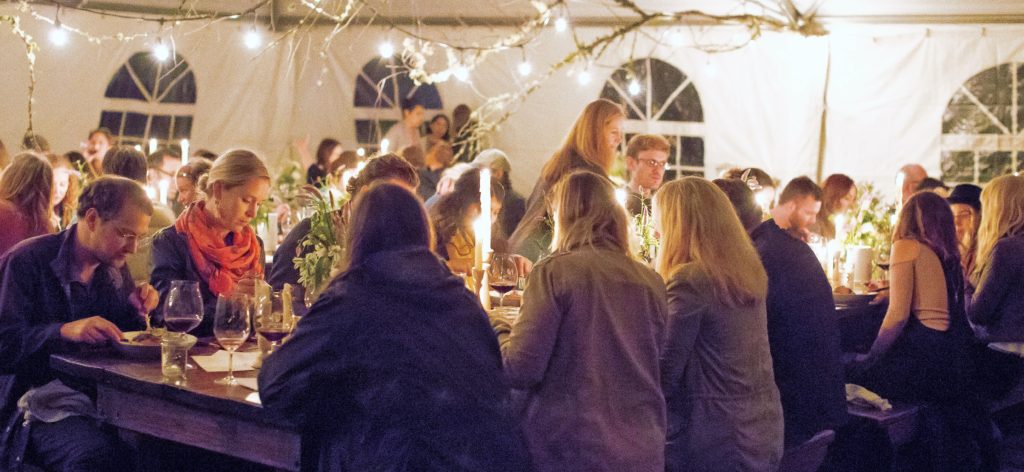 PHOTO: A Super Secret dinner at the 2017 Feast Portland. Photo by Jessica Fiorillo
During its seventh year, Bon Appétit Presents Feast Portland food and drink festival (Sept. 13-16, 2018) raised $75,140 for its charitable partners Partners For A Hunger-Free Oregon and Urban Gleaners. Since 2012, Feast Portland has raised $445,140 to help fight hunger. Save the date for year eight of Bon Appétit Presents Feast Portland, Sept. 12-15, 2019!
Feast Portland charitable partner Partners for a Hunger-Free Oregon is a statewide nonprofit organization that raises awareness about the problem of hunger and solutions, advocates for more just programs and policies to end hunger, and connects communities to food resources.
"We are proud to be long-time partners with Feast Portland, and to have together contributed to reducing hunger in our state. Ensuring everyone, especially our kids, has access to the abundance of Oregon requires all of us to stand together and work for progress," said Annie Kirschner, Executive Director, Partners for a Hunger-Free Oregon. "This year we've been able to connect tens of thousands of families in every corner of the state to nutrition programs. Thank you to Feast Portland and the remarkable culinary community for their continued dedication to raising awareness and funds to end hunger in Oregon."
This year, Feast Portland also collaborated with Oregon-based Urban Gleaners, which collects and redistributes over 70,000 pounds of food every month, feeding over 5,000 people every week through school pantries, summer free farmers markets, and Mobile Markets at low-income housing communities. Urban Gleaners was founded in 2006 by Congregation Beth Israel member Tracy Oseran. Tracy, who now serves as Urban Gleaners executive director, received the Stampfer Community Enrichment Award in 2017. Urban Gleaners' mission is to help alleviate hunger by rescuing edible surplus food that would otherwise be thrown away and delivering it to agencies that feed the hungry. The concept of picking up and redistributing food is a simple weapon in the fight against hunger. Urban Gleaners also delivers food to other hunger relief organizations. Urban Gleaners relies on the services of more than 65 volunteers to help deliver the goods.
"We are so grateful for the support we received from Feast Portland's 2018 partnership," said Tracy. "Thanks to the deliciously enthusiastic collaboration of Feast attendees, chefs, staff, and volunteers, we will be able to share an additional 32,000 meals with hungry kids and their families in Portland this year. In a city with such incredible restaurants, farmers markets, and food artisans, nobody should have to go hungry—and we applaud Feast's efforts to spread this message and help end hunger in Oregon."
"Every year, we set a goal to make Feast more impactful than the year before," said Feast Portland Co-Founders Mike Thelin and Carrie Welch. "And every year, we are honored to collaborate with our food and beverage community in Oregon and beyond to make that goal a reality."
Major charitable efforts of Feast 2018 included a Matching Challenge with Oregon Fruit Products and a "Feast Fab Collab" series of one-of-a-kind Feast Portland-inspired items created by top artisans and chefs in partnership with New Seasons Market.
Feast Portland 2018 welcomed 20,373 total attendees. There were 127 participating chefs, in addition to wineries, breweries, distilleries, cideries, artisans and more. 4,452 pounds of 183 different types of fresh produce provided by Feast partners were featured at 52 distinct events during the four-day festival, continuing to highlight the bounty of the region.