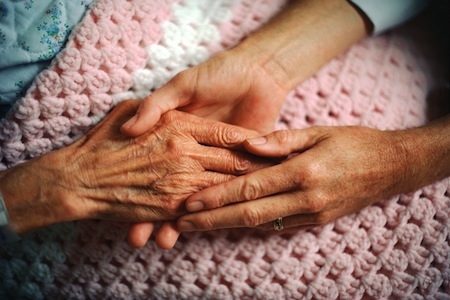 Howard Shapiro of Lake Oswego found himself in the unexpected role of caregiver when his wife Beth suffered a stroke in 1991. The resulting aphasia and paralysis meant she would need full-time care, and Howard stepped up to the job. They had been married for 40 years, and he did not want to put
her in an institution.
"I was retired and in good health," he explains. "I knew I could care for her better than anyone." He maintains that the close contact and hands-on care helped make her last 13 years "the best years of our marriage."
But caregiving is not an easy job by any means. The Obama Proclamation explains it well.
"Daughters and sons, … spouses and partners become caregivers to the ones they love even as they navigate their own health challenges … Family caregivers have an immeasurable impact on the lives of those they assist, but their hours are long and their work is hard. Many put their own lives on hold to lift up someone close to them."
The Family Caregiving Alliance is a national nonprofit that addresses the needs of families and friends providing long-term care at home. They point out that caregiving is mentally and emotionally stressful and, according to their website, can have "serious physical health consequences as well. 17% of caregivers feel their health in general has gotten worse as a result of their caregiving responsibilities."
The Alliance states that in 2012 there were 65.7 million caregivers in the United States. This is 29% of the adult population. That means an astonishing one in every 3.4 adults is caring for someone who is sick, disabled or elderly.
And I can't name two, I told Nancy Heckler, director of Adult Day Services at Cedar Sinai Park in Portland. Why is that? "A lot of people don't talk about it," Nancy says. "They don't want to whine. It's huge, though, and it's going to get even bigger. Baby boomers are aging."
****************************************************
Adult Day Services offers respite to caregivers by providing their charges with supervised socialization, support services and recreation. Her program has approximately 30 people on its roster at a time, 60 in a given year, although some attend once or twice a week or only occasionally.
Whining didn't occur to Howard Shapiro. He started with almost no housekeeping skills, but he characterizes himself as someone with a positive mental attitude who built a career teaching those in sales how to use optimism and high-energy motivation to become better at their jobs. It turns out, though, that even someone with that many skills and that much love still needed help.
Howard started going to caregiver support groups. He found lots of them, particularly at Legacy Good Samaritan. He went to many meetings, but he was often the only man there, and no wonder. According to the Family Caregiving Alliance, 66% of caregivers are women. While he could relate to much of what the others were sharing, he wanted to learn from – and share with other men as well.
"Isn't there a group tailor-made for men?" he asked. There wasn't, but Legacy was happy to host one if Howard would lead the group. The Men's Only Caregiving Support Group was born. At the first meeting, there was just Howard and another man, but the time was right and the word spread. This year the group is entering its 23rd year and, although Howard's wife passed away in 2003, he still leads the monthly meetings. Occasionally someone new joins them, but a lot of people have been coming for years.
"One guy brings coffee, another guy brings a treat," Howard says. "It's a touching hour and a half, very emotional, and we shed a lot of tears. Sometimes you hear someone else's story and your own situation doesn't seem so bad. And the guys always leave knowing that they are not alone."
Marty Florian, coordinator of Physician Referral Classes and Events at Legacy, where Howard's group meets, agrees that his group fills an important need, especially for older men. "Kids today may be more rounded about their roles in society, but older men were brought up in a different time, a time when the man was supposed to be the strong one. Here the men can tell their stories, let their hair down, not be judged by anyone."
Howard is remarried and lives an active life. He attends minyan every morning at Neveh Shalom, where he serves on the board and on the ritual committee. He does a lot of volunteering or SCORE, which helps small business owners, and he still writes a newsletter for the Men's Support Group. He believes there is a "commandment" to "help others as you would want to be helped, so to speak."
Howard urges people to remember that there is life after caregiving. He shares that thought at every meeting, especially when a new person joins the group. But his number one piece of advice to a caregiver is to take care of yourself, too. "Caregiving is a very challenging environment, a very personal one, 24/7. Some guys can't do it; they give up. Get some help. Get someone to step in for you so you can get away. One of the guys in our group goes on a fishing trip once a year and comes back refreshed. But even if it's just for a few hours, whatever it costs, it is worth it."
"Otherwise, you'll end up in the bed right next to your wife.
Liz Rabiner Lippoff is a Portland freelance writer and marketing consultant at Liz, ink: LizInk.biz.