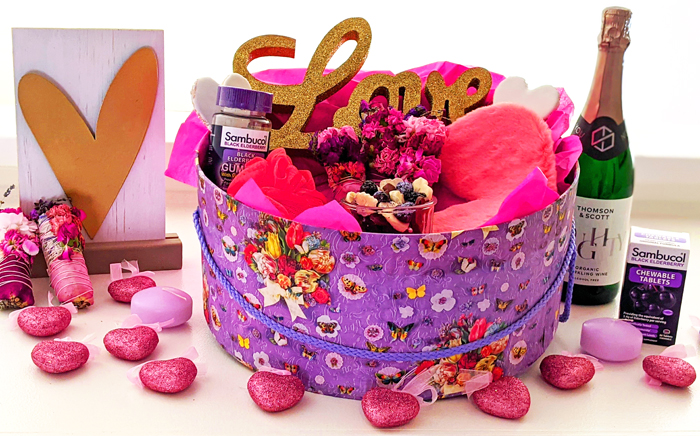 This Valentine's Day is the perfect time to keep wellness in mind when you are creating the perfect Valentine's Day gift. A relaxing and thoughtful gift, suggests TV host of Alive & Well Michelle Harris, can be a custom-created wellness box that you put together for a personalized wellness experience.
1.       Begin with a great box or container that is beautiful and can be re-used after Valentine's Day.
2.       Get a new take on the traditional flowers with floral sage sticks. They look beautiful and stay that way once they have dried.
3.       Healthy sweet treats are always a hit. Michelle shares a recipe on how to make your own vegan dark and white chocolate hearts combined with gummies covered in edible glitter (see below). Vegan heart-shaped sugar cookies are a nice touch!
4.       Add some relaxing spa type items like a fuzzy sleep mask and pretty loofa.
5.      Alcohol-free beverages are the latest trend. Some Noughty alcohol-free sparkling wine is low in calories, festive and tastes delicious.
6.       Say it with love. Fun décor can be inexpensively purchased almost anywhere.
7.       Make sure to personalize your box. Feel free to add favorites for that special someone. Massage oils, aromatherapy sprays and something high tech like fit bit all make great additions to any Valentine's Day Wellness Box!
All of these ideas will help to create a memorable Valentine's Day this year!
Sambucol Black Elderberry Gummies Healthy Chocolate Hearts
It's easy to make a healthy treat this Valentine's Day.  Sambucol Black Elderberry Gummies are delicious and help support a healthy immune system.  Combined with non-dairy white and dark chocolate, they make the perfect Valentine's Day treat!
Ingredients:
1 cup dark chocolate chips (feel free to try sugar free such as Lily's)
1 cup dairy-free white chocolate chips (Nestle makes allergen-free white chocolate which is vegan)
1/2 cup Sambucol Black Elderberry Gummies
2 tablespoons dairy-free cream
Fine, sparkling decorative sugar for garnish
Assembly:
Melt dark chocolate with 1 tablespoon dairy-free cream over a double boiler until smooth. Quickly spread on parchment and allow to become firm. Use cookie cutters or cake decorating shapes to cut into hearts. Garnish some with decorative sugar.
Repeat with white chocolate.
Allow to become completely firm and add Sambucol Black Elderberry gummies for a healthy and delicious treat!
Michelle Harris is the host of Alive & Well with Michelle Harris, a national TV series promoting the wellness lifestyle. Michelle is one of the media's leading lifestyle experts and is a frequent guest on TV shows, radio shows, magazine interviews, red carpets and live events. Michelle is also the co-founder of Animal Angels, a non-profit advocacy group where celebrities promote pet health and adoptions. https://www.aliveandwell.tv/