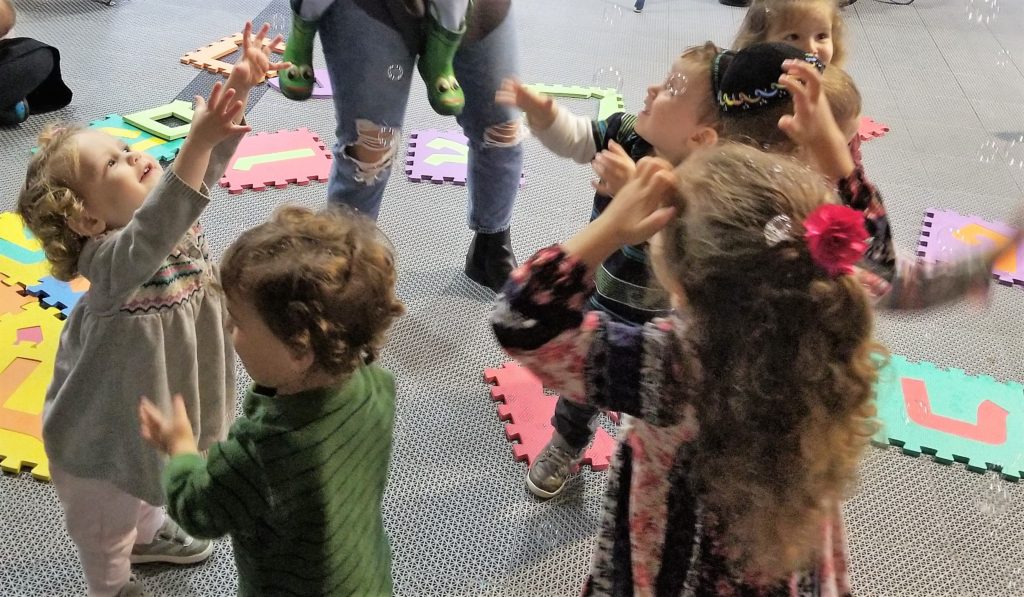 PHOTO: Maayan Torah preschoolers enjoy Music & Movement with a Jewish Twist. Other children (and caregivers) from the community are welcome to join the Wednesday sessions. Call 503-245-5568 for time. Photo courtesy of Maayan Torah Day School
Finding the right preschool or care provider for your child doesn't have to be a daunting process. Because your child's early years are crucial in his or her development, choosing the right child care facility is one of the most important decisions you can make to prepare him or her for both school and adult life. (See list of Jewish preschools below)
While most parents start the process by asking friends and family for recommendations, keep these tips from the child care experts at KinderCare in mind when searching for a child care center:
Find Locations Along Your Existing Commute. The rhythm of drop-off and pick-up will soon become a reality of your days, so take into account how a new routine will impact traffic and drive times during your commute. Choosing a child care facility near your home or office, or along your route, can be a sanity saver.
Do Your Research. Child care has come a long way in the past couple of decades, and nationally accredited centers such as KinderCare can provide everything your child needs to reach his or her potential. Accreditation is awarded by an independent organization, the National Association for the Education of Young Children, so these  centers must meet rigorous standards in everything from teacher qualifications to curriculum to safety. A simple search online can provide a list of accredited centers near you.
Make a List of Requirements. Before you tour a facility, it can help to find your focus. Make a list about what you need from a program, what you want for your child and any concerns you may have, no matter how large or small. For example, consider potential concerns such as  kindergarten preparation, teachers' management of conflict between children and more. Use your preferences to guide conversations when you're ready to take tours.
Take Tours. Once you've narrowed down your list to a few preferred facilities or programs, schedule tours to check out the spaces, meet the directors and watch how the teachers interact with the children. Keep your requirements in mind and look for clean, safe facilities that focus on nutrition and encourage exploration and reading while building a sense of belonging. If you're still on the fence or need more information about one or more centers, don't be afraid to go back for a second visit and ask more questions to ensure you're picking the right place for your family.
Trust Your Instincts. After taking tours, you may have a lot of information to process. Narrowing down what's right for your family can seem overwhelming at first, but asking yourself questions such as these can help you in the long run: Did you feel listened to, heard and understood? Was the center warm and welcoming? When in doubt, trust your gut. This is your child, after all, and you know her or him best.
Find more tips at kindercare.com.
JEWISH PRESCHOOLS
PORTLAND
The Carl School: A Cooperative Jewish Preschool at Congregation Shaarie Torah. thecarlschool.com
Foundation School at Congregation Neveh Shalom. foundationschoolpdx.org
The Gan: Portland Jewish Preschool. PortlandJewishPreschool.com
Maayan Preschool. Maayanpdx.org
Portland Jewish Academy. pjaproud.org
VANCOUVER, WA
Gan-Garret Preschool Vancouver. TheGan.org
EUGENE
Temple Beth Israel Preschool. tbieugene.org/preschool
ASHLAND
Peace Garden Preschool & Kindergarten. havurahshirhadash.org/peacegardenpreschool
Pomegranate Preschool for the Arts at Temple Emek Shalom. emekshalom.org/education/pomegranate-preschool