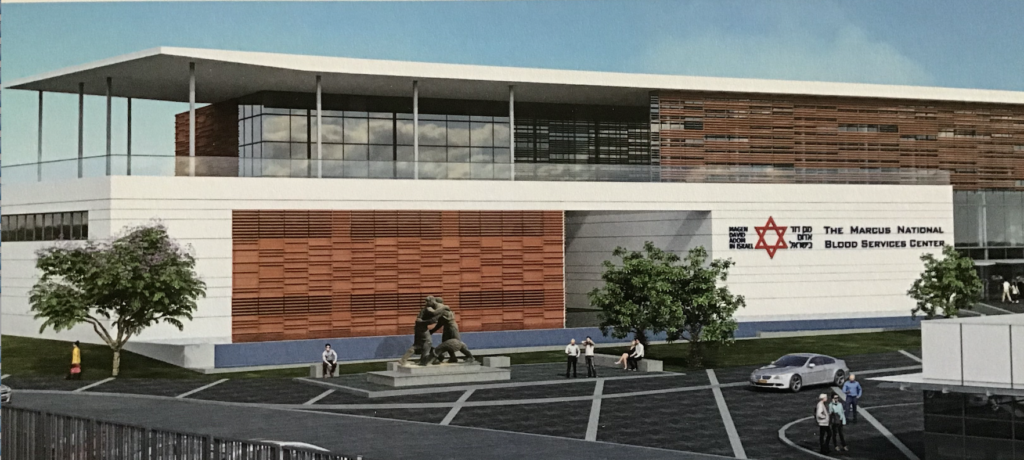 By Jay Bycer
The Marcus National Blood Services Center is the first underground blood center and will serve as a model and vanguard of future blood center construction around the world. The $130 million center is currently being built with the latest high tech and construction systems to withstand most types of attacks to safeguard Israel's lifeline of blood supplies. The vast majority of funding for the center is being provided by the American Friends of Magen David Adom.
Magen David Adom's Director-General Eli Bin, says the move to build a new blood center was driven, in part, by the fact that Israel's population has roughly doubled since the current facility was built in the 1980s in Ramat Gan, a suburb of Tel Aviv.
In Israel's last war in 2014, several Hamas rockets landed near Tel Aviv, causing MDA's blood processing operations to be moved to a bomb shelter, which drastically reduced its ability to supply blood to Israel's population. "Nowhere in Israel are we immune to rocket attacks now," Bin says, "forcing us to rethink how we protect the nation's blood supply."
Many people in the United States are unaware that there is only one blood center operated by MDA, which supplies 100% of the blood needs for the IDF and close to 90% of all other blood service needs for the nation.
Several years ago, the Marcus family (a co-founder of home improvement retailer Home Depot) from Atlanta, contributed more than $25 million to get the project started.
Now under construction, MDA hopes to have the center ready for operation in early 2021. The new blood center will be a green complex that is self-sufficient, with its own water, waste, fuel supplies. The center will also have security and lockdown processes, and many other aspects that will ensure its safety, in case of either a natural disaster or war. Additionally, it is accessible to major roads, trains and other transportation systems for quick access to hospitals and all areas in Israel. The five-story complex is larger than 300,000 square feet and can process and store 500,000 units of blood and 10,000 units of cord blood. The blood will be processed and stored in the three floors below ground, along with processing facilities, labs, and a research and development division. Administrative and logistics activities will be housed on the two floors above ground.
"Whether it's from war, terrorism, or natural disaster, we know there will come a day when our blood supply will play a critical role in saving thousands of lives – beyond the role it plays in our everyday medical emergencies, such as bypass surgery, or victims of car accidents," states Magen David Adom's Director of Blood Services, Professor Eliat Shinar. "No matter what the need, we need to be ready, and that begins by protecting our blood supply."