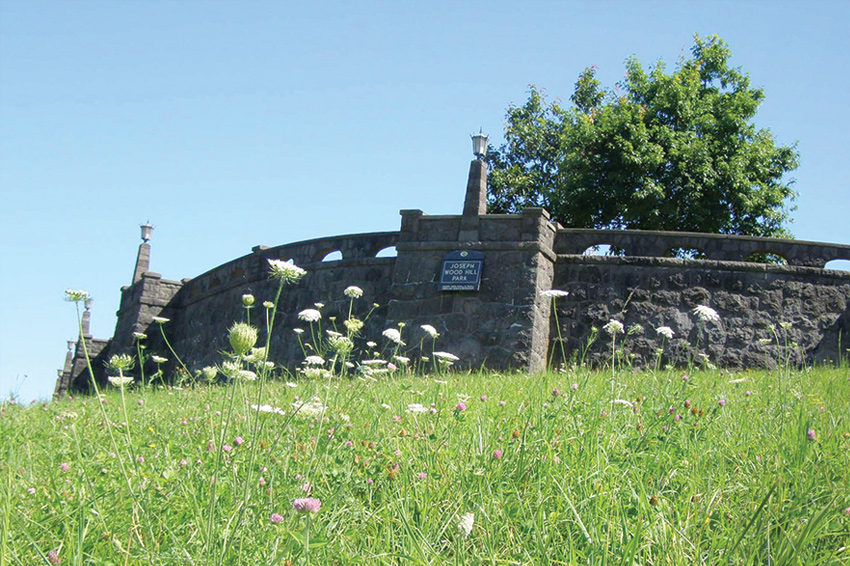 Photos courtesy of Portland Parks & Recreation
Those lazy, hazy, crazy days of summer are back again. The days are long and the kids are home, so it must be time for some Oregon summer fun! Here are 10 family friendly destinations that won't break the bank.
Grant Park: NE 33rd Ave. and U.S. Grant Place, Portland
Named in honor of our 18th president, Grant Park is also famous as the setting of local author Beverly Cleary's "Klickitat Street" books. Your kids will want to visit the Beverly Cleary Sculpture Garden for Children, which is inhabited by life-size sculptures of Ramona Quimby, Henry Huggins and his dog, Ribsy. Afterward, take a quick drive over to Klickitat Street and take a stroll with your kids down the street where Ramona grew up! When you're finished, pay a visit to the nearby Hollywood Library and check out the stone wall map in the children's section. Depicting the Klickitat neighborhood where Beverly Cleary grew up, stonemasons have etched key locales in both Cleary's life and in the world of her books into the stone.
Joseph Wood Hill Park: NE Rocky Butte Road, Portland
Former site of the Hill Military Academy, this fascinating Portland Park is named for the academy's founder, Joseph Wood Hill. The dominating feature of the park is Rocky Butte, an extinct volcanic cinder cone rising 600 feet into the Portland sky and providing epic views of the Columbia River and the Gorge beyond. Look for Mount Hood, Mount St. Helens, Mount Jefferson and Mount Rainier, as well as breathtaking views of the Rose City skyline. Watch the planes taking off and landing at Portland International Airport or explore the butte's many points of interest, including a curious fortress/castle-like structure at the summit built by the WPA during the Great Depression.
Lan Su Chinese Garden: 239 NW Everett St., Portland
Over 400 species of plants, classic Chinese architecture and elegant waterways combine to form a space like no other in Portland. Occupying an entire city block, this classical Chinese garden provides a respite from the hectic pace of city life. Gaze at beautiful Lake Zither or share a relaxing cup of tea with your children in the tower of cosmic revelations.
Green Bean Books: 1600 NE Alberta St., Portland
This independent children's bookstore is a true Portland gem, selling new and used books in a bright, cheerful setting. Read a book to your kids on a comfy couch or under the "magical draping tree." Vending machines offer fun items such as finger puppets and temporary tattoos. Be sure to come for story time every Tuesday morning at 11.
Movie Madness: Two Portland locations on Hawthorne Avenue and Belmont Street  (moviemadnessvideo.com)
With over 70,000 titles to choose from, Movie Madness brings all the magic of Hollywood to the Rose City. Hands down, it's the most diverse selection of movies and television series on Blu-Ray, DVD and VHS available to rent in town, or maybe anywhere! Don't forget to visit "The Museum of Motion Picture History" while you're there. More than 100 objects and artifacts from Hollywood's storied past are presented here for your perusal, including the knife from "Psycho," and models from "Alien" and "Star Wars."
Oregon Jewish Museum and Center for Holocaust Education: 1953 NW Kearney St., Portland
Visit the only Jewish museum in the Pacific Northwest. Rotating exhibits devoted to telling the story of Oregon's Jews along with a unique archive containing photographs, oral histories, documents and other artifacts of Oregon Jewry will make for a fun and meaningful family outing.
Multnomah Days: Aug. 15, SW 35th and Capitol Highway, Multnomah Village, Portland
March in the parade, groove to local bands and enjoy some great food. Then head over to the Kid Zone, located in the Multnomah Arts Center. Jam-packed with exciting activities such as face painting, art projects, community robot building and the challenge of the mighty rock-climbing wall, Multnomah Days is fun for kids of all ages!
Oregon Maritime Museum: Tom McCall Waterfront Park, Portland
Take a tour of the sternwheeler Portland, the last steam-powered stern wheel tugboat still operating in the United States. The friendly docent will give your kids an informative tour of the ship. Touch and play with actual turn of the 20th Century artifacts and even blow a ship's whistle in the Children's Corner. Visit the library, featuring books devoted to the Pacific Northwest's rich and colorful nautical history.
Waterfront Blues Festival: Tom McCall Waterfront Park, Fourth of July weekend.
Five days of food, fun and the best blues music on either side of the Mississippi. Top blues, funk and soul acts perform on the banks of the Willamette River, all to benefit the Oregon Food Bank. Come and enjoy some great music, good food and fun for the whole family.
Electric Castle's Wunderland and Avalon Theater: Five Oregon locations
(wunderlandgames.com)
The nickel arcades, (almost) first-run movie theater and laser tag will thrill your kids. The low, low prices for games, movies and refreshments make for an unbeatable bargain for mom and dad.