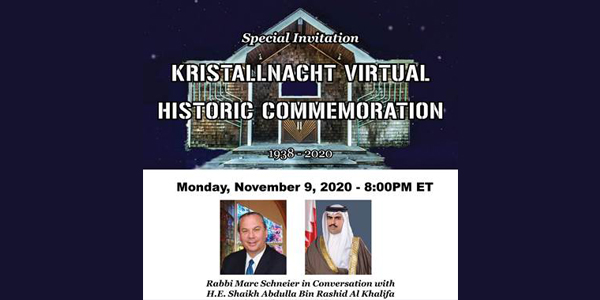 Rabbi Marc Schneier, president of The Foundation for Ethnic Understanding and H.E. Shaikh Abdulla Bin Rashid Al Khalifa, Bahrain's Ambassador to the United States, are inviting you to join them on Monday evening, November 9 at 8 pm ET for a historic virtual Kristallnacht commemoration.
This is the first time that a Gulf leader will participate in a Kristallnacht commemoration.
For the past 30 years, Rabbi Marc Schneier has been a leader in helping to improve the relationship of key ethnic groups and faith communities and is responsible for founding one of the most dynamic synagogues in the United States.
In 1989, Rabbi Schneier founded the Foundation for Ethnic Understanding originally to rebuild the historic Black-Jewish alliance in the United States and for nearly the past 15 years, to build Muslim-Jewish relations globally.
Mr. Ebrahim Nonoo, head of Bahrain's Jewish community, and Dr. Shmuel Rosenmen, chairman of the International March of the Living will join them for the live event.
Please click here to register for the event: https://us02web.zoom.us/webinar/register/WN_N1X_3kKVS8WL_uxv2–EGg