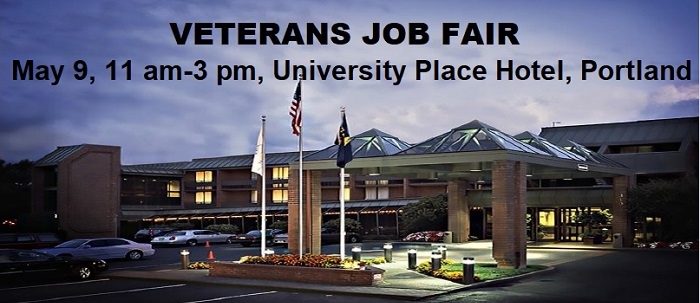 Military Spouse Appreciation Day is May 10 and DAV RecruitMilitary's hiring event on Thursday offers employment opportunities for Portland-area military spouses who currently experience a staggering unemployment rate of nearly 25%.
DAV RecruitMilitary will host the Portland Veterans Job Fair on Thursday, May 9, from 11 am to 3 pm at University Place Hotel & Conference Center.  This event occurs just one day prior to Military Spouse Appreciation Day. RecruitMilitary has held 11 events in Portland, drawing 1,532 attendees and 234 exhibitors. So far 42 exhibitors have signed up to recruit military veterans and their spouses. Events average over 50 exhibitors, and the list is not final until the day of the event.
The event comes on the heels of Google's recent announcement about a newly created "remote work" job search tool for RecruitMilitary job seekers seeking flexible career opportunities.  This new job search tool opens the door to 7,500 remote work opportunities for military spouses and veterans through RecruitMilitary's job board.
Google's Remote Job Search Tool and MOS Job Search Tool change the way Oregon's military spouses and military trained talent can find civilian jobs based upon their military job experience.  Job candidates can now use RecruitMilitary's job board to preview available job opportunities near Portland or nationwide and experience a refined search that's powered by Google's machine learning algorithms.
The new search functions are key to those veterans or service members who are actively seeking new career opportunities but are unsure of where to begin.  Now with help from Google's search, RecruitMilitary provides an enhanced running start that is needed by job seekers who are new to the civilian job search process.
These functionalities will make it easier for veterans to find the next step in their career in the civilian workforce
In early testing of the MOS Job Search Tool service, RecruitMilitary's average daily job searches by logged in job seekers is up 37%
Daily job applications submitted by job candidates through the MOS Job Search Tool are up 91%
According to the U.S. Department of Labor's April report, the rate of veteran unemployment holds steady at an all-time historic low – currently at 2.3%, which means military trained talent is in demand by civilian employers.
Now Google and RecruitMilitary are making it easier for both job seekers and employers by changing the job search and job placement processes for both parties.
Here's a link to a blog that details the new Google search tool: http://bit.ly/GoogleRM, as well as more information about Thursday's event: http://bit.ly/Portland050919.