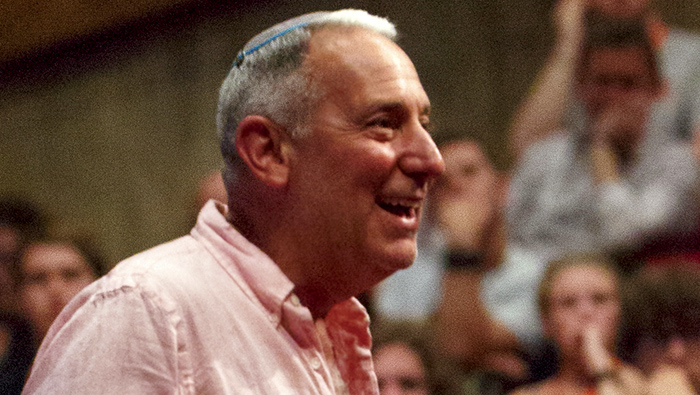 Hillel International President and CEO Eric Fingerhut will be in Portland for an evening celebrating Greater Portland Hillel and Oregon Hillel and taking part in some strategic planning for both organizations.
Part of the celebration will be the announcement of a $1,000,000 legacy gift to Hillel for the University of Oregon from community member and Hillel International Board of Governor Sharon Ungerleider. This gift will sustain Jewish campus life in the region for years to come. Oregon Hillel is thriving under the leadership of Executive Director Andy Gitelson and board chair Sharon Rudnick. Hillel will also introduce the new Portland Hillel Director Rhonda Kruschen, who is just beginning her tenure with Portland's board chair Josh Frankel (see announcement page 12).
In addition to his keynote address "Building Jewish Identity in a Shifting Campus Climate," Fingerhut will explain how local communities can come together to invest Hillel's Drive to Excellence, ensuring that every Jewish student has the opportunity to make an enduring commitment to Jewish life, learning and Israel. During his two days in Oregon he will meet with university presidents and a variety of dynamic local and regional Jewish community leaders who have worked hard over the past 25 years in support of Oregon Hillel and Portland Hillel since their inceptions.
Hillel's Drive to Excellence is about ensuring that Jewish college students on every Hillel campus have the best possible opportunities to find this inspiration. The Drive to Excellence is an ambitious plan that defines the elements of an excellent Hillel and then works with all local affiliates to meet these high standards. By 2020, 50 Hillels will be excellent on every measure, with 85% of all Hillels improving annually.
Fingerhut came to Hillel three years ago from a career in both the public and private sectors. He served in the Ohio State Senate and the United States House of Representatives. He also served as the Chancellor for the Ohio Board of Regents, the overseeing body for the Public University System in Ohio. Before becoming the president and CEO of Hillel International, Eric was the corporate vice president of education and STEM learning business at Battelle, the world's largest independent research and development organization. Under Eric's leadership the past three years, Hillel has continued to grow, now operating on more than 550 campuses in North America and 18 countries around the world.