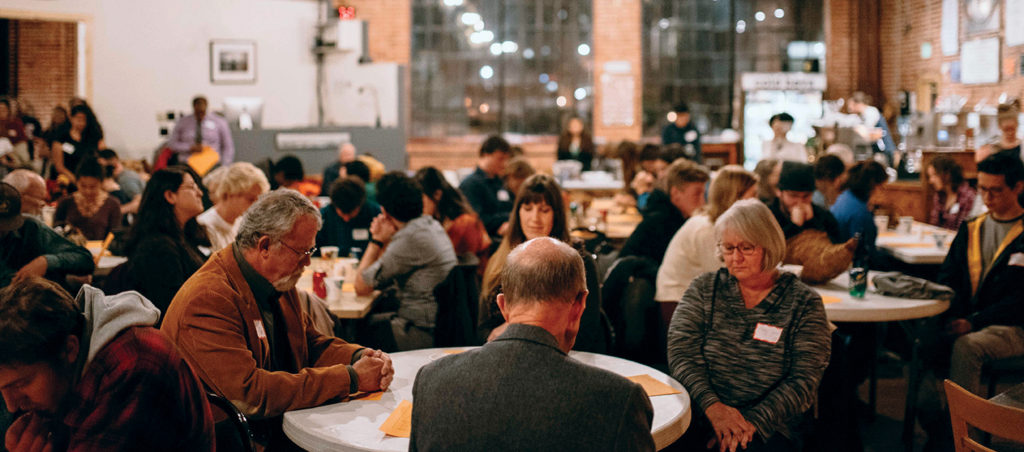 Pacific Northwest native files report from Colorado college town
By David Kravitz
The fourth annual "Interfaith Friendsgiving" was hosted by Colorado State University Hillel in partnership with the Geller Center, Lutheran Campus Ministry, Key Communities, Multifaith and Belief Student Council, and Fort Collins Interfaith Council.
The Geller Center is a local organization that teaches nonviolent communication skills that allow individuals to hold deeper conversations about difficult topics. CSU's key communities offer a welcoming environment that honors individual life stories by bringing together dedicated students from diverse backgrounds in a community that supports success.
Friendsgiving began four years ago when new CSU Hillel Director Alex Amchislavskiy first met Geller Center Director Laura Nelson. Alex presented an idea for an interfaith thanksgiving, and it grew from there.
The first year of the event was over-successful and ended up flooding the Hillel house head to toe with people. For the past three years, it has been held at Everyday Joe's, a local coffee shop. The connection between the Hillel and Geller Center directors has been a linchpin in the success of the dinner.
Laura also mentions the importance of sharing a meal with strangers and how powerful those shared moments can be.
"I'm biased being a food person, but there is something incredibly powerful about sharing a meal with people," says Laura. "That is so clear because of how many of our traditions value food. One thing we have stayed committed to since year one is the powerful conversations that happen in the Hillel kitchen when everyone is cooking. That has stayed really important; students who don't know about Judaism learn about what kashrut means and learn all sorts of things about each other by just being in the same room for a couple of hours.
It's not just sharing a meal, it is about the whole process of it coming together." One of Laura's favorite aspects of the dinner is what it says to the local community.
"What I love about it is, not only is it interfaith but it's inner- community," she says. "Sometimes if you talk to long-time Fort Collins residents, they say CSU is on an island. I think a lot of people are working to change that and always have been. Tonight was a moment to say, 'We don't have to be separate communities.' "
David Kravitz is a senior at Colorado State University and a writer for CSU Hillel. He is originally from Vancouver, WA, right across the Columbia River from Portland. "I love and miss the Pacific Northwest and want to share the stories of Northern Colorado's Jewish community with my hometown," says David.