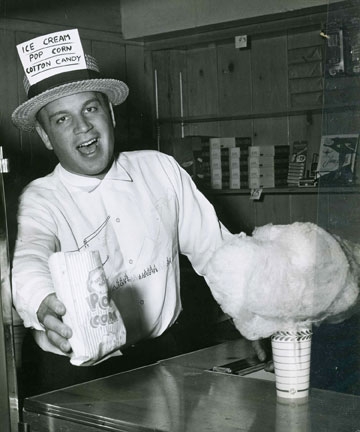 Next month, hundreds of skiers will gather in the Pacific Northwest – a tribute in part to two Oregonians: Richard L. Kohnstamm and Harold S. Hirsch.
The occasion is "Skiing Heritage Week," an annual conclave sponsored jointly by the U.S. Ski and Snowboard Hall of Fame and Museum and the International Skiing History Association.
Kohnstamm, of course, is the man who rescued and revived Timberline Lodge, turning it into one of the premier ski areas in the nation. And Hirsch is the founder of the first American manufacturer of ski apparel, White Stag, launched at the beginning of the Great Depression.
"There are deep historic roots out in the Pacific Northwest," says J. Thomas West, president and CEO of the Ski and Snowboard Hall of Fame in Ishpeming, Mich., who noted this is the first time the heritage week, which kicks off April 8 at Timberline, is being held in the Pacific Northwest.
He said it was especially fitting, since this years heritage week celebrates several important anniversaries, including the 75th anniversary of Timberline Lodge.
Both Kohnstamm and Hirsch have been inducted into the U.S. Ski and Snowboard Hall of Fame, and for nearly a half-century, the Harold S. Hirsch Award has been one of the most prestigious annual awards for excellence in coverage of ski sports.
"There is no aspect of the sport we know today that can't, in some form, trace its heritage to the Northwest," adds Bernie Weichsel, the Hall of Fame's chairman.
That heritage was shaped in great part by both Hirsch and Kohnstamm, one a young Jewish man from Portland and another from New York.
How did it begin?
In some ways, Jews and mountains have a long history – whether it's Mount Sinai, where the Ten Commandments were given; Mount Carmel, where the prophet Elijah defeated the prophets of Ba'al; or Mount Zion, where the Temple was built.
Jews also were involved in the beginnings of mountaineering in 19th-and early 20th-century Europe – a history documented in "Did You See My Alps? – A Jewish Love Story," an exhibit developed by the Jewish Museum of Hohenems, Austria.
"In the early 20th century," notes museum director Hanno Loewy, "Jewish, frequently Zionist, youth organizations and sports associations emerge all over Europe." Their goal, he said, was to develop a "muscular Jewry" as part of the renewal of a Jewish nation.
In Oregon, Harold Hirsch, born in Portland in 1907, was undoubtedly less ideological. He just enjoyed the outdoors.
He had some exposure to skiing in the Northwest, but really became active in the sport when he attended Dartmouth College and joined the ski team. He specialized in skijoring – a sport, he noted in a 1977 interview in the Oregon Jewish Museum archives – that isn't done in America anymore. He described it as "like water-skiing," except on skis in the snow, with a horse pulling the skier.
Hirsch went on to graduate work at Oxford University in England, hoping to become a professor of cultural anthropology. But the Depression hit, and he came home.
"I had to find something to do," he said in the interview. "The only other thing I knew much about was skiing, and skiing was in its very early days in the West."
He talked his father, a partner in the Hirsch-Weis Manufacturing Co. (formerly Willamette Tent & Awning), into giving him a corner of the canvas goods factory at the west end of the Burnside Bridge, and Hirsch began making ski pants and jackets.
"This was at a time when Oregon had no chairlifts, no rope tows, no lodges or snow bunnies," The Oregonian's Julie Tripp noted in Hirsch's 1990 obituary. "Just hardy types such as Hirsch who herringboned up hillsides for the pure joy of the downhill schuss."
As roads were upgraded and balloon tires for cars developed, it was easier to get into the back country, and skiing took off. Hirsch found it curious that his leisure-luxury goods company prospered in the Depression, but he found a rationale for it: "People (could) get outdoors and away from their troubles."
For more than 40 years, Hirsch and White Stag were leaders in ski and outdoor apparel design – everything from the distinctive rust-red waterproof parka for the National Ski Patrol to Winter Olympics jackets to high-fashion skiwear created by Italian designer (and Reed College alumnus and ski team member) Emilio Pucci.
He helped found the National Ski Equipment and Apparel Association (now SnowSports Industries of America) and, in 1963, established the Hirsch Award, given annually to the United States' best snow-sports journalist, photographer and broadcaster.
He also was a pioneer in racially integrating his manufacturing plants, both in Portland and in the South, during World War II. "There is an element in me, because I am Jewish," he told an interviewer, "that gave me a sympathy for people who have to bear prejudice."
In 1966, White Stag merged with a conglomerate that became Warnaco, Inc., which eventually sold the trademark name to Wal-Mart stores in 2003. The company's plant in Southeast Portland was closed in the mid-1980s.
Hirsch, whose health was failing, was inducted into the U.S. Ski Hall of Fame in 1990, at a ceremony in his home, several months before his death. Richard Kohnstamm, who would be inducted into the Hall of Fame two years later, was among the small group in attendance.
b b b
Richard L. Kohnstamm, who died in 2006, was a transplanted Oregonian who transformed his adopted home.
Born and raised in New York, he had loved camping in Maine as a youngster and always wanted a job "half indoors and half outdoors."
After serving as a gunner during World War II, he completed a master's degree in social work and came to Portland to work at Neighborhood House, originally established to aid Jewish immigrants in the early 1900s. He helped organize various activities, including an all-city teen dance in 1953.
Two years later, he formed RLK and Company, and took over management of Mount Hood's Timberline Lodge through a contract with the U.S. Forest Service.
The impressive lodge, dedicated with great fanfare by President Franklin Delano Roosevelt in 1937, had fallen into disrepair and had been closed. Some were suggesting it be torn down. Kohnstamm made it his mission to restore the lodge – and began what became his lifelong work and his legacy.
He was, noted U.S. Rep. Earl Blumenauer (D-Ore.), "a visionary leader who conceived and then for half a century led the Kohnstamm family crusade to restore the jewel that is Timberline Lodge."
When Kohnstamm took over Timberline, he was shocked. The lodge was a shambles. Hand-loomed draperies were stuffed into broken windows, handcrafted furniture had been broken up for firewood, and there were layers of grease in the kitchen.
According to Patricia Failing, writing in "Timberline Lodge: A Love Story," more than a thousand fire-code violations needed correcting, and costs for repairing woodwork alone ran $15,000 per room.
Between 1955 and 1966, she noted, RLK and Company invested more than a half-million dollars in Timberline – repairing the building, installing a heated swimming pool and the Pucci and Victoria ski lifts, and acquiring Sno-Cats to transport skiers and tourists.
"He was the last person in the world you would think would succeed up there," says David Kohnstamm, one of his four sons, director of Rose Schnitzer Manor at Cedar Sinai Park. "He had no ski area experience, no hotel experience, no management experience."
But Richard Kohnstamm was tenacious. And he was in love.
"I feel I have the best job in the United States, at least for me," he said in an essay, also in "Timberline Lodge: A Love Story," recently reissued for the Lodge's 75th anniversary.
By 1992, when he was inducted into the U.S. Ski and Snowboard Hall of Fame, Kohnstamm could point to a number of achievements, which included pioneering summer ski facilities in 1956, working with Friends of Timberline to preserve and restore the Lodge's art and artifacts and having the Lodge declared a National Historic Landmark.
Today, Timberline welcomes about two million visitors a year – skiers, hikers, mountaineers, snowboarders, tourists, and just people who, like Kohnstamm, love the Lodge and the mountain.
Jeff Kohnstamm, who succeeded his father as head of RLK and Company, says the Kohnstamm family is committed to carrying on his father's legacy.
"The most important thing," he said, "is to keep Timberline as the icon that it is. And to remember that it is a place for everyone."
Sura Rubenstein is a Portland freelance writer.