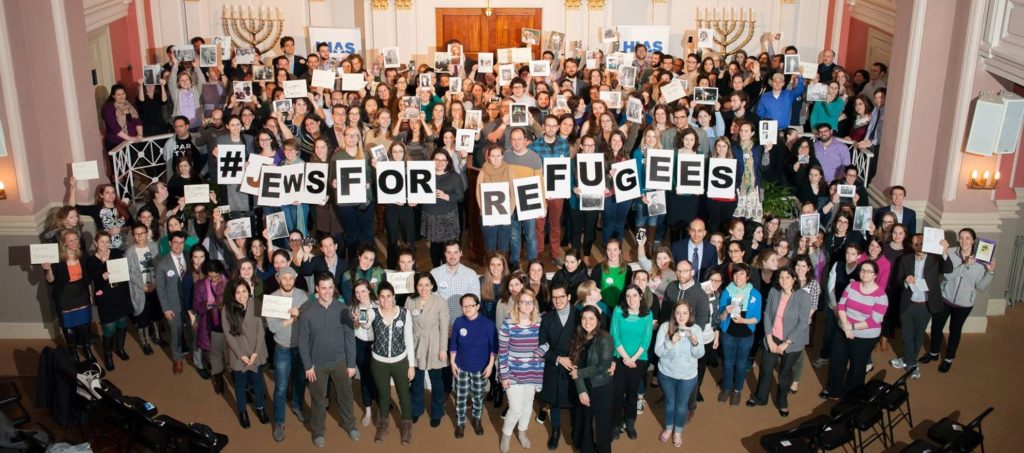 Two Oregon congregations are participating in the Oct. 19-20 HIAS National Refugee Shabbat. Havurah Shalom in Portland and Temple Beth Israel in Eugene both plan special Shabbat programs focused on the plight of refugees.
HIAS, the global Jewish movement that protects refugees, is sponsoring the National Refugee Shabbat, a series of weekend-long events taking place in Jewish congregations across the country. National Refugee Shabbat is a moment for congregations, organizations and individuals around the country to create a Shabbat experience dedicated to refugees.
Temple Beth Israel (1175 E 29th Ave., Eugene; tbieugene.org) plans to focus on the refugee crisis during Friday evening services.
"As we read the parashah in which our ancestors Avram and Sarai were by turns religious pilgrims, economic migrants, victims of family separation, sexually trafficked and deported, it feels particularly important to recognize all of the reasons that refugees and migrants today endure the harrowing journeys and risks involved in seeking a better life," says TBI Rabbi Ruhi Sophia Motzkin Rubenstein. "We Jews are all descendants of Avram HaIvri, Avram the border-crosser, and so it is our responsibility to attend to the needs of those who are forced to cross borders today."
At Havurah Shalom (825 NW 18th Ave, Portland; havurahshalom.org),  the Refugee Shabbat, will be at 10 am, Saturday, Oct. 20.
"At this challenging time in our country, when the United States has denied entry to tens of thousands of victims of violence and persecution, it is more important than ever to join with HIAS and more than 200 Jewish congregations across the country this Shabbat to reaffirm our commitments, as Jews and as Americans, to welcome refugees," says  Havurah Shalom Tikkun Olam Lead Chris Coughlin.
During this time of unprecedented attempts to close America's doors to those seeking freedom from violence and persecution, Havurah will dedicate sacred time and space to refugees and asylum seekers as part of HIAS' National Refugee Shabbat. Maria Lisa Johnson, Liz Schwartz, Beth Hamon, Emily Simon, Sam Sirkin, Barbara Slader and Laura Orgel will lead and read Torah. Chris Coughlin and Kate Haas, who have been very active in Havurah's refugee support work, will give the drash.
The parsha  for this Shabbat is Lech Lecha, which describes the beginning of the experience of wandering in search of freedom for the Jewish people. A press release from HIAS says, "This makes it a particularly meaningful opportunity to deepen our understanding of today's global refugee crisis, connect with the Jewish movement for refugees, commit (or recommit) to taking action, and celebrate synagogues' achievements in working with refugees or launch new efforts."
Participating synagogues will enjoy Shabbat dinner, services and Havdalah together, with programming centered around the refugee experience. The events will feature special programming on how residents in their community can learn more about helping refugees in the United States and around the world.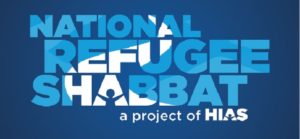 In announcing National Refugee Shabbat, HIAS issued the following statement:
"We are witnesses to one of the largest humanitarian crises in human history. There are now more than 65 million people who have fled their homes due to persecution and violence. And, yet, in this moment of unprecedented need, our government is grinding the U.S. refugee admissions program to a halt and cutting humanitarian aid.
"The Jewish movement for refugees in the U.S. has grown exponentially since 2015, with individuals, congregations and organizations volunteering, raising awareness and advocating for refugees around the country and the world. The involvement of our community has made a difference. This is a moment when we must give voice to our values as Jews and as Americans and stand up for the safety and the lives of people around the world."