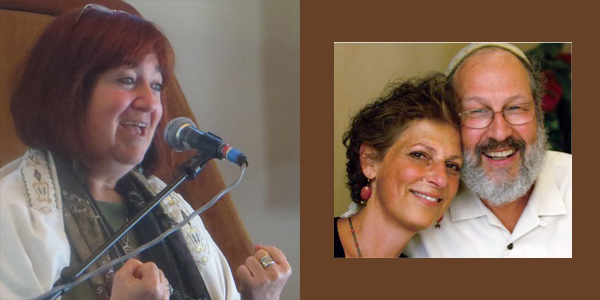 Photo: From left, Maggidah Ayala Zonnenschein, Maggidah Devorah and Rabbi David Zaslow
The Almeda Fire, fueled by strong winds and dry conditions, sped north last week from Ashland, OR and destroyed Talent and Phoenix's small communities, which lie just a few miles apart along Oregon Route 99 between Ashland and Medford.
Maggidah Ayala Zonnenschein, executive director of the Havurah Shir Hadash Synagogue in Ashland, says that somewhere between 60-80% of people in the area have either lost their homes or were displaced by the fires. The beautiful pond area where she usually walked her dog, a popular birding area, is now bare.
As of the afternoon of Sept. 16, the Oregon State Fire Marshal's office reported that the Almeda Fire is now 100% contained. The fire marshal turned over command to local authorities in Jackson County. The situation has now moved into the "stabilization" phase, as search and rescue teams continue to assess the damage and potential hazards.
"We have set up a team of volunteers who, right away, were calling to check-in (with people) and offering financial help to those in need," says Ayala. "The Federation gifted each synagogue $6,000 to distribute. It was amazing; in one day, we distributed that money."
Ayala says that there were two Jewish families who lost their homes, and the rest of the funds went to people in the community at large.
"We wrote a letter, so they understood that it was not the Havurah giving money, but that we are doing it on behalf of the greater Jewish community of Southern Oregon," says Ayala. "They're so humble, and they are just so overwhelmed with gratitude for the way the community is stepping up."
Havurah Shir Hadash has also set up a Go Fund Me page to further assist those in the community.
"I do have to say that it reminds me of 9-11 and the loving kindness that rose out of people helping people after the disaster," she says. "There has been a lot of angst around COVID-19, and all that falls to the wayside and people get out there and help."
Ayala had just set up a Zoom Room because she wanted a place for people to be able to check-in during the winter months when they could not meet with their neighbors outside. Now it has become a place where people can meet daily to make sure everyone is OK.
"Personally, being connected on Zoom at first felt weird and cold, and now we have so much connection happening on Zoom it's astounding," she shares.
When the pandemic first hit, Havurah's part-time rabbi, Rabbi David Zaslow,  foresaw the isolation that people would be experiencing and insisted on holding services every weekend via Zoom. Their services have attracted people from New York, Florida, Colorado and even Israel.
With such a positive response, Ayala says that once things have returned to normal and the congregation can once again gather, they will still hold Zoom events at least once a month to keep people connected.
The importance of the Zoom connection became even more apparent to Ayala when she was recently watching Rabbi David's wife, Meggidah Devorah, share an incredible story. "Her stories have always moved me –tears were streaming down my face," she says. "I called her the next day and told her I felt like it was more impactful because 'I was looking into your eyes when you were telling that story, and it reached so deeply into my soul.' It was a different experience than sitting in the sanctuary."
Ayala continues, "It's been my saving grace that I can go into the Zoom Room and receive that spiritual nourishment in the midst of the chaos."
To connect with one of Havurah Shir Hadash's services or classes via Zoom, contact Ayala at ayala@ashlandhavurah.org. To contribute to their Go Fund Me page to help those impacted by the fires, click here.