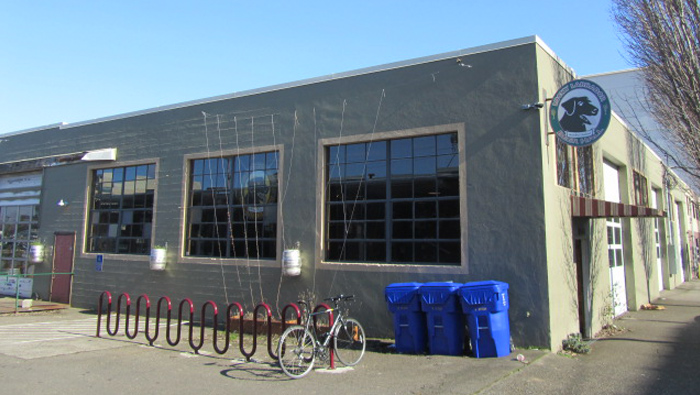 Anyone who follows the news is probably aware that hate crimes and scapegoating "the other" has been on the rise in recent months.
"The climate in the country has emboldened extremists, so the rise of anti-Semitism is alarming," says Bob Horenstein, community relations director of the Jewish Federation of Greater Portland. "But hate crimes against other communities are up, as well."
Portland is not immune to this trend.
On March 12, a Jewish employee at the Lucky Labrador Beer Hall on Portland's Northwest Quimby Street confronted a large group who referred to themselves as "National Socialists" (Nazis). Staff had reportedly been finding cards left on the premises listing links for white supremacist websites. Overhearing comments from a table of 10 customers, employee Ilan Moskowitz asked them about the cards.
Willamette Week reported that when asked why he confronted them, Ilan said, "My whole life, I hear about this shit. My grandfather survived two prison camps. I'll tell you what was going through my head: 'This is how Hitler got started. In a beer hall.' "
But in an interview with Oregon Jewish Life, Ilan says he doesn't believe the group's intentions were so symbolic. He says it was a meetup group that converses online as a book group. "They had their rights down pat," he says. "They felt comfortable in a place with no black employees."
Ilan says they were almost correct – at the Lucky Lab, "Anybody's politics are welcome unless there is hate involved."
Ilan says his reaction is consistent with his other activities as a journalist and musician. In April, his comic book-rock group Millennial Falcon plans to record an anti-Nazi single, and his journalist group Fake Publishing Millionaires plans to send out postcards opposing Twitter as legitimate political communication.
Ilan says he stepped up at the Lucky Lab because he sees apathy as a real danger to a free, democratic society.  On March 16 he quit his job at the bar because of harassment – "Neo-Nazis hacked everybody's [employees'] Facebook."
Portland also became one of at least 100 Jewish community centers and schools around the country that have received bomb threats since early January.
"Late in the evening on March 6, Portland's Mittleman Jewish Community Center received an email threat that turned out to be a hoax," says Executive Director Steve Albert. "The message indicated the possibility of explosives on campus. … Four police officers and one FBI agent responded to our call. We closed the building and completed a comprehensive sweep of the facility. No one was ever in any danger, and we have no reason to believe there is any ongoing need for concern. The safety of everyone who enters our facility is always our top priority, and we continue our long-standing practice of assessing and enhancing campus security protocols and infrastructure in an ongoing manner." With local and regional law enforcement, the Jewish Community Center Association of North America and the FBI, he says they hope "to bring those responsible for these threats to justice."
There is perhaps a silver lining to the recent increase in hatred, says Bob Horenstein. "There's been a lot of outreach from other faith communities. We are not standing alone."
He adds that in late March, representatives from Jewish, Muslim, Catholic, Ecumenical Ministries of Oregon and the African American community met "to brainstorm and see how we can respond collectively."