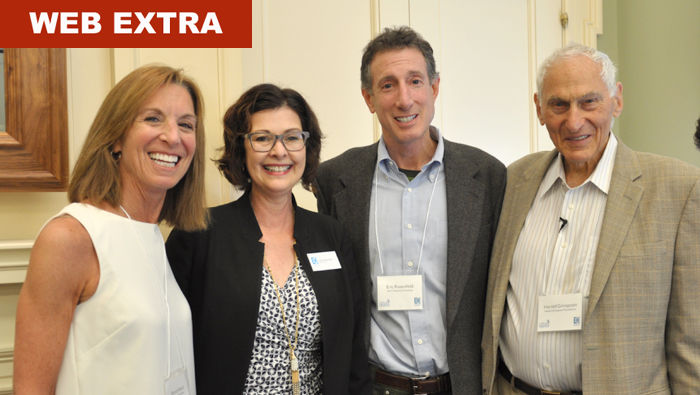 PHOTO: From left, OJCF Past President Sharon Morell, OJCF Executive Director Julie Diamond, OJCF Past President Eric Rosenfeld and Harold Grinspoon.
While on a West Coast tour to meet with recipients of his varied philanthropic projects, Harold Grinspoon spent May 23 in Portland. During his daylong visit, he spent the morning at the BB Camp office with BB Camp donors and leaders, had lunch with Jewish Federation of Greater Portland lay and professional leaders, and attended an afternoon tea for Oregon Jewish Community Foundation's Life & Legacy partners.
He was joined by Tamar Remz, chief partnerships officer for Harold Grinspoon Foundation; Julia Riseman, JCamp 180 consultant; and Rosalie Eisen, program officer for PJ Library. At each of the events he spoke about what Jewish philanthropy means to him and asked others what it means to them.
Tamar Remz said Grinspoon's contribution to Birthright Israel was a transformative gift that has shaped much of his Jewish philanthropy. "He realized funders can innovate and change a generation through a program."
He used that entrepreneurial drive to create PJ Library, JCamp 180 and Life & Legacy. All the programs use matching funds to leverage other donations.
"We inspire more giving through our giving," said Grinspoon. "We've spent collectively $150 million in three initiatives and leveraged about $400 million."
The morning program at BB Camp focused on progress on the camp's Second Century Capital Campaign. "Questions for Harold focused on what we can do as leaders to get others to support BB Camp and Jewish camping," said BB Camp Development Director Aaron Pearlman.  "Harold stressed that Jewish camps build the foundation for a Jewish life and that we should not be shy in asking others to invest in the Jewish future through BB Camp."
BB Men's Camp Association Board Chair Irving Potter announced that the library at BB Camp would be renamed the "PJ Library Reading Room in honor of Harold Grinspoon."  For the past 10 years, BB Camp has benefited from Grinspoon matching grants, training and guidance from JCamp180 mentor Julia Riseman. Additionally, BB Camp is the implementing partner for PJ Library in all communities in Oregon outside of the Portland metro area, including Salem, Corvallis, Eugene, Ashland and Bend. BB Camp is the only camp with this type of relationship with PJ Library.
In the Portland metro area, JFGP is the implementing partner for PJ Library.
"We were delighted to have Harold visit our community," said Federation President and CEO Marc Blattner. "The generosity of his Foundation has made PJ Library possible for over 2,500 children and their families in our community. His philanthropic efforts are so inspiring as he helps Jewish communities around the world reach more people and prepare for the future."
At the Life & Legacy tea, OJCF Executive Director Julie Diamond said, "Together we care about making a strong Jewish community and making Jewish tomorrows."