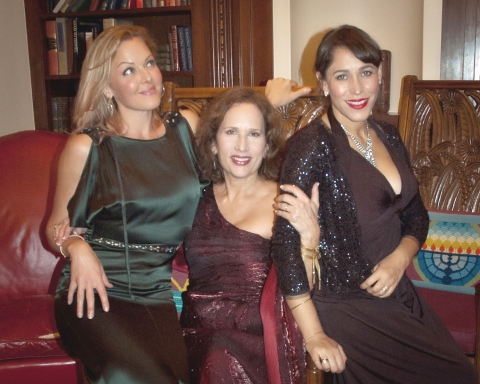 Ida Rae & Friends: Cantor Ida Rae Cahana (center) was joined by Storm Large (left) and China Forbes (right) plus Thomas Lauderdale and the Pink Martini orchestra on Nov. 4 for an evening of music and fundraising at Congregation Beth Israel. More than 600 people came together under the Temple dome for a concert featuring the voices of Wendy Westerwelle, Kevin Walsh, the NW Community Gospel Choir and the Pacific Youth Choir, under the direction of Mia Hall Savage. Guest accompanists included Michael Barnes, John Strege, Bill Crane, Abby Mages, Peter Zisa, Courtney Von Drehle, Ben Sandler and Arthur Steinhorn. Board members Linda Georges and Ted Nelson introduced the Tzedakah Time paddle raise, which – combined with ticket sales and sponsorships – generated $150,000 for the congregation. Development Director Jen Feldman is now planning the next big fundraiser, Taste of Temple, on Feb. 10, 2013. Photo by Steve Bilow
Fiscal Cliffs and Crystal Balls was the topic addressed the day after the election by Roy Abramowitz, CPA, left, and Stephen Kantor, J.D., CPA, at a lunch hosted by the Oregon Jewish Community Foundation's Professional Advisors Group, which is cochaired by Brian Suher, left, and Mark Rosenbaum, shown here flanking OJCF Executive Director Julie Diamond. The two presenters discussed options financial advisors can use to assist their individual and organizational clients in dealing with the different economic scenarios in the wake of the election. Handouts and slides from the presentation can be viewed at ojcf.org/news-events/videos-photos-and-podcasts/.
The Oregon Area Jewish Committee honored Senator Jeff Merkley with its 2012 Human Relations Award at a dinner in his honor on Oct. 25 at the Benson Hotel. The OAJC Human Relations Award is presented to business leaders and corporations who, with their skills, influence and dedication, have demonstrated their profound commitment to our community. Sen. Merkley is the fourth U.S. senator to receive this prestigious award. OAJC President John L. Moss (left) presented the award to the senator (center). OAJC Board member Kenneth Lewis (right) was cochair of the event and was the event emcee.
The Portland NCSY Jump team won the first round of a nationwide competition at an October conference competing in areas of community service, Israel advocacy and Jewish education. Oregon Teen Programming Director Meira Spivak took two local Jump leaders, Raizel O'Brien, left, and Allya Yourish, right, to a kickoff conference in New York. Throughout the 36-hour event, groups competed in a multitude of areas including "creating an original organization" and pitching a new concept. The Portland NCSY Jump team came in first place and won $360 in seed money to be used toward three major projects; two projects plus a fundraiser and plans for the final program must be completed by mid-December. Four teams picked for the finals must then complete their final project and will fly to New York to compete in the beginning of March.
Rabbi Joshua Boettiger, center, is installed as the spiritual leader of Temple Emek Shalom in Ashland Nov. 4. Leading the installation ceremony, left, is Rabbi Benjamin Barnett of Corvallis. On right is Dick Heimann, Emek Shalom's first president. Three hundred attended the ceremony at which 20 elected officials, clergy, business leaders and educators spoke to welcome Rabbi Boettiger to the community.