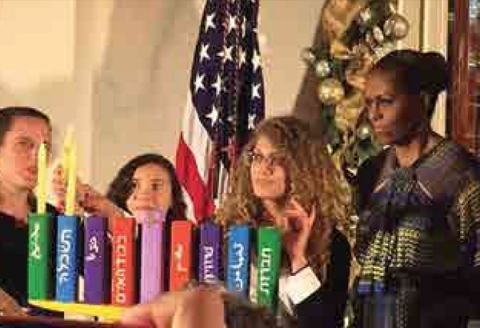 Students of the Max Rayne Hand in Hand Bilingual School in Jerusalem, where Jewish and Arab-Israeli children study together, participated in the first of two Hanukkah receptions at the White House Dec. 17.
"The invitation to the White House came after the arson attack on the Hand in Hand school on Nov. 29 and (was) also due to the support Hand in Hand receives from USAID and the U.S. Department of State," says Portland resident Lee Gordon, who co-founded Hand in Hand in 1997 with Israeli-Arab educator Amin Khalaf. "U.S. Ambassador to Israel Dan Shapiro has visited Hand in Hand several times and is a strong supporter of our work."
In his remarks at the reception, President Obama said, "The Hanukkah story teaches us that our light can shine brighter than we could ever imagine with faith, and it's up to us to provide that first spark.
"This is something that Inbar Vardi and Mouran Ibrahim know very well. They are Israeli ninth-graders at Hand in Hand, which is a bilingual school in Jerusalem. For more than a decade, it's brought Jewish and Arab children together. So Inbar is Jewish, Mouran is Muslim. …
"So Inbar and Mouran and their fellow students teach us a critical lesson for this time in our history: The light of hope must outlast the fires of hate. That's what the Hanukkah story teaches us. That's what our young people can teach us – that one act of faith can make a miracle. That love is stronger than hate. That peace can triumph over conflict."
There are now five Hand in Hand schools; the two newest ones, in Haifa and Tel Aviv-Jaffa, are in their early stages. Haifa has preschool and Jaffa has pre-k and kindergarten. Hand in Hand schools add a grade each year, becoming full elementary schools and ultimately junior high and high schools.
"All of our schools are public, accredited schools, and we work in collaboration with the Israeli ministry of education and local departments of education," says Lee, who now chairs the Jewish Federation of Greater Portland's Overseas Special Projects Committee. "We have total of 1,200 students; classes are bilingual and, as much as possible, evenly divided between Jewish and Arab Israeli, boys and girls. Curriculum is fully bilingual (Hebrew and Arabic) with lots of multicultural content. And we now have waiting lists at most of our schools."