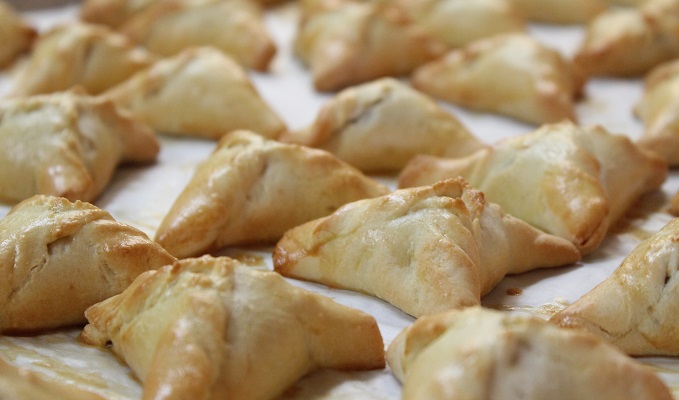 Two Oregon congregations have long histories of baking hamantaschen for Purim as fundraisers.
In Portland the Shaarie Torah Sisterhood has been baking the three-cornered holiday treat since the 1950s. The first year, the sisterhood sold 100 dozen. Last year the sisterhood made more than 2,500 dozen with the help of 100+ volunteers.
Shaarie Torah makes fruit, moen (poppy seed) and apricot filled hamantaschen. Order one dozen for $12 or three dozen for $33.
Single cookies are $1. Orders can be picked up through March 13.
Shipping is available for an additional cost. Fill out the order form at shaarietorah.org or call Barbara with questions: 971-249-2658.
In Salem, Temple Beth Sholom is celebrating its 22nd year of "dough raising." TBS is now taking orders for hamantaschen, in honor of the holiday of Purim, which celebrates the story of the Book of Esther. This year Purim starts the evening of Wednesday, March 20. The annual hamantaschen sale supports Temple Beth Sholom's many programs. TBS members and friends throughout the community make the cookies each year.
TBS bakes apricot, poppy seed and raspberry filled cookies.
A mixed dozen (four of each) is $18; $15/dozen for three dozen or more. All one flavor are $20/dozen or $18/dozen for three or more dozen.
Orders will be ready for pick up at the synagogue Monday, March 18, 9 am-3 pm.
To order, contact Sherry Dunning at 503-364-1372 or dunning3@comcast.net; the TBS office at 503-362-5004 or office@tbsholom.org; or online at tbsholom.org.