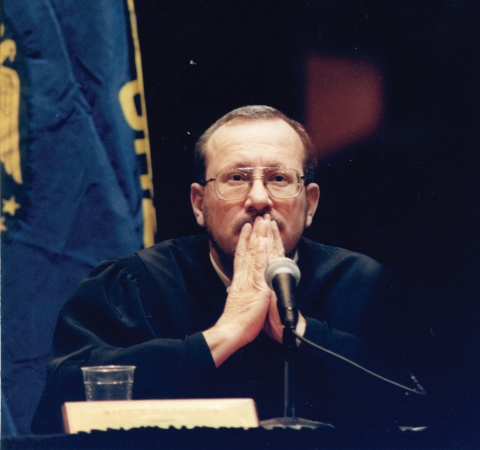 Judaism reminds judge to listen, wrestle and speak carefully in quest for justice
Although religion has no place in legal decisions, Oregon's only Orthodox appellate judge believes Judaism offers valuable guidance on how to approach the work of pursuing justice.
In April Rick T. Haselton became chief judge of the Oregon Court of Appeals, on which he has served since 1994. After graduating from Yale Law School in 1979, he clerked for Judge Alfred T. Goodwin of the Ninth Circuit U.S. Court of Appeals, then practiced in Portland from 1980 to 1994 with Lindsay, Hart, Neil & Weigler and with Haglund & Kirtley.
"I am the first Orthodox Jew to serve as an Oregon appellate judge and, I believe, as a judge of any court in Oregon," says Haselton, who goes on to note there are many Jewish judges in the state, including his colleagues on the state appellate court, Bob Wollheim and David Schuman; federal trial judge Michael Simon; Susan Graber on the Ninth Circuit; and countless trial judges around the state. While the desire to pursue justice is not unique to the Jewish faith, Judaism can provide important insights.
Haselton says that when he prays each morning, he finds special meaning in the words of Psalm 34: "Guard my tongue from evil and my lips from speaking deceitfully."
"Given the nature of the profession and what we do with words, we do great good or great harm with speech," he says. "The power you hold as a judge … (requires) a consciousness of the ways you affect other people's lives."
Whether a case is of large or small consequence, Haselton says it is important to remember that "every case has dignity" and "every case is big to the people involved in it." Deuteronomy 1:17 offers the reminder: "Small and great alike shall you hear."
Lawyers and Jews alike appreciate the importance of questioning and skepticism, he says. Lawyers are trained that there are no absolutes, only a ceaseless spectrum of grays. He says one of his favorite stories in the Torah is Jacob wrestling with the angel. "Being willing to wrestle … that is judges at their best."
The Shema, the central prayer of Judaism, begins with the word "listen." Haselton says to truly listen, one must approach a dispute without fixed preconceptions. He adds that under Jewish law, justice must be done with an open mind and an even hand and uncorrupted by material considerations.
In his new position as chief judge, Haselton must look beyond the traditional judicial role to also oversee internal administrative matters and work cooperatively with the legislative and executive branches. His predecessor, former Chief Judge David Brewer, persuaded the state Legislature to increase the number of judges on the appellate court for the first time since 1977 from 10 to 13 judges.
"We have the authority for expansion," says Haselton. "I need to continue to work with the Legislature to make sure we get the funding. … We are falling further behind. If we are unable to render our decisions in a timely manner, the implications for the whole system can be catastrophic."
People have a right to have cases decided in a timely fashion. And as both a judge and a Jew, Haselton feels an obligation to respect the rights of all parties.
While Judaism may offer daily reminders and overreaching principles that affect his work, for Haselton the commitment to those values precedes his life as a Jew. Raised in Albany by a single mother who taught him that it was imperative for him to give back, he became interested in Judaism in high school. When he went to Stanford University in 1972, he met two of his best friends, Erica Goldman and Jeffrey Druckman, and enrolled in an Introduction to Judaism class. But he didn't officially begin the conversion process until 1987, when he met Emily Simon in the Goldman-Druckman sukkah. After quizzing him on his relationship status and interest in Judaism, Simon announced her friend, Sura Rubenstein, was the perfect woman for him. When Haselton and Rubenstein later met, they agreed. Haselton enrolled in the Oregon Board of Rabbis' Introduction to Judaism class and began to work toward conversion with Havurah Shalom's Rabbi Joey Wolf.
The couple didn't wait for the conversion to be finalized; Simon performed a civil ceremony in October 1988. Exactly one year later on the Hebrew calendar, Wolf officiated at their Jewish wedding ceremony. Over the years the couple has become more observant and now belongs to the Orthodox shul where Sura grew up – Congregation Kesser Israel.
Haselton is a multi-term past president of Kesser Israel, where he still sits on the board. He also is a past board member of Havurah Shalom and Portland Jewish Academy, which the couple's daughter, Molly Haselton, attended through eighth grade. Molly is currently a senior at the University of Maryland.