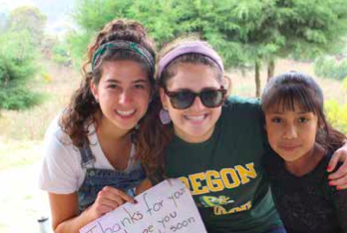 While many college students spent spring break on a beach or by a pool, 10 University of Oregon students spent theirs in Compala, Guatemala, building a sustainable school building. The Oregon Hillel Foundation worked with nonprofit organizations Hillel International and Repair the World to fund the trip and teamed with students affiliated with the Hillel at UC Santa Cruz to build the 300-person facility.
"I feel as a Jewish student it is incredibly important to engage in this kind of project," says Oregon senior Ava Feldman. "I feel that as we grow into Jewish adults it is important to participate in activities that encourage us to engage with and assist other communities that can in turn help us become better leaders within our own."
The two Hillel groups combined to build the environmentally friendly school with the help and participation of the elementary school-aged children, who would soon be using the structure. Sometimes they would help the volunteers with their construction, but often their help came in the form of an energetic dance or playful game. For the Oregon Hillel group, the kids' excitement served not only as a jolt of energy when they needed a break from the physical labor, but as a glimpse into the true impact of their presence.
"The children looked so overjoyed to be performing these silly dances and songs for us," says Oregon junior Laura Ticho. "In America, I feel like most kids would be bothered by the task of having to prepare a show for a handful of visitors from another country."
Along with the new school building, the Oregon and UC Santa Cruz Hillels combined to raise enough money to purchase 150 solar-powered lanterns for the students of Compala. Powerful enough to light up a room, the lanterns prompted quite the reaction from the pint-sized Guatemalans. As they picked up their new light sources, each kid showed appreciation with a hug and a smile.
"To think that many of the children at home get this excited over a PlayStation or new CD, and these children were blown away by the ability to read or have light while going to the bathroom in the middle of the night," Ticho says. "It was incredibly moving for me because these children were so grateful for what we were doing for them, and it showed on each of their faces."
This academic year Oregon Hillel has increased its focus on tikkun olam (repairing the world). It's safe to say that those 10 students – along with those from California – did their part in bringing that value to life.
Will Rubin is a junior at the University of Oregon majoring in journalism. A lifelong resident of Eugene, Will has covered the Oregon Ducks for the Oregon Daily Emerald and AddictedToQuack.com; he currently writes for DuckTerritory.com.