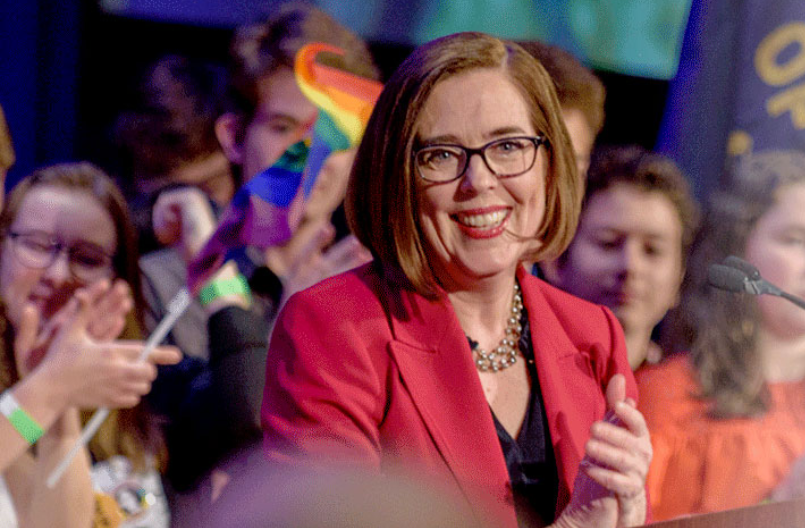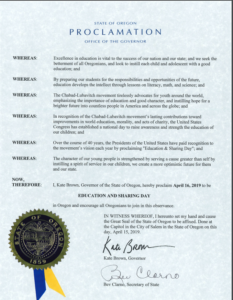 Earlier today, 11 Nissan 5779, April 16, 2019 Governor Kate Brown proclaimed this day "Education and Sharing Day."
Today's proclamation comes in conjunction with the birthday of the Lubavitcher Rebbe as she writes:
Whereas: The Chabad-Lubavitch movement tirelessly advocates for youth around the world, emphasizing the importance and good character, and instilling hope for a brighter future into countless people in America and across the globe; and
Whereas: In recognition of the Chabad-Lubavitch movement's lasting contributions towards improvements in the world education, morality, and acts of charity, the United States Congress has established a national day to raise awareness and strength the education of our children.
As a family law attorney advocating for children and their parents, Kate has been fighting for Oregon's kids from cradle to career. As governor, Kate is investing in our schools to keep students on track to graduate from high school with a plan for their future – and ready for college, job training, or the world of work.
Kate has made education one of her top priorities as governor, passing the largest education budget in Oregon's history to help reduce class sizes and put more tools in the classroom. This included funding all-day kindergarten statewide for the first time ever, making sure every child has a strong foundation to learn and grow.