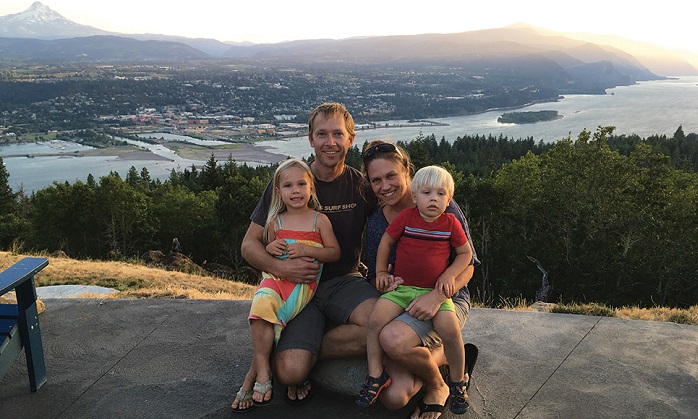 Hood River Havurah member Amanda Lawrence wanted to bring the light of Chanukah to towns in the Columbia Gorge.
"After I spoke with (Hood River Mayor) Paul Blackburn about this idea, he graciously offered to pay for half and then I reached out to the Havurah group to help pay for the other half," says Amanda. "This is a beautiful, collaborative effort to start to recognize and celebrate religious diversity in the Gorge. It is a small but very important step, and it is so wonderful to see so many people coming together to make it happen."
Paul praised Amanda for "raising this important issue." He said he offered to pay for half because he wanted to endorse her lead.
"More than ever these days it is so important to nurture a community that is supportive of all our residents, especially those who are in a minority," says Paul. "Hood River has invited folks to share with us items that represent their holiday traditions to be included in our holiday display (which, to be clear, consists mainly of a huge Christmas tree). I hope that together we can craft a celebratory, inclusive, fun display to help us all through these dark, wet days."
Lindee Lewitt, who coordinates the Gorge havurah group, says members donated more than enough to match the mayor's offer and pay for the other half of the menorah. Nine people from Hood River Havurah said they would donate toward the purchase of the menorah. With the extra funds, the havurah has purchased two menorahs, one for Hood River and one for White Salmon.