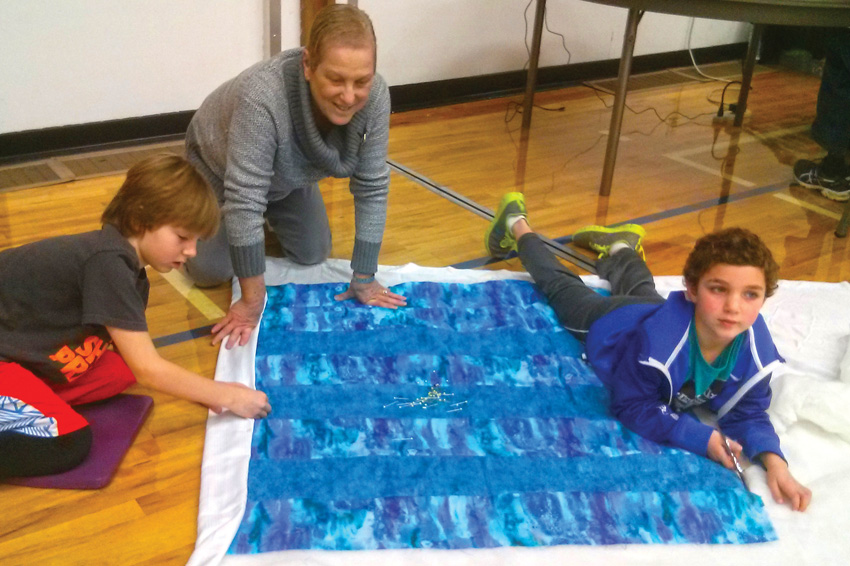 For the third year, hundreds of Portlanders are expected to join the hundreds of thousands of people all over the world who volunteer and help others on
Good Deeds Day, slated this year for March 15.
In May 2007 Ruach Tova (an Israeli NGO) launched the Good Deeds Day project with 7,000 Israelis volunteering; the annual celebration now draws volunteers to help others in 50 countries around the world.
"Good Deeds Day puts into practice the simple idea that every single person can do something good, be it large or small, to improve the lives of others and positively change the world," says Caron Blau Rothstein, Portland Mitzvah Network coordinator. "Regardless of age or ability, everyone has a role to play in tikkun olam, the perfecting of our world."
The Jewish Federation of Greater Portland's Portland Mitzvah Network promotes volunteerism and ongoing volunteer opportunities, in addition to hosting projects for efforts such as Good Deeds Day and Martin Luther King Jr. Weekend of Service.
During this year's MLK Weekend of Service, two teams from the Portland Mitzvah Network volunteered to help feed 600 people at Potluck in the Park and make more than 200 blankets for the Binky Patrol (blankets for vulnerable children).
"Service to others is a wonderful entry point for many into Jewish communal involvement," wrote JFGP CEO Marc Blattner about that experience.
Many local parents have used GDD to introduce their children to the benefits of volunteering.
Last year Heather Kirkbride volunteered with her mother and her two daughters, Abbie, 9, and Allison, 5. "Volunteering as a family strengthens the lesson I try to teach my girls about being grateful for what you have and always give to others," Heather says. "You do not lose anything when you give back. You can change a life in a single act of kindness."
Last year Michelle Katz and her husband volunteered with their two children, then 6 and 9, because "We believe it is important to give back to our community and help others. We want to teach our children the value of mitzvot, as our parents taught us, and hope that they will continue to volunteer their time doing something they feel strongly about."
A volunteer at the event for the past two years, Julia Waldinger was so moved by the experience that this year she offered to chair one of the day's 20 projects.
"I volunteered with a group of friends in 2013 at the Holocaust Memorial and by myself in 2014 at the children's book bank," she says. "I love to give back to the community. I am involved with a number of organizations. I am actively involved on the social action committee with Temple Beth Israel."
Chairing a project is also rewarding. Never Again Coalition co-chairs Diane Koosed and Lauren Fortgang planned volunteer projects for children and families for the past two years.
"I think Good Deeds Day is such an excellent way to involve people of all ages in volunteer activities," says Lauren. "It shows people that whether you are 4 or 84, there are always ways we can give back to the world and help others."
Last year about 30 participants decorated large hand prints to send to Little Ripples preschools and wrote letters to soccer players of Darfur United Soccer Academy – both programs in the Darfur refugee camps in Chad.
"Even though we speak a different language than that of the refugees, our efforts let them know that they are not forgotten," says Lauren. "That they are 'part of the world.' "
This year the duo are turning their attention to educating teens on how to become activists."Teens will learn that parts of our phones and computers most likely came from the war-torn area of the Democratic Republic of Congo," says Diane, noting attendees are asked to bring old cell phones for recycling, with proceeds benefiting programs in the Congo. After learning about the conflict surrounding minerals in the Congo, teens will learn how to take action. "They can call the White House, send a tweet to an ambassador, write a postcard or letter, or do all of the above," says Diane. "This will be an empowering way to show aspiring activists how easy it can be."
Kathy Walls, community life director at Cedar Sinai Park, has seen the impact teens have on people closer to home. Last year a group of teens from Congregation Shaarie Torah visited the residents at CSP for a "Senior" Prom. "To see young teens not only chatting with our residents but also dancing with them to music familiar to the seniors but new to the youth is very rewarding," says Walls, noting the prom is planned again this year. "They (the residents) love youth, family, music and dancing. Put it all together and you have a true senior prom."
To see available projects and to register to participate, visit jewishportland.org/gooddeedsday. For questions, call Caron Blau Rothstein at 503-245-6449.