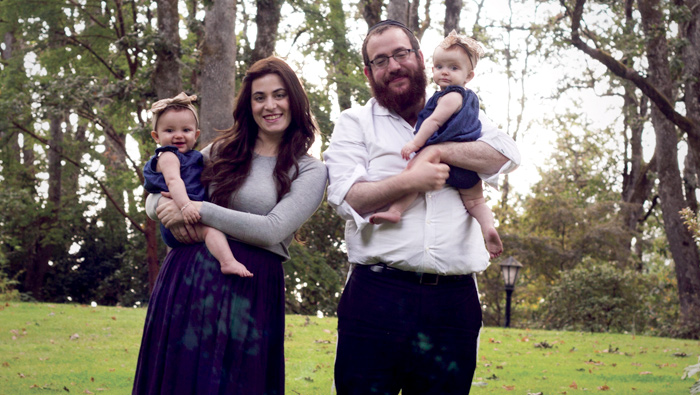 Courtesy of Chabad of Oregon
Appearances can be deceiving. Brooklyn-born Berel Gurevitch may look and sound like a native New Yorker, but he's traveled the world building knowledge and experience serving Jewish communities, a skill set he'll put to good use at the University of Oregon this year.
Both Berel and his wife, Rivky, grew up in suburban Crown Heights, NY, but between the pair they've crossed multiple oceans and continents. The young couple, Rabbi Berel is 25 and Rivky is 22, have studied and served in more communities than most people visit in a lifetime – from Manchester, England, to Oslo, Norway; Detroit to Austin; and northern Israel to South America. All this helped prepare them for the 2015-2016 school year opening of the new Chabad House on the UO Eugene campus. The center is dedicated to providing Jewish students of all backgrounds and denominations with a "home away from home" where they can enjoy a home-cooked meal on Shabbat, socialize with other students, enjoy religious services, and explore their Jewish identity and heritage in a non-judgmental environment.
In addition to their international service dossier, both Gurevitches boast distinguished family pedigrees in serving Jewish communities. Rabbi Gurevitch's grandfather was a Chabad emissary in Pittsburg, as was his father in Connecticut and later New York. He is the fifth of his siblings to open a Chabad House, joining his two older brothers in Arlington, TX, and Argentina, and his sisters in Houston and Philadelphia.
Rebbetzin Gurevitch, whose mother is one of 17 children, also descends from multiple generations of Chabad emissaries; her grandparents opened the first Chabad House in Michigan. The generational apples haven't fallen far: Rivky's aunts and uncles serve local communities in China, Ukraine, Germany and France and the states of Alaska, Ohio, Michigan and Washington. Rivky arrives with personal experience in education and outreach, having served as counselor or head counselor at Chabad summer camps in Michigan, Florida, Ohio and Wisconsin. She has also taught courses in a Detroit day school and online.
As members of the Chabad-Lubavitch movement, an organization dedicated to serving the needs of Jews around the world, the couple hopes to enhance Jewish life for the students at the University of Oregon. Their new Chabad House joins more than 230 existing Chabad on Campus centers around the world, and is one of 19 new centers opening this school year. Chabad on Campus centers are partially funded by a seed grant through the Rohr Expansion Initiative of philanthropists George and Pamela Rohr and are financially independent. Chabad on Campus has the largest network of full-time, professionally staffed Jewish campus centers in the world.
The Gurevitches have been heartened to see what a beautiful Jewish community Eugene hosts and how warmly they have already been received. They anticipate getting to know everyone on campus and in the community, and profess a deep optimism in their special nonjudgmental and inclusive approach.
Rabbi Berel and  Rebbetzin Rivky may once again be far from home, but they promise to establish a permanent, warm and open home for all at their new Chabad Center, practicing the vision they preach of truly "loving one's fellow as oneself."
You can find the Gurevitches on Facebook at Facebook.com/Jewisheugene, online at JewishEugene.org or by calling 347-272-5845.