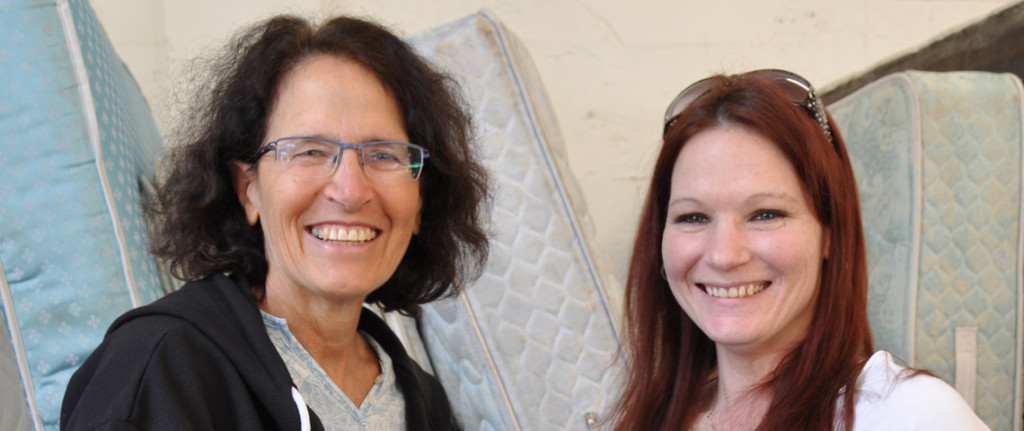 Roz Babener helps families start anew in furnished apartments
Roz Babener's decision to stop teaching in 1989 after the birth of her third child coincided with the doors of the Soviet Union opening for emigration under Mikhail Gorbachev's policy of glasnost (openness). Who could have guessed that concurrence would end up benefiting tens of thousands of Oregonians in need?
Some 30,000 Portland-area families have received the beds, kitchen supplies and other household items they need to start a new life – originally from the JFCS Russian Resettlement Warehouse and later from the Community Warehouse, founded by Roz after the influx from the former Soviet Union slowed. In 2014, the average family size of those being helped was 2.8 people.
When she stopped working, Roz joined Congregation Neveh Shalom's social action committee chaired by Barb Schwartz. As Jewish immigrants from the Soviet Union began to arrive in Portland, many members of the committee signed up to welcome the new arrivals and serve as their advocates. As each family arrived, they were picked up at the airport and delivered to a furnished apartment with a refrigerator stocked with groceries, including a pot of soup made by Roz's mother, Madeline Nelson.
After two decades of marches and protests calling for the Soviet Union to allow Jews to emigrate, the open doors were met with elation and generosity. Donations flooded in. Soon Portland's Jewish Family and Child Service needed space to store furniture and household goods donated to furnish apartments for the new arrivals.
Schnitzer Steel donated a bay in one of its warehouses; the Resettlement Warehouse was born, and Roz found her niche coordinating it. Soon other social service agencies asked if they could both store donations and get assistance for some of their clients, and JFCS said "Yes!"
Over the next decade more than 700 Russian-speaking Jews arrived in Portland, and the warehouse moved into progressively larger spaces.
"My job was to organize the donations," says Roz. As each family arrived, the furniture and household goods they needed would be delivered to their new home. And Madeline would make soup.
By 2001 arrivals had slowed to a trickle. But the warehouse was still serving about 10 families a week.
"We only had a few families a year, but other agencies were using 90% of the warehouse," says Roz. "JFCS said maybe it was time to stop. But those of us volunteering said, 'No, this is a good service.' We noticed there is a whole wide world of homeless vets, people with mental health issues and others who have limited resources. If they are lucky enough to get help to move into an apartment, they are sleeping on the floor."
Roz's husband, Jeffery, and his firm Babener and Associates provided legal guidance; Gersham Goldstein, who later chaired the board of the Jewish Federation of Greater Portland, drew up the 501(c)3 articles of incorporation for the Community Warehouse.
"And we were off and running (in 2001)," says Roz, who in addition to being the founder also served as board chair for more than a decade.
The Community Warehouse now serves clients of nearly 200 social service agencies. About 50 families a week, two-thirds of which include children, get the pots and pans they need to cook a meal, the dishes to eat that meal, a table to sit around together and beds to sleep in at night – things that enable these families to start life anew.
Roz considers beds and kitchen supplies the most important items the warehouse supplies.
"One of my personal interests is pots and pans," says Roz, citing "the impact of a family dinner and the exchanges that go on when you are sitting at a table."
So each year in March, synagogues across town host Pots and Pans for Purim. People coming to Purim parties bring pots and pans to bang and drown out the name of evil Haman and then donate the pans to the warehouse to quiet the cries of hungry children.
"Forty-three percent of the people we serve are children living in poverty," says Interim Executive Director and Volunteer Director Jessica Thompson.
In 2014, Community Warehouse helped 7,234 people from its main warehouse on Martin Luther King Blvd. in NE Portland and the new Tualatin Warehouse, which was purchased in May 2012 after new Board Chair Jeffrey Weitz found the site.
"We do a lot of work to help homeless vets, and sexual traffic victims and parents trying to get back custody of their children after completing drug treatment," says Roz. To regain custody of their children, Roz says the parent needs to be able to provide a mattress that is off the floor.
One day last month Transition Projects Veterans Case Manager Lindsay Hyland brought a couple (Jason Reaney and Missie Heath) to the warehouse to get the things they needed for their new apartment, including beds for their two daughters, who had been sleeping on the floor while the family stayed in a small house with relatives.
Jason served in the Army from 1999 to 2006, including two tours in Afghanistan and one in Iraq. When he was hit with an IED (improvised explosive device), he suffered a broken back and says his lower back is now held together by nuts and bolts and pins.
Eight months ago the family was hit by another tragedy when a motorcycle accident broke Jason's hip and collarbone.
"You don't know the struggles we've had the past eight months," said Missie. "This means the world to us. Thank you isn't enough."
As they watched a truck fill up with beds and kitchen supplies, Jason said, "Everybody needs help sometimes. … Now we can start our life over."
Over the years, Roz has heard stories of so many families who have been helped by the warehouse.
Now she has stepped back a bit from her full-time involvement at the warehouse to spend more time with her mom and her two grandchildren, Sammy, 4, and Ani, 2. All three of her children still live in Portland. They are Rebecca and her husband, Walter Mast; Jeremy, a tax attorney with Lane Powell; and Rachel, who is in nursing school at OHSU.
"They have all been interested in the warehouse, and they all look out for the warehouse," says Roz.
She says she's dropped down to spending just 60% of her time at the warehouse. Keep in mind that 60% of her time adds up to much more than 60% of a normal work week!
Just what does a board chair emeritus do?
"These guys (staff) have lists," says Roz. "If something needs to be done, I fill in and do things that don't fit. I speak at groups and work on the Chair Affair (annual fundraiser, see box). Things fall on my plate."
FOR – Friends of Roz – is also a powerful force at the warehouse, according to Jessica, who has worked there for two years. "At least once a week someone comes in and says, 'Say Hi to Roz.' " She says that personal connection brings many people in to donate or volunteer. In 2014, 54 regular volunteers donated 7,004 hours of labor and an additional 145 volunteers provided one-time help.
"We give the community a way to be helpful," says Roz. "Not everybody can write a check. But you can go through old linens and say, 'I'm not using this anymore.' "
She says there are lots of ways to help. People donate items for families in need, but they can also donate antiques or other items such as sets of china or large buffets that wouldn't fit in a typical apartment. Those items are sold at the Estate Stores attached to the warehouses. And the money raised in the Estate Store is used for warehouse operating expenses and to buy goods families need.
"We are a place than can help people help families," says Roz. Quoting a warehouse tagline, she adds, "We put their used goods to good use."