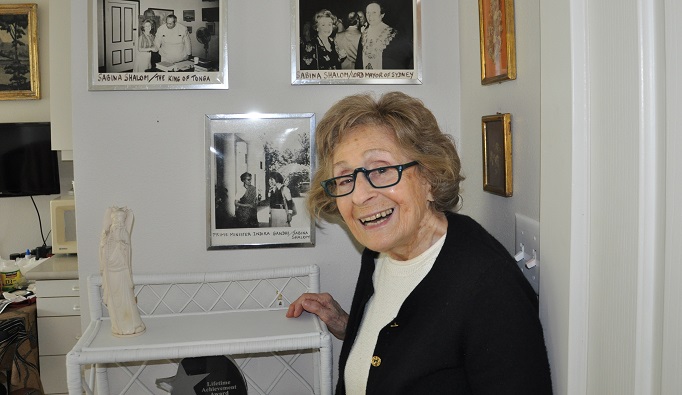 PHOTO: Sabina Shalom in her apartment at Rose Schnitzer Manor displays photos of the leaders she met while touring the world on her marriage sabbatical – India Prime Minister Indira Ghandi, the King of Tonga and the Lord Mayor of Sydney, Australia. On the shelf is the lifetime achievement award she received from the National Association of Social Workers. Photo by Deborah Moon
Sabina Shalom, 93, moved to Portland last August in the belief that without change life stands still.
"There is no sadder statement one can make as the years close in than 'If only,' " says Sabina. "If only I had taken a chance, made a change, taken a risk! Without change life stands still and can pass us by. If and when it doesn't turn out as hoped, then change again … we can go on changing until the day we die."
Sabina's life has certainly been full of changes. A social worker in England, she volunteered to go work with concentration camp survivors, the first of many volunteer efforts to aid those in need. She raised two sons on three continents. After they were grown, she backpacked around the world on a marriage sabbatical, about which she wrote a well-received book. After successfully pressing charges against a man for smoking in an elevator, she joined the board of the American Lung Association and spent 13 years promoting laws to ban smoking in public spaces.
Six years after the death of her husband, Marco, aka Mark or Mung, Sabina decided it was time for another change. She says she doesn't give up, but she does "give in to circumstances." She never wanted to live around a lot of old people, but as "sensible woman," she realized assisted living was her best option after three heart attacks and numerous ailments.
But if she were going to leave the Bethesda, MD, apartment she and Mark bought nearly two decades ago, she wanted to live someplace where she could see "God's beautiful creation" out the window. Since the couple had a granddaughter (Jocelyn Shalom) in Portland, she had researched the area when looking for a place for Mark when he was suffering from Alzheimer's. So she knew Portland met her criteria of "a more moderate climate and a very lovely city."
Now Sabina lives on the campus of Cedar Sinai Park in Southwest Portland in an apartment at Rose Schnitzer Manor with windows overlooking trees and natural beauty.
"I find I am in a lovely place where the elderly are very young old people," says Sabina. "They are very interesting, and I feel so much at home here."
And she is enjoying really getting to know her granddaughter, who with her husband, Jeff, is expecting Sabina's first great-grandchild.
After shul shopping for several weeks, Sabina now often attends services at Congregation Shaarie Torah. She has made many wonderful friends at Rose Schnitzer and Shaarie Torah, but she prefers not to tell new acquaintances about her multi-faceted life. When someone asks her about herself, she refers them to her website, SabinaShalom.com, which includes a short biography and details about A Marriage Sabbatical, originally published in hardcover by Dodd Mead in 1984 and now available as a paperback or on Kindle from Amazon.
"The book did bring me a lot of beautiful and rewarding speaking engagements," says Sabina. She was invited to speak on three voyages of the QE2, on several military bases, and at Brandeis and Hadassah author events. Now people who take the time to look at her website often persuade her to open up and share more of her experiences.
For example, soon after Sabina moved to town, she met Felicia Rosenthal, a stylist with Stella & Dot, who was displaying jewelry at a CSP Street Fair. Sabina dodged Felicia's questions and referred her to the website. After reading about Sabina, Felicia invited her to Rosh Hashanah dinner and bought copies of Sabina's book for her other guests.
"I was so touched," says Sabina of the books Felicia gave out.
"People are so kind," she adds. "I'm not so special. I've had an interesting life, but I don't feel worthy of the many kindnesses shown me."
Yet throughout her life, Sabina has been quick to show kindness to those in need. When Mark's job took the family to Columbia, South America, she helped set up a free welfare clinic for unwed mothers and organized Meals on Wheels. After returning to the United States, she volunteered to read to the blind and served as a hospice volunteer in Miami. She and Mark both helped resettle Russian refugees arriving in Florida.
During her world tour she visited a family planning clinic in a very poor village in India. Moved by the plight of the people she saw, she requested and received an interview with Prime Minister Indira Ghandi, with whom she shared an emotional connection detailed in her book.
"I have had an interesting life," she says rather demurely, noting she just took advantage of opportunities wherever she saw them.
Referring to her faith in God, she adds, "Without my conviction of Him always being at my side and without my daily acknowledgment of His presence through the prayers I recite morning and night, I would not, could not still be here."
Sabina feels all her efforts to aid others have rewarded her as well with "the little glow inside that we may have lightened someone's pain, troubled heart or lonely days."
"If you grasp the hand of a person in need, you will have contributed so much that will give you satisfaction and justify your existence in this troubled world," says Sabina.