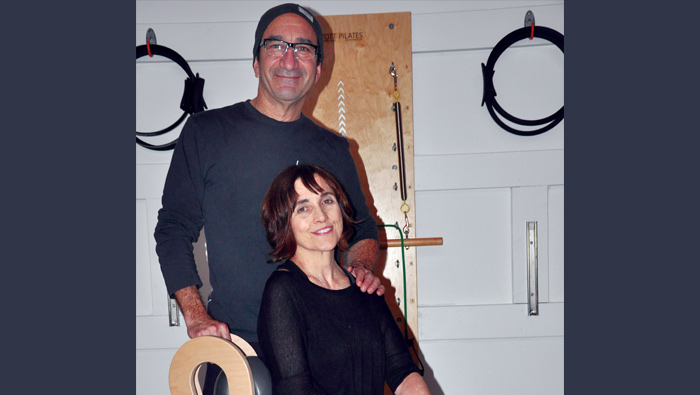 A couple who met performing circus stunts about 35 years ago is now helping Portlanders optimize their own performance by offering a diverse array of Pilates and yoga classes at their studio in Northeast Portland.
Begin Pilates classes include Danny Mankin's Yoga for the Inflexible Man (aka Stretch and Kvetch) and Maria Mankin's trademark Grace Pilates using the Begin Chair she invented to help her 83-year-old mother regain strength and flexibility.
"The name, Begin Pilates, is an invitation to begin, to start Pilates," says Maria. "We want to make Pilates accessible to everyone."
Danny adds, "When you begin, you are open to all possibilities."
The word "begin" features prominently in the studio beyond just its name and Maria's patented Begin Chair. The studio's motto, prominently painted on the walls, is "Begin to love your core."
The chair originated when the couple was living in Point Reyes Station, CA, where Maria had a small Pilates studio that catered to the area's large senior population. When her mother, Natalina (Lina) Tanaceto, came to visit, she was unable to stand up from a chair by herself.
"That's one of the first reasons people go into nursing homes," says Maria. "I started a program for her in a chair."
Lina began to regain some proficiency, but Maria wanted to enhance her mother's core and balance, too. She knew doing Pilates on a ball improves both, but also knew that putting an 83-year-old on a ball would not be stable. She began developing a prototype chair to blend the benefits of a ball with the stability offered by a chair. Israeli designer Rami Geller helped her build the prototype.
After receiving the patent, the couple sold the patent to Balanced Body (pilates.com), which markets it as an office chair. Maria retained the right to develop and train instructors in Grace Pilates, a method utilizing the Begin Chair.
However, the two lives that intertwined to become the couple who created Begin Pilates almost never got beyond their first date.
Danny had been accepted at UC-Berkeley, but his sister, Joan Mankin, z"l, convinced him to instead join her performing political satire with the street theater group San Francisco Mime Troupe. He had failed to follow his sister's path to the bimah (she had a bat mitzvah, but he never became a bar mitzvah after their father argued with their rabbi). But Danny did follow her lead to become a clown.
While juggling at Fisherman's Wharf, Danny says Maria started to flirt with him after she finished her one-woman puppet and clown show. But just after their first date, which ended with "maybe one kiss," Maria returned to her home in Sicily. Over the next two years Danny wrote her numerous letters in Italy and France, "but I never answered once," says Maria.
Never, that is, until Danny contacted her with both a job offer and the offer of airfare back to the states.
Danny had been hired to book entertainers for the second Us Festival created by Steve Wozniak. Maria arrived to perform at the May 1983 festival in San Bernadino, CA, and eight months later the couple married on Jan. 18, 1984.
For 20 years Danny earned his living as a juggler, clown and acrobat. Maria worked part time in early childhood education and raised their two daughters, Alina (now a TV writer) and Imogene (now a law student). In 1990 and '91, the family performed together at Make-A-Circus, a one-ring circus that performed free and did circus workshops with children in San Francisco and all over California.
When Danny turned 40 (and Maria 41), he transitioned into managing arts and theater nonprofits and took up yoga. The family began a series of moves through California, Idaho, Washington and Oregon, and Maria studied to become a Pilates instructor with the goal of having a portable career. The girls spent summers at Camp Towanga, a Jewish camp near Yosemite, first as campers and later as counselors.
And the family fell in love with Portland. When they lived in Longview, WA, they would spend every weekend in Portland. They bought a house here and both girls attended college in Oregon, one at Willamette University and one at the University of Oregon.
So when Danny and Maria decided to settle down and open Begin Pilates, they chose Portland because they loved it and knew Alina and Imogene would be sure to visit because they, too, love the city.
Though Begin Pilates caters to a diverse mix of people from age 14 to 95, Maria says she has high hopes for the seniors who come to the studio. "My goal is for people walking with walkers to throw their walkers away," she says.
Now 90, Lina is a poster child for the rejuvenating effects of the Begin Chair and Grace Pilates. She now has no problem getting out of a chair by herself, and when she joined Danny, 60, and Maria, 61, on a trip to Mexico this winter, Lina walked so fast they could hardly keep up.