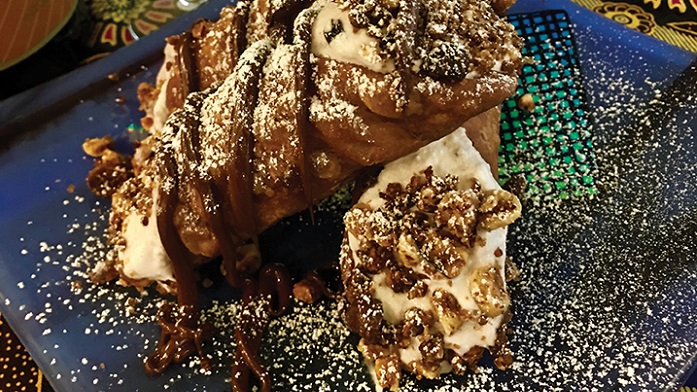 "Put on your yarmulke, it's time for Hanukkah!" Every year while lighting the menorah, we never forget to enjoy Adam Sandler's rendition of the Hanukkah song. It is a lighthearted, funny song that never fails to make us laugh.
We also enjoy indulging in all of those delicious fried goodies traditionally eaten on the eight nights of Hanukkah. As a col¬umnist, I have shared recipes for fried chicken, crispy latkes, pil¬lowy doughnuts and even the iconic New Orleans beignet – all fried to perfection and worth all the effort and all the calories! I wondered if I could come up with yet another fried item that would be a festive and delicious reminder of the oil that kept the menorah lit for eight miraculous days. Then I remembered my very favorite confection that relies on deep frying: the cannoli.
Last summer while my family and I were in Italy, I promised myself that if I spotted the perfect creamy, crispy cannoli in the window of one of those incredible Italian bakeries, I would allow myself to indulge. I found one, and indulge I did. Sweetened dough thinly rolled and shaped around a tubular form is deep fried to a golden brown. Once cooled, it is filled with a blend of fluffy ricotta cheese and sweetened whipped cream. At that moment, both ends of the cannoli are gently dipped in finely chopped pistachios or tiny miniature chocolate chips. The combination of the light crispy shell, creamy sweet filling and chopped crunchy nuts is simply irresistible! I thoroughly enjoyed every bite!
Hanukkah beckons us to come together, light the menorah, eat special food and celebrate the festival of lights. A little laughter is always the perfect thing to have on the menu as well.
Here is my rendition of the Italian Cannoli. I use ricotta cheese and sweetened whipped cream gently blended with sweet and chewy maraschino cherries. I dip the ends in finely chopped sweet and salty Oregon hazelnuts and drizzle them with melted dark chocolate.
CHERRY CHOCOLATE CANNOLI WITH OREGON HAZELNUTS
For the shells:
2 cups all purpose flour
1 teaspoon sugar
Pinch of kosher salt
1 tablespoon unsweetened cocoa powder
2 tablespoons unsalted butter
6 tablespoons sweet marsala wine
For the filling:
½ cup chopped maraschino cherries (I used the fancy Italian kind)
1½ cups ricotta cheese
½ cup heavy whipping cream
2 tablespoons powdered sugar
1 egg white
6 cups vegetable or canola oil
1 cup toasted and sweetened chopped hazelnuts*
3 ounces melted dark chocolate
Powdered sugar
Deep fry thermometer
Cannoli molds
To make the dough, in a medium bowl whisk together the dry ingredients. Cut in the butter and rub between your fingers until blended. Add the marsala, stirring with a fork until the dough comes together. Shape the dough into a ball, wrap tight¬ly in plastic wrap and refrigerate for at least 1 hour (dough can be made up to two days ahead).
To make the filling, chop the cherries and squeeze them between paper towels to remove excess juice. In a large bowl mix them gently with the ricotta cheese. Whip the cream until soft peaks form. Add powdered sugar and whip until stiff. Add half the whipped cream to the ricotta and fold gently to lighten. Blend in the rest of the whipped cream and refrigerate.
Divide the dough into two equal pieces. Using a rolling pin, roll one piece on a floured surface to 1/16-inch thickness. Use a 4-inch cutter to make six circles. Use the rolling pin to elongate slightly into ovals. Wrap the ovals (the long way) around the metal cannoli tubes. Brush the seam with a little egg white and press to seal. Use your fingers to flare the ends open a little bit. Heat the oil to 375 degrees. Carefully place the shells in the hot oil and fry until golden brown on all sides, 2-3 minutes. Using a slotted spoon, transfer the shells to a plate lined with paper towels.
When molds and shells are cool enough to touch, carefully twist the molds from the shells. Repeat with remaining dough. Just before serving, spoon the filling into a pastry bag (or a zip top bag with the corner cut) and pipe the filling from the mid¬dle out to both ends. Carefully dip ends in chopped nuts and place on serving tray. Drizzle with melted chocolate and dust with powdered sugar.
* My dear friend, Sharie, shared her recipe for the nuts with me. She makes them by toasting the chopped nuts with a little bit of flavorless oil and then tossing them with butter, brown sugar and a pinch of salt.
Lisa Glickman is a private chef and teacher who lives in Portland. She has made TV appearances on COTV in Central Oregon and appeared on the Cooking Channel's "The Perfect Three." She can be reached at lisa@lisaglickman.com.