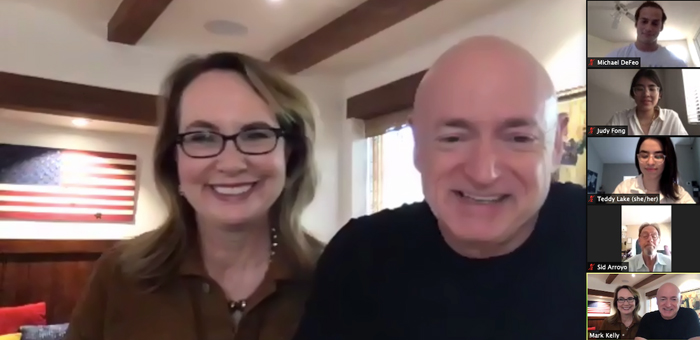 Photo: Mission for Arizona had a Zoom meeting on June 27 with U.S. State Senate candidate Mark Kelly and his wife, Gabby Giffords.
By Ethan Blyn
My first real experience with politics was the 2016 Presidential Election. My expectation of what would happen was primarily driven by my idealistic notion of the influence of grassroots activism, as cultivated by my 10 years at URJ Camp Newman and heavy involvement as a leader in my local NFTY chapter. Suffice to say, my little naïve liberal bubble was popped on that night in November of my senior year of high school.
But my political optimism did not vanish there. I led many educational programs advocating for the importance of social justice in my youth group, and continued those programs for my teenage campers that summer. My concerns about the President's potential abuse of power were met by reassurances from my elders that no one political actor could dismantle the American political system. After all, we were a society built on checks and balances and accountability.
It wasn't until my sophomore year of college that I lost hope in politics. It wasn't any singular event that spurned my pessimism, but rather the continuous blatant disregard for the Constitution and our morals consistently being met with indifference instead of action. It is disheartening for any politically engaged young adult to watch the institutions that were meant to defend American values continually fail to hold accountable those who publicly cheat.
From the Russia investigation to impeachment to kids in cages to Democratic infighting and the inability to coalesce, it was easy to lose faith in our ability to ever rediscover unity in the most polarized electorate in American history. I became a bit of a nihilist, unmoved by what I deemed to be "performative" promises of change from all politicians and vain calls for unity. In my eyes, none of it mattered. We were too far gone.
This summer, I have been volunteering with Mission for Arizona as a Summer Leader. My decision to work for Mark Kelly's campaign this summer was, admittedly, not one inspired by a belief in our democracy or a candidate. It was driven more by a moral responsibility to do what I could to help those who will suffer the most if Donald Trump is re-elected. I believe it would be an inconceivable global crisis.
However, my experience working for Mark Kelly and Mission for Arizona has opened my eyes to just how many of us are genuinely sick of the polarized political climate. The campaign is filled with people from all walks of life who want a leader whose sole goal is to do what's best for them and the country.
They are not all lifelong Democrats or liberal in their thinking. Instead, Mark Kelly's campaign is fueled by people who are exhausted and disappointed by the current state of American politics.
Their goals go beyond the removal of the current administration and electing a Democratic senator. These are people who want to see us return to the decency and respect for the rule of law that once encapsulated American politics. These are people who advocate for politicians who are willing to work across party lines to do what is best for the people that they serve. These are people who still love and believe in their country. Mark Kelly is the embodiment of all these beliefs. He is a candidate to believe in.
In the most unbelievable of times, this work feels more important than ever. The feeling of coming to work every day, knowing that whatever you do that day impacts your whole community is a prolonged rush of exhilaration that not many people get to experience in their lifetime. The optimism and belief in our country that I feel every day at work are tangible, and it has inspired me to do more. I am currently volunteering with the Temple Chai Voter Registration Task Force, a nonpartisan effort to get out the vote. When I return to school in the fall, I will be interning with the King County Bar Association, providing legal assistance related to housing to low-income residents, many of whom face disaster due to the pandemic.
I have not fully regained the optimism that I once had for politics, and I don't know that I ever will, but my time working for Mark Kelly and Mission for Arizona has given me hope again.
Mission for Arizona is a joint effort by Arizona Democrats to elect Mark Kelly and Democrats up and down the ballot in 2020. For more information, visit missionforarizona.com.
Ethan is a rising senior at the University of Washington studying Communications with a double minor in Political Science and Law, Societies, & Justice. His passion for political involvement and community leadership started at a young age through his 12 years at Jewish summer camp, a community that he still holds near and dear to his heart. In his free time, Ethan enjoys traveling the West Coast with friends, competing with his collegiate ultimate frisbee team, and passionately following just about every major sport. After graduation and some time off spent doing public interest work, Ethan intends to enroll in law school.