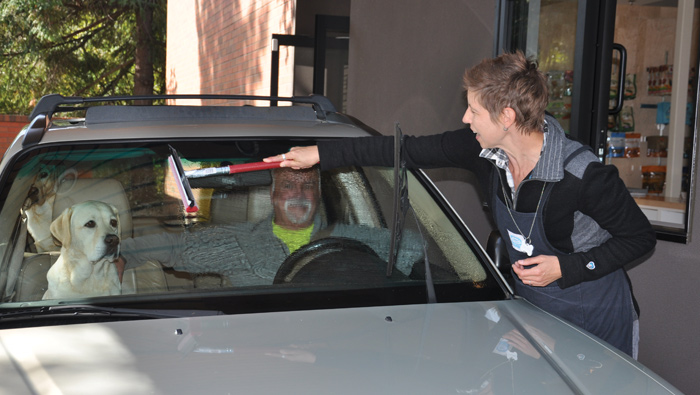 At The Filling Station, conveniently located a block off Hwy. 217, a cheerful attendant will fill your car and wash your windshield, the latter a nod to the bygone era of service that is evident elsewhere in this new business.
Despite the name, customers come here not when their gas tank is empty, but when they need to restock supplies for their dogs, cats and other small pets. The Filling Station Pet Supplies offers a new twist on shopping for pet food – a pickup window so you don't have to get out of your car.
Whether people go through the drive-through or explore the 1,800 square feet of retail space, owner Laura Amiton aims to supply quality, service and convenience.
"I know quality food and supplies from my other store," says Laura, who also owns the Healthy Pets Northwest store on Alberta Street, one of four in Portland. "I'm replicating the products I sell at Healthy Pets Northwest."
The minimum requirements for the quality food she sells are no artificial flavors, colors or preservatives, no by-products and no corn, wheat or soy. "That was a new concept when Healthy Pets opened," she says. "Now it's mainstream. Big companies are now making that. Now I focus on smaller companies who make their own food."
Laura is hoping her innovation of a pickup window receives as good a reception as the high-quality pet food did. She got the idea one day when a woman pulled up in front of her Alberta Street store and dashed in saying her baby was sleeping and she needed to grab some dog food.
"I said, 'Go back out to your car and I'll bring it,' " says Laura. "I thought, we are a chore for so many people. How can I make it easier?"
So Laura hired Debbie Carter, a business coach she met at a business networking group. Debbie said the idea resonated with her, and she believed it would fill a need. So she had Laura do surveys and interviews with customers. Then Laura wrote and rewrote a business plan. With that in hand, she applied for financing from five financial institutions and received five offers. It took her several months to find a space with a drive-up window in a suitable location – "I wanted to be close to where people shop, live and work," says Laura.
Renovating the former credit union from office space into a retail setting that caters to both pets and their owners took another six months. The bright space features high display counters with carpet pads and durable toys to entertain dogs while their people explore the 3,500 products in stock. In addition to pet food, Laura stocks beds, collars, leashes, litter, toys, supplements, ID tags, grooming supplies … all the needs for cats, dogs or small pets such as hamsters. A tasting wall features an assortment of cat and dog food with a form to record the pet's reaction.
Employees record that information along with past purchases and other preferences to create a custom profile for each customer.
For now, people who want to use the drive-through can call ahead if they know what they need. By the end of November, the store's website will feature an online shopping cart so the order will be loaded on a cart ready to load into a customer's car when they arrive. In addition to loading the food and supplies, Laura also offers dog biscuits to any canine passengers (with the owners' permission of course) and washes the car windows. She can run a credit card at the car and either email or print a receipt.
Laura says she knew early in life that she wanted to work on behalf of animals. She grew up attending services and Sunday School at Congregation Beth Israel, where her parents were married. She worked at a veterinary hospital for eight years and was a pre-vet student at Oregon State University before "I changed my mind."
She went to work for the Oregon Humane Society and helped launch its first local adoption outreach at PetSmart. Taking dogs and cats out of the shelter into a public area results in high adoption rates, she explains.
But with student loans to repay, she says she couldn't afford to continue to work at the humane society.
When her friend Julie Cantonwine, who created Healthy Pets Northwest, asked her if she would like to open another location of the popular store, Laura jumped at the chance.
"She said most of her customers were travelling across town," says Laura, noting that at the time Julie's store was one of the few sources of natural pet food in town and people were willing to drive to Southeast Portland to get it. "I got very lucky with a solid base of Healthy Pets Northwest customers, who came from her store."
Laura opened the Healthy Pets store on Northeast Alberta Street in December 2004. A third Healthy Pets is located in Multnomah Village. There are now two stores in Southeast Portland.