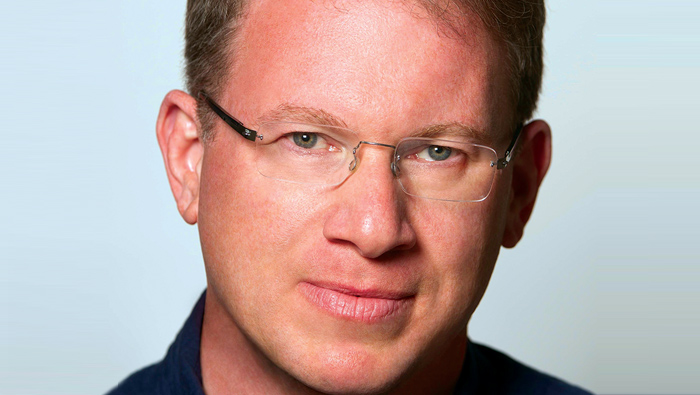 Strange election provides plenty of fodder for Oct. 26 speaker
Award-winning journalist Jeffrey Goldberg, national correspondent for The Atlantic, expects he will have plenty to talk about when he is in Portland Oct. 26.
"This is a very strange, unpredictable election, so I imagine there will be stuff happening that day that will warrant comment," says Goldberg, the keynote speaker at this year's Jewish Federation of Greater Portland Gala Celebration (see box).
But Goldberg doesn't need to rely on the events of the day to ensure he has captivating material. He will draw from his deep well of knowledge about elections, American standing in the world and the U.S. relationship with Israel to provide a thought-provoking evening. He plans to speak about the debates and the different world views of President Obama, Hillary Clinton and Donald Trump.
"All these subjects are huge," says the winner of prizes including the Daniel Pearl Prize for Reporting and the International Consortium of Investigative Journalists Prize for best investigative reporter. He wrote The Atlantic's April 2016 cover story "The Obama Doctrine."
Asked to encapsulate the three world views of Obama, Clinton and Trump into one sentence each, he initially declined saying it was too complex. Then, after a pause, he did just that. He says Obama is trying to reduce American exposure to the volatility in the Middle East, Clinton is more traditional advocating for using power appropriately and Trump is more of an isolationist, though he added Trump's stand is "a little bit of a mystery."
"He has not articulated his vision of America's global role," says Goldberg.
"What are the consequences for Israel and other countries of American withdrawal from the world?" Goldberg asks. In a July 21 article, he wrote that until Trump's candidacy, Republican foreign policy fairly clearly understood "the withdrawal of the U.S. from three key regions of the world – East Asia, Europe and the Middle East – would create vacuums soon filled by non-democratic regimes that would operate counter to U.S. national-security interests." The continuation of that policy would be uncertain under Trump.
One thing Goldberg believes is crystal clear however: "There's not a chance in hell he (Trump) can fix everything he promises."
"People are desperate for all-encompassing answers to problems," says Goldberg. "That is why a person like Trump can gain so much power."
Goldberg has traveled to several other parts of the world this past year, and he has heard a common refrain about this year's election from his contacts in Europe, Hong Kong and Tokyo: "What are you guys doing?" Sitting in the cafeteria at Israel's Knesset, he says politicians he has known for years kept asking him to explain the current campaign. "Your politics seem crazier than ours," he was told by politicians who are accustomed to craziness being the norm in their political arena.
Goldberg understands Israel from firsthand experience. Growing up in a liberal, non-observant Jewish family on Long Island, he belonged to a Zionist youth group. He made aliyah because, "I wanted to participate in the great adventure of building a Jewish state." His time in the IDF as a prison guard and his evolving friendship with a Palestinian prisoner provided the material for his book, Prisoners: A Story of Friendship and Terror, which explores the animosities deeply buried in that embattled region.
While pursuit of the Zionist dream took him to Israel, pursuing a different dream brought him back to the United States. "I was pursuing a journalism career and this is the place to do it," he explains.
Goldberg, who delivered the 2011 Oseran Family Lecture at Congregation Beth Israel, says he is looking forward to returning to Portland. "I like it out there. What's not to like? The clouds are a bit much, but it is a great city."
He was also, at the time of this interview, looking forward to the presidential debates slated for Sept. 26, Oct. 9 and Oct. 19.
"Like many Americans I am eagerly anticipating these debates and also dreading them," he says. "I am worried they will be more about entertainment than the illumination of issues."
A week after the final debate, the federation gala should feature both illumination and entertainment in abundant supply.
GALA CELEBRATION
WHAT: 2016 Election Edition, Jewish Federation of Greater Portland annual gala
WHEN: 7 pm, Oct. 26
WHERE: Mittleman Jewish Community Center, 6651 SW Capitol Hwy., Portland
WHY: Hear dynamic insights into the election and celebrate the federation, which has been uniting, serving and supporting the Jewish community locally and globally since 1920. The evening's nostalgic Americana theme will feature red, white and blue popcorn, and a festive atmosphere.
WHO: Keynote speaker Jeffrey Goldberg is a recipient of the National Magazine Award for Reporting. Before joining the Atlantic, he was a Middle East correspondent and the Washington correspondent for The New Yorker. He has also written for the New York Times Magazine, Jewish Daily Forward and The Jerusalem Post.
TICKETS: $60 includes cocktails and dessert; $35 for first 100 under age 35
RSVP by Oct. 14: 503-892-7413 or jewishportland.org/gala