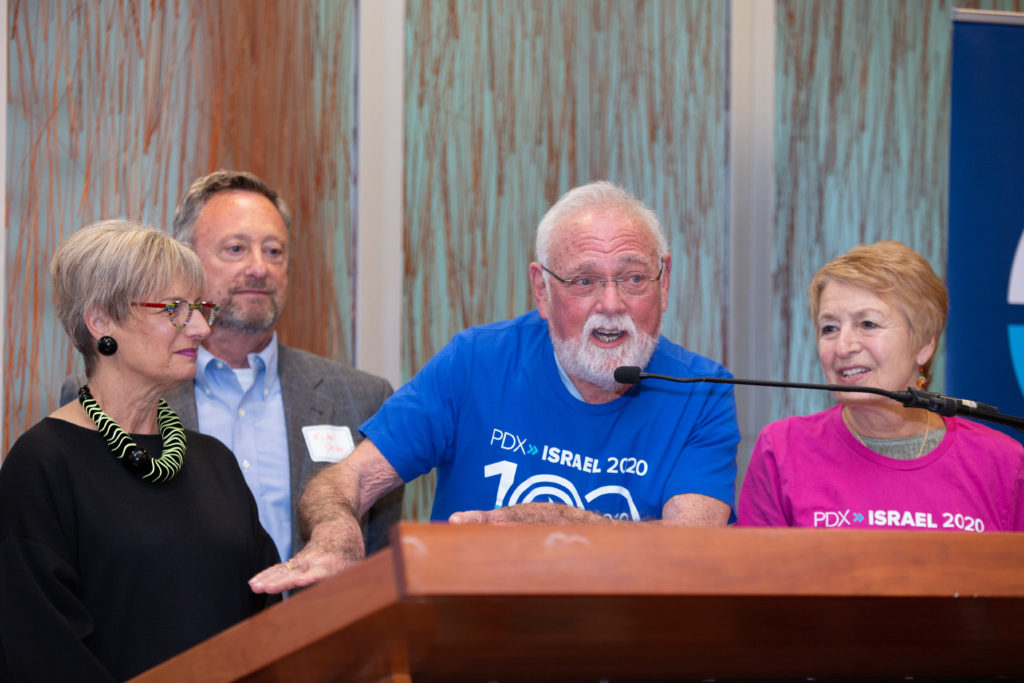 PHOTO: From left, Kathy Davis-Weiner, Michael Weiner and Tony and Priscilla Kostiner unveil plans for a community trip to Israel that the four are co-chairing for the Jewish Federation of Greater Portland's Centennial year in 2020.Photo by One Click Studio

Plans for the PDX→Israel 2020 community trip were announced at the Jewish Federation of Greater Portland's 98th Annual Meeting June 14.
This trip, chaired by Priscilla and Tony Kostiner and Kathy Davis-Weiner and Michael Weiner, is for the first-timer, the many-timer, those who want exciting outdoor adventures, and those who want a slower pace. It will meet the diverse religious and dietary needs of the participants. In addition, bar and bat mitzvah opportunities are available for people of all ages. Most of all, it will bring together people from across our Jewish community and build bonds that will last a lifetime.
The chairs want to share an unforgettable 10-day experience in Israel with hundreds of community members. The March 18-29, 2020,  trip coincides with school spring break.
In recognition that traveling to Israel is not inexpensive, the federation has found generous sponsors to reduce the cost of this 5-star trip (full land price is $4,100 per person). Early bird pricing for land only is: Adults $2,500; Teens (ages 14-18) $2,000; Children (ages 5-13) $1,800. After Nov. 15, prices increase by $500-$700 per person.
The meeting began with Rabbi David Kosak of Congregation Neveh Shalom delivering the  invocation, which he ended saying, "May Federation find a way to make the tent of welcome a little bit wider."
That theme of a welcoming community was continued by guest speaker Rabbi Shira Stutman from Washington, DC's Sixth and I Historic Synagogue. "It is hard to create an authentically welcoming community," she said. She then offered four suggestions for doing so: talk more about God; teach community; don't stop learning – Hebrew school is not just for kids; and realize you have to leave some people out. Of the seeming contradiction of excluding people to be welcoming, she said, "Bring in all who want to be welcomed. People who shouldn't be in are those whose skin crawls when they are around people who are different."
Federation Chair Ed Tonkin provided a "year in review" of the community's many accomplishments. "Giving and caring … that is why this federation has existed for 98 years and will continue to grow," said Ed, who will serve as chair for another year.
Lauren Goldstein is chair-elect. Five new board members were elected: Emily Benoit, Rick Haselton, Hank Kaplan, Ted Nelson and Mark Zeitzer. Outgoing board members are David Forman, Charles Levy, Michael Weiner, Mindy Zeitzer and Jay Zidell. Mindy and Mark Zeitzer will continue to serve as campaign chairs, Jack Birnbach becomes the chair of allocations and Jeff Reingold will chair the Jewish Community Relations Council.
B'nai B'rith Camp Director Ben Charlton received the Laurie Rogoway Outstanding Jewish Professional Award. Four Sussman Fund Award recipients, Maude Elovitz, Youki Iimori Jonah Rothstein and Samantha Safirstein, each received $1,800 scholarships towards their undergraduate education.