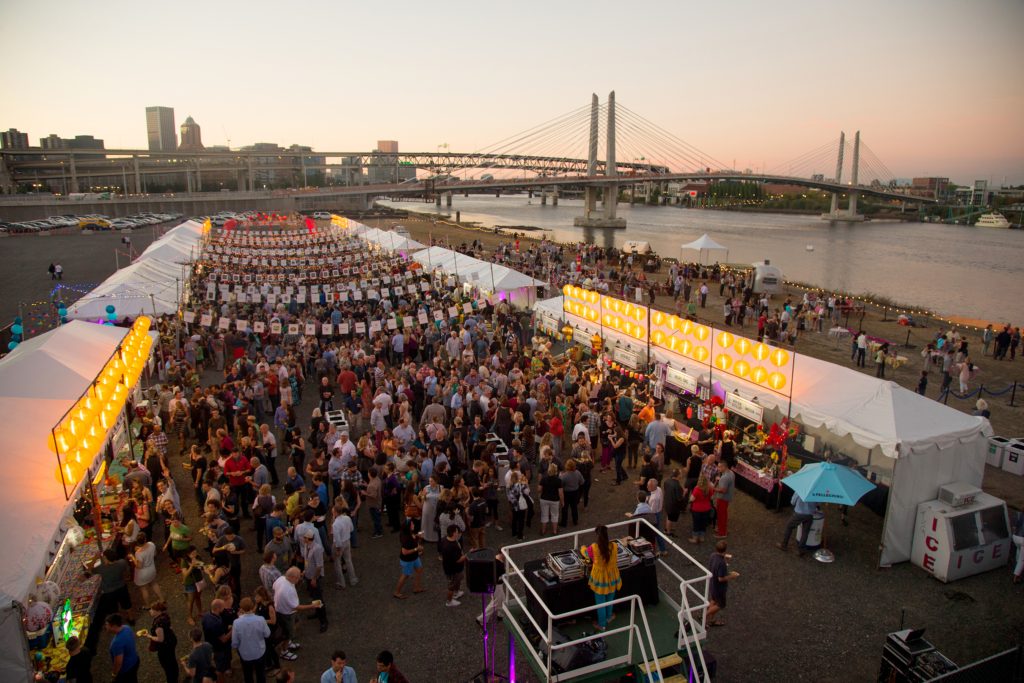 Photo:  The Night Market at the annual Feast Portland helps raise funds to alleviate child hunger in Oregon. Photo by John Valls
Since 2012, Portland has been home to one of the nation's most prominent food festivals, Bon Appétit Presents Feast Portland. The festival, which has grown in popularity with each passing year, has a charitable mission: to end childhood hunger.
According to Partners for a Hunger-Free Oregon, Feast Portland's exclusive partner this year, one in four children in Oregon lacks adequate nourishment. Feast Portland has already donated more than $300,000 to the cause of child hunger. This year, the festival aims to fulfill its goals by generating interest with a schedule of tempting events like Because Breakfast and Pizza & Burgers. National and local chefs will face off at the Sandwich Invitational and delight noshers at the Night Market and Smoked! extravaganzas.
Two of this year's participating chefs happen to be related. Ken Gordon of local institution Kenny & Zuke's Delicatessen will be competing in the Sandwich Invitational, while his daughter Clare will delight Because Breakfast attendees with a menu of vanilla custard, chocolate marshmallow and lemon curd-filled doughnuts. For the past couple years, Clare has overseen Renee Erickson's Seattle doughnut shop General Porpoise. Her efforts have won her a StarChefs Rising Star Pastry Chef award.
Clare reminisces about growing up in a culinary family in Portland: "(It) was amazing, as the local food scene here was really blossoming. I have the most amazing memories of berry picking on Sauvie Island, going to the Saturday farmers market as a kid and buying the most beautiful chocolates from Elizabeth Montes with my allowance, sitting in the booths at Ken's Place on Hawthorne and watching my dad sauté steak au poivre in massive flames, and so much more as a child."
Clare realized at a very young age that she wanted to work in the food industry.
For Ken, restaurants have always been a family affair. "Our kids grew up in my restaurants, which was fun, and (they had) a cool place to bring friends and brag about. And they contributed and watched the life there, which gave them a good sense of work ethic and life outside the family. Plus, our family had many meals at the restaurants, which gave me a chance to see them more."
Kenny & Zuke's Delicatessen originated as a vehicle for good pastrami – "meat crack, as my wife Leslee calls it" jokes Ken. He explains his process: "We smoke our pastrami – beef and turkey – in house for 10 to 11 hours, steam it for two or three, and slice it all by hand. It's a lot of work – we do about 1,200 pounds per week – but well worth it."
In addition to operating two Kenny & Zuke's Delicatessens and one Bagelworks location, Ken is currently developing wholesale and retail products.
The restaurateur is still working on his planned dish for the Sandwich Invitational. He recounts, "The first year of Feast, we did a classic Reuben and tied for first place with Naomi Pomeroy from Beast. This year, I think I want to play around a bit more and do something like a deli banh mi with pastrami as the meat and chopped liver in place of the traditional pate. Or I may try to do a pastrami hot dog with Reuben accoutrements." Whatever Ken decides, the result is sure to be delicious.
Bon Appétit Presents Feast Portland will take place Sept. 14-17. Tickets are available at feastportland.com.